Alumni
Dare to Discover: Endeavors of Internationally-Rooted CEOs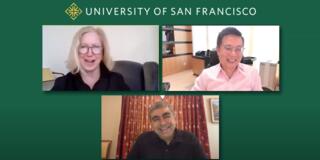 The global pandemic has forced engineers and entrepreneurs everywhere to not only reimagine their workspaces but how they do business and generate ideas. Today, technology revolutionizes the way individuals connect to communities all over the world and gives way to greater business opportunities for tomorrow.
Alfred Chaung '82, a general partner of Race Capital and venture investor, and Vishal Sikka, USF parent and CEO of Vianai systems, joined Moira Gunn, USF alumna, professor, and host of NPR's Tech Nation for a virtual conversation about their journey to success in Silicon Valley.
Early on, Sikka spoke of the benefits that diverse teams bring to computer engineering programs and general innovation. As an undergraduate student at Stanford, Sikka collaborated with students from five universities across the nation to build a small computer, from design to manufacturing.
"The synthesis of ideas from a diverse team is always much richer than from a homogenous team. It leads to better products and better ideas and it leads to faster execution," said Sikka.
He emphasized how his work within these teams of varied backgrounds was and continues to be essential to achieving a common goal.
Post-crisis Adaptation
Collaboration has proven to be vital in the face of pioneering technology as well as the transition to distanced education. Gunn described how USF professors and students have had to adapt and connect in ways never imagined due to the switch to remote learning.
In the biotech program, USF students prohibited from traveling to Ireland in May for their semester's research had chosen to design a course that instead outlined their response to COVID-19.
She mentioned how this switch to online learning provided educators and students with new opportunities to equip themselves in using several technological platforms.
"The teachers are better teachers now, and when we go back to the classroom, we're taking some of that with us," said Gunn.
In addition to the technological platforms that many individuals already use and rely on, Chuang claimed that the pandemic could bring about more technological innovations because engineers and innovators have a chance to think differently.
"All of us who are trying to innovate, do a startup, study engineering; I just can't think that there's a possible better time in history," said Chaung.
Sikka believes that this will cause a dramatic explosion within the intersection of biology and digital technology.
Contemplative Reflection and Action
Gunn, Chuang, and Sikka also delineated their outlook on the "ethical cascades" they face within their respective professions, especially in light of the global crisis. At a time when businesses are constantly adapting to new challenges, they recall drawing inspiration and guidance from their Jesuit education.
"Jesuit education, in particular, is based around that idea of embracing change and the time for action helps a lot in thinking through those moments," said Sikka.
Sikka believes the Jesuit education he received while attending Rosary High School in Baroda, India, has given him the courage to let go of even his most significant successes to assimilate into an ever-changing climate and workforce. Sikka and Chuang agreed that one's work could be recycled and repurposed for the benefit of technological expansion and accessibility.
"People rarely get one shot to create a legacy. In the engineering field, we have the chance to do that multiple times. Each time, the sprint is shorter, and we have a chance to make the world better," said Chuang.
Closing the Gaps
For Fr. Paul Fitzgerald, S.J, president of USF, both Chaung and Sikka reinforced the power of a Jesuit education rooted in ethics and social justice.
"It's about closing the biggest gap ever measured by human beings — the fourteen inches between the heart and the brain," said Fitzgerald.
He highlighted how the mindful achievements of innovators like Chaung and Sikka influence countless initiatives like USF's new engineering program, introduced this fall.
"What your mind tells you is possible, your heart also tells you is good," says Fitzgerald.
To learn more about supporting programs in the College of Arts and Sciences, contact Carli Thomas, Director of Development, (415) 422-6006.
Support is still needed in many areas as the situation continues to unfold worldwide. So we can continue to support our global USF community, please consider giving to the COVID-19 Response Fund ».