Alumni
Embracing Tradition and Change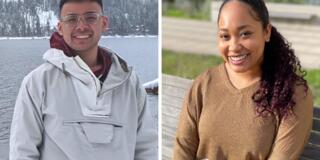 Tim Castillo '16, a graduate of USF's Computer Science program, and Kendall Parks '16, a graduate of USF's Psychology program, share how their experiences as members and leaders of the university's Asia Pacific Alumni Network (APAN) has molded their appreciation for diversity on campus.
In advocating for further growth of cultural entities at USF, the two share some personal breakthroughs that APAN's platform has allowed them to explore throughout their time at USF.
"The community at USF is what separates it from any other school and what makes it shine. The culture of aspiring to help others in a genuine way is something that separates USF from most schools," said Castillo.
Castillo emphasizes how the umbrella of an Asia Pacific cultural affinity group, like APAN, is essential to embracing overlapping and unique cultural experiences, traditions, and values. Joining organizations like APAN at a university that highly values and promotes diversity allows students and alumni to address cultural stereotypes and discern their individual identities.
Building on Their Backgrounds
Together, Castillo and Parks are creating rare opportunities for alumni, and students, to discover their respective cultural identities. In addition to providing USF graduates with a substantive network for career development, Castillo and Parks believe there are greater opportunities for self-growth at the core of APAN. 
As a member of both USF's APAN and Black Alumni societies, Parks reflects on how her participation in both groups has challenged many standards of what Asian women should look like and what they should study. She hopes that the role that APAN plays in the lives of its members will help stimulate greater change and acceptance.
"Through my involvement with these groups and my major, I wanted to show that there are different colors and faces for Asian women," shared Parks.
As a new addition to the board, Parks works to facilitate alumni and student outreach for those who identify as Asian or Pacific Islander. 
Attending programs and events have made it easier for Castillo to connect with those who identify with similar cultural customs, challenges, and traumas. He hopes that APAN can begin to cater and provide recourse for the students and alumni representing the spectrum of identities.
"Before joining APAN, I had never sat down with someone and discussed what it meant to overcome traumas in terms of my own personal Filipino American identity," said Castillo.
Castillo recalled thought-provoking conversations and friendships that he credits as being one of the organization's best assets. He emphasized how the connections he has made within APAN have had a lasting impact on his experience in higher education, the professional world, and his narrative. 
Fostering Agency Past Graduation 
Castillo advises students and alumni to never lose their willingness to grow and learn as a person. He claims that post-graduate communities in institutions as big as USF are hard to come by.
"My hope is to create an escape for alumni to find and structure their own cultural identities post-college," said Castillo.
As these resources become readily available to more students and alumni, the organization expects to give back to the university in a big way. 
"Getting the perspective of older and younger alumni has been fundamental to incorporating different social issues into our alumni network and ultimately addressing them for the greater good of our society," said Parks.
She mentioned how the network allows her and others to find ways in which Asian Americans and Pacific Islanders can further the resources they have to enrich their respective cultural journeys. 
"APAN is a rare resource to finding and exploring the intersectionality of your identity and the role you play in this world," said Castillo.
To support the Asia Pacific Alumni Network and other cultural affiliations at USF, consider joining a society.