Faculty & Staff Achievements
Dr. Doug Manning Joins the Sport Management Team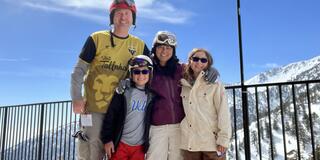 The Sport Management Program is pleased to welcome Dr. R. Douglas Manning as a new member of the teaching team. Dr. Manning joins USF from California State University, Fullerton, and has previously been Dean at Santa Ana College and Assistant Professor at the University of Southern Mississippi. He is a member of the Board of Directors of Special Olympics Southern California and received his PhD in Sport Administration from the University of New Mexico. 
What attracted you to teach on our program?
As an Educator/Scholar, I was drawn to USF because of its Mission to change the world for the better – my goal is to make a positive impact through our Sport Management program. On my visit to campus, I was thoroughly impressed by the intellect and drive of the talented Graduate students, as well as the strong sense of community felt during my interactions with the USF faculty, staff, and administration. 
What is most important for students to focus on in marketing & sales?
Sport is unique and presents exciting opportunities to meet our consumers' wants/needs, both in-person, and/or via media consumption. As Sport Marketers, we seek to positively influence the experience of our consumers, provide entertainment value, and allow fans to make lasting memories, all without control of the product on the field, pitch, ice, or floor. In addition to in-game Promotions and the ephemeral fan experience, we must not overlook the ability of Sport Marketing & Public Relations to communicate the philosophy of the organization; influence positioning of the product in consumers' minds; manage branding and brand associations; as well as match products to consumers through market analysis and data-driven decision-making. In Sport Marketing, we will focus on both the marketing of the sport products, as well as marketing of non-sport products through associations with sport teams and organizations via the integration of corporate sponsorships and activations.
Beyond what many folks will think of as "traditional selling," Sales are a part of our everyday lives, so it's critically important that we embrace these prospects for persuading, convincing, and influencing others, especially as Sport Management professionals. Everyday scenarios, including discussions, meetings, presentations, and negotiations, offer opportunities to develop relationships and embrace the psychology of (sport) sales to overcome buyer apprehension. In our role-play scenarios in class, we will seek to understand others' perspectives; demonstrate our knowledge of the product; navigate objections; and focus on selling value, as opposed to just price.  
We must answer the question: "How will we identify problems that our clients/consumers didn't know they had, and find solutions they didn't know were available?"
What can students expect from you in the classroom?
My approach as an Educator is influenced by my time as a College Professor, Administrator, NCAA Volleyball Coach, and High School teacher.  Students can expect a teaching philosophy which aims to promote critical thinking/analysis, and is focused on a student-centered environment, experiential learning opportunities, and the application of our academic foundation. I really enjoy developing applied assignments which provide USF graduates with real-world experience – through collaborative projects with industry professionals/organizations, our theme has become, "California is Our Classroom: The Intersection of Academia and Industry."
What have been the highlights of your career thus far?
The highlights of my career have been the relationships established at our many stops in life's journey (CA-FL-NM-MS-CA). Although very different, the University of New Mexico, and the University of Southern Mississippi, have been special places to work. Both Albuquerque and Hattiesburg have a rich history, kind people, and welcoming colleagues, who embraced me/my family as part of their community. Our daughter was born in Albuquerque (Mariana, age 9), and our son was born in Hattiesburg (Russell, age 8). We loved the people, local cuisine (green chili vs. crawfish/po boys), and working closely with students, faculty, staff, and athletics.
Finding ways to positively impact our community have also been highlights, and in this respect, life has come full circle.  My career began with Special Olympics Southern California (SOSC), where I served as the Manager of Coaches' Education and Volunteer Services. In December 2021, I was asked to join the SOSC Board of Directors, and have welcomed the opportunity to support the important work being done, to provide year-round sports training and athletic competition for individuals with intellectual disabilities.  
What do you love to do outside of work?
I love being a Dad; traveling; and being outdoors, especially snowboarding. Our family enjoys exploring our State/National Parks, finding new ways to live an active lifestyle, and of course, attending sporting events. Not only do I love teaching about Sport Management, but I enjoy consuming it as a spectator as well.  
What is your go-to drink at the bar, and your favorite meal?
Bourbon neat (EH Taylor and Eagle Rare are my current favorites on-hand), or a really good Old Fashioned. My favorite meal would be a dry-rubbed Tri-Tip, grilled at home to a medium-rare.
Which of your travel experiences have been most memorable and why?
The 2014 World Cup in Brazil was a real highlight. It was a dream come true to consume "The Beautiful Game" (o jogo bonito) in Natal, Recife, and Salvador, including USA v. Belgium in the Round of 16. However, my most recent experience this past summer (July 2022), is incredibly memorable, as I traveled to Lima, Peru, as part of a Professors Across Borders (PAB) grant through California State University. The goal of this trip was to collaborate with the Asociación Estadio La Unión (AELU), a sport and social organization, which serves to enrich the cultural lives of Japanese-Peruvians through education and sport, while remaining true to its core values: respect; honesty; solidarity; perseverance; and gratitude. It was pure joy to be embraced by the Community centered around AELU, and learn about the impact/importance of Sport to the Japanese-Peruvian community. In partnership with AELU, and the neighboring ESAN Graduate School of Business, the PAB initiative aimed to strengthen international relationships in Higher Education; internationalize a Sport Marketing course; and further develop my Spanish foreign language skills.