Giving
The Diez Family Funds First-Ever Cancer Research Laboratory at USF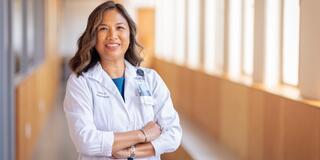 When Nina Diez was diagnosed with cancer, she was left feeling blindsided and at a loss. She couldn't find enough information because her type of cancer was rare. Nevertheless, this life-changing situation would take her down a spiritual and scientific path towards recovery. Maximillian Diez '04, her husband, accompanied her on the journey, where they both agreed that "we shouldn't wait to give back because people believed in us at a young age. It's our time to pay it forward."
This led the Diez family to fund the first ever laboratory for cancer research at USF. 
In 2019, when Nina Diez was diagnosed with ovarian cancer, there wasn't a lot of information on the disease. It was hard to find answers. Diez opted for a total hysterectomy, removal of both ovaries and tubes, and part of her abdomen. She was offered painkillers to help ease the pain. Diez became wary as the pain continued, and the solution offered was a higher dosage of opioids. This began the search for alternative forms of pain management.
Cura Personalis: Care for the Whole Person
When Diez began her healing journey, she noted that she felt healed physically post-operation, and the medical team assured her that the cancer was gone. However, the psychological and spiritual healing was never addressed. 
Diez decided she wanted to try something different, and it led her to try medical cannabis for pain management. As a traditional pharmacist it was a different approach, but it moved Diez into holistic health. 
Diez started the company Apothetique Holistic, in pursuit of wanting to reach more cancer patients to help with the side effects of the disease. She found that medical cannabis could induce cancer cell death, and even inhibit the growth of cancer cells. This inspired Diez to make that connection.
"It's more integrative health. It's about the whole body. You have to treat the physical, psychological, social, and spiritual parts of our health and wellness. If you believe in something greater than the physical body and you have a  positive outlook on life, this alone could keep the cancer away. Holistic healing made me look into meditation, cannabis, and aromatherapy. It made me heal not only physically, but both spiritually and mentally as well," she said.
Life After Cancer
When the Diez family decided to move forward making their mark on cancer research, they looked to USF. A lab for cancer research would be the first of its kind at the university. They knew this was the right opportunity to establish a specialized research lab which would aid in their legacy to provide attention to rare types of cancers and information on alternative ways of healing.  
"With this generous gift and the establishment of the Dr. Nina Diez Teaching Laboratory for Integrative and Cancer Biology, we will be able to support students learning in the classroom and lab environment as well as research projects," said Dr. Christina Tzagarakis-Foster, Associate Dean, College of Arts and Sciences. "The teaching and research will be intertwined and will develop a better understanding of biological processes that comes from research and will advance our knowledge of these systems."
The College of Arts & Sciences currently has several labs with research programs centered around cancer. The Dr. Nina Diez Teaching Laboratory for Integrative and Cancer Biology would hopefully progress "towards a cure, but also, more exposure and awareness," said Maximillian Diez. "For people to understand the variants of this disease. Making sure there is a lot of awareness of what type of healing there is and what alternative types of healing methods there are, and to think holistically about all the different parts of ourselves that need to be healed."   
Maximillian Diez's affiliation to USF goes back more than 20 years. Diez graduated with a BS in Business Administration and was fortunate enough to be mentored by a benefactor of the university, Art Zief. Diez joined the Arthur Zief Jr. Foundation, now named Zief family foundation, in 2000, and managed the university's largest family endowment. "I learned quite a bit in that period besides managing their family funds and their assets in public and real estate markets. I learned to look past color, upbringing, class, and education."
Diez recognizes that the Zief foundation took a chance on him, and now both Nina and Max have had successful careers in the tech and pharmaceutical industries. This journey helped structure their priorities in life and in philanthropy: "How do you do more? How do you do things more efficiently? We have to remember we have the chance to affect people's lives one person at a time."
---
Learn how you can affect people's lives at USF. Support the Diez Cancer Research Fund.