Campus Life
Dan Levy Headlines USF's Donaroo Festival
Actor tells students "We need your voice out there"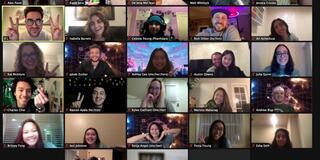 "Schitt's Creek" award-winning writer, actor, director and producer Dan Levy advised students to follow their dreams in a Q&A with students at Donaroo 2021 on March 10.   
Donaroo, USF's annual spring festival hosted by the student-run Campus Activities Board (CAB), was held online this year due to the pandemic. More than 1,000 students logged on to attend from around the globe and hear four-time Emmy winner Levy field questions.
Many of his answers boiled down to this: Love what you do.
When asked about the advice he'd give someone just starting out, in any industry, Levy said, "You just have to go for it. If something inside you is compelling you to explore a path, you have to do it. What a tragedy it would be to decide not to explore something that could make you happy, or change your life."
He told students not to worry about taking time to find their way, and to try as many pursuits as possible to discover their passions. "If you try something and it doesn't bring happiness, you get to shut that door. And I think shutting doors is just as important as opening them.
When asked the key to the success of "Schitt's Creek," Levy shared his take on the Jesuit notion of cura personalis, or care for the whole person.
"I would say the key to success in any collaboration is to understand and communicate your appreciation of every person's value," he said. "Because I knew how it felt to be undervalued in jobs earlier in my career, I made sure to have every cast and crew member know that they were crucial to our show. And I think it worked."