Alumni
Connecting Past, Present, and Future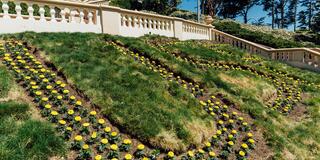 USF alumni hold a special place in the foundation of our community. USF recognizes that fostering and maintaining essential connections can be a challenge when yielding to post-college workforces. The university continues to partner with graduates of all academic fields and interests to create unique platforms of opportunity and connection. 
NetworkUSF, an online community connecting graduates with the organizations and resources that fit their career and personal goals, was created with the goal of extending the university's endless resources to students and alumni living all around the world.
Since then, the hub has become a pivotal tool for former students to keep in touch with the connections that they created and fostered on the university's campus. Graduates who join can choose to connect and give back to the cultural affiliations or other campus organizations that most aided them as students. A few of these include the Latinx Alumni Society, the Asia Pacific Alumni Network, and the Black Alumni Society. 
"As a recent alum, I am ecstatic that NetworkUSF was introduced. Traditional methods of outreach to alumni can be difficult as a student and NetworkUSF has made it extremely useful and convenient for students and working professionals," says Cristopher Cuevas '18. "I received very valuable advice and mentorship and I am glad to have this platform and  opportunity to help fellow Dons." 
Cuevas noted that outlets like NetworkUSF are hard to come by and should be taken advantage of by students and alumni. He highlights how these resources make it easier for alumni to create personal connections with individual students as well as manage formal mentor-mentee relationships. 
Alumni and students who create an account have unlimited access to career planning resources and community-building opportunities that highlight both their goals and achievements. These resources help users manage job search related anxieties and stay in touch with the latest university initiatives.
Erik Burd MBA '14, a technical engineering manager and former data science professor at USF, states how he values the specificity of this platform in seeking out other professionals who share common interests and objectives. "I've used NetworkUSF to connect with students to provide advice and answers to various questions about career, school, and life in general. These conversations led to connecting students with alumni," said Burd. 
To learn more about Network USF and how to join, contact the Office of Alumni Engagement at alumni@usfca.edu or (800) 449-4873.  Join NetworkUSF