Giving
Closing the Gender Gap in Tech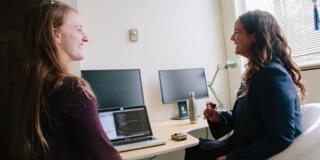 From its humble beginnings as a student organization looking to empower women in a male-dominated tech space, Women in Tech (WiT) has transformed to include a life-changing initiative for female undergraduate and graduate students in Computer Science, Engineering, and Data Science. 
Beste Yuksel, assistant professor of computer science and faculty advisor for WiT, hopes that by empowering and mentoring the next generation of female students at USF, more women will enter the workforce as data scientists and computer engineers. 
Craig Newmark, a longtime supporter of female and veteran students, recognized the need to support women as they navigate tech spaces. Newmark has been a supporter of WiT since 2017, giving nearly $1 million to the initiative. His latest gift of $300,000 supports the WiT initiatives working towards closing the gender gap in the tech industry.
Yuksel says the key in closing this gap is establishing a sense of belonging for these women who often feel overwhelmed by imposter's syndrome:
"Because there aren't many women in the Computer Science major or Data Science department, we try to build a community so that they have some kind of support, both in and outside of their classes. It's critical for these women to have a greater sense of community."
Newmark's gift will help to support a myriad of resources and opportunities for students, including scholarships, research and teaching assistantships, academic conference attendance, networking field trips, and purchasing departmental equipment, as well as community-building initiatives such as the Summer Zero program offered to incoming engineering students, and Summer Girls Coding Camp, tailored for local middle and high school students.
"These are some of the most life-changing funds for students," explained Yuksel. "When they go to these conferences, they have the opportunity to network and get internships or jobs. It's really important for women to have peer networks to see other women who have succeeded in computing."
Prior to Newmark's support of WiT, on average four students were able to attend academic and professional conferences. Now, over thirty students are able to attend conferences each year, along with faculty advisors. Today, Newmark has provided funding for over one hundred students to attend the Grace Hopper conference, one of the most prestigious for women in the tech industry. The various conferences, along with field trips to local tech giants like Twitter, are paying off for the USF students and resulting in job offers and a sense of belonging within the tech community.
USF and Newmark remain committed to supporting gender equity and fostering an inclusive environment for all women in tech spaces. The positive effects of this commitment can already be seen through the fruits of WiT.
"WiT has been a tool for much-needed connection during the pandemic as well as a platform for advocacy for women and others on the margins of creating technology. I have a support network at USF now that I don't think I would have had otherwise, and I see my involvement in WiT as an attempt at providing that for others at USF," said Sarah Amarragy '22.
When asked what is driving his continued support of initiatives like WiT at USF, Newmark has two reasons: "I treat people like I want to be treated, which means fairness, and the country needs all the talented people that can be found."
This gift was made as a part of Changing the World From Here: The Campaign for the University of San Francisco.