Global Perspective
Center Welcomes New Student Assistant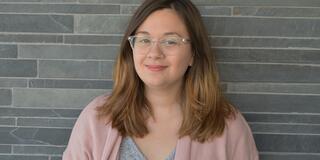 Amy Nielsen is an undergraduate Graphic Design and Marketing Assistant at the Center for Asia Pacific Studies. She is an advertising major and psychology minor and will be graduating in May 2018. With an eye for design and a love for creativity, Nielsen will utilize her skills to create promotional materials to boost involvement for the center's events.
Such events include weekly conservation groups in Mandarin and Japanese and cultural on-campus events. The position also includes promoting through business and student outreach, as well as social media marketing on the center's platforms. Previously, Nielsen has helped design product packaging for L. International and marketing emails for The Enclosed. She also writes for the student-run paper, the Foghorn. On the Foghorn's behalf, she had the pleasure of interviewing Kevin Kwan, a best selling Singaporean-American author of the book series Crazy Rich Asians, who visited campus in October 2017 to discuss his three novels, film adaptation, the changing perceptions of wealth in Asia, and Asian-Americans' reactions to his work.
In regards to Asian culture, Nielsen is a fanatic of the Buddhist practice of mindfulness, or "sati." Nielsen has been trained in mindfulness meditation to better understand her wandering and bustling mind. Mindfulness is a buzzword in America and has recently been featured this year on the cover of Time Magazine. She hopes Western cultures can embrace and bring Eastern meditation practices into their daily lives to achieve "passaddhi" or serenity.