Global Perspective
Center for Asia Pacific Studies Announces 2015 Kiriyama Fellow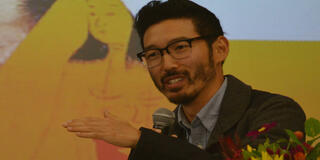 The Center for Asia Pacific Studies is pleased to announce the appointment of its 2015 Kiriyama Fellow, Cyrus Chen (Ph.D. UC Berkeley, 2014).
Chen is a historian of modern Northeast Asia and a professional photographer. He has taught a wide range of courses on Manchuria/Dongbei, Imperial China and the World, Chinese Law and Society, and American Cultures at Jilin University, UC Berkeley, and Stanford University. His research interests include: the history of travel and photography; Jin Yufu (1887-1962); intellectual networks, railroads, and the shaping of ethnoracial historiographies in modern East Asia; and Lin Li (1913-2001) and the "One Character a Day" program in postwar Taiwan.
Having worked primarily with textual sources, Chen's second book project builds both on his interests as a professional photographer and the plethora of visual sources he collected in the process of researching his dissertation, to analyze the visual aspects of knowledge production about Manchuria in the early twentieth century. Chen investigates the questions: What cultural and historical contexts shaped the production of visual sources on Manchuria in the early twentieth century?; and despite semi-colonial conditions of asymmetrical power relations in the area, how were visual documents relating to Manchuria contested sites of encounter and cultural exchange? Chen's focus is on drawings and photographs organized in archaeological excavation reports and ethnographic reports produced by both Chinese and Japanese scholars. Through this second project, he aims to connect his work on the production of textual and visual knowledge on Manchuria in the early twentieth century to similar processes that occurred in other Qing borderlands such as Taiwan, Tibet, and Xinjiang.
In Professor Chen's course this semester for the MAPS program, his students are training in effective academic reading and writing, and building multimedia final projects on various aspects of culture and society in the Asia Pacific. Topics covered include: credential inflation, global migration, why "Gangnam Style" failed to go viral in Japan, the crisis of global modernity, the Bay of Bengal as global region, "Sinophone" vs. "Chinese," and being transgender in South Korea. 
Please join us in welcoming Cyrus to the University of San Francisco!