Global Perspective
Building Bridges and Creating Community Among Students Interested in the Asia Pacific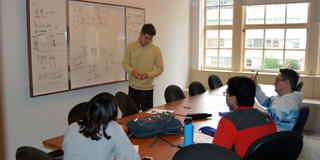 This semester, the Center for Asia Pacific Studies launched a special initiative designed to engage students with the Center and to create a sense of community among students interested in the Asia Pacific region. Throughout the fall, the Center created a series of events that promoted interaction among international and domestic students, providing them with opportunities to share their love of Asian culture.
The Center kicked off the initiative with the "Asia Pacific Studies Fall Festival," a fun-filled event designed to showcase many of the great Asia Pacific related programs that USF has to offer. The Center, joined by Chinese Studies, Japanese Studies, the MA in Asia Pacific Studies (MAPS), USF Cultural Centers, and the Yuchengco Philippine Studies Program (YPSP), welcomed students back to campus in August with this lunchtime event. With a dumpling food truck, a DJ playing Asian pop music, and tabling representing Asia-related Centers and Departments, the festival attracted a lot of attention. An hour before the event began, students could be seen lining up at Gleeson Plaza to learn about the programs and get a free boba tea. Activities such as Chinese calligraphy and sign-ups for different programs kept the students engaged and generated excitement about the semester ahead.
Image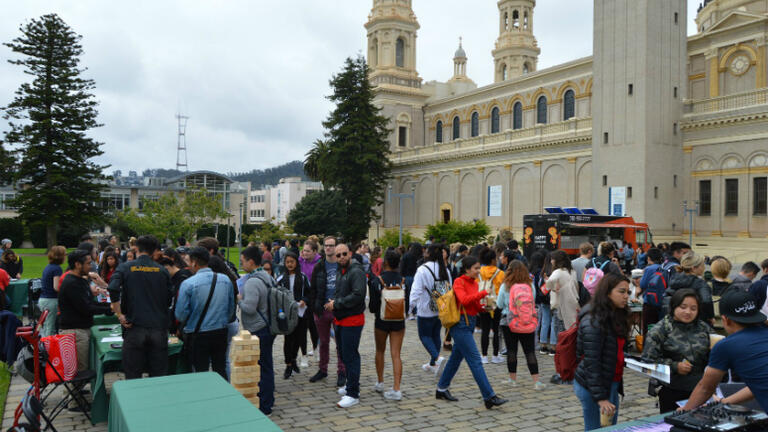 In September, San Francisco's Chinatown provided an excellent opportunity for students to come together to explore the city and get to know one another better on a walking tour. On a Saturday morning, students gathered for breakfast on campus and then headed over to Chinatown. Once there, the Center treated them to the Chinese Culture Center of San Francisco's walking tour where they learned all sorts of interesting facts about the people's and history of this famous neighborhood. The tour was a great opportunity for international and domestic students to interact and get to know one another better.
Image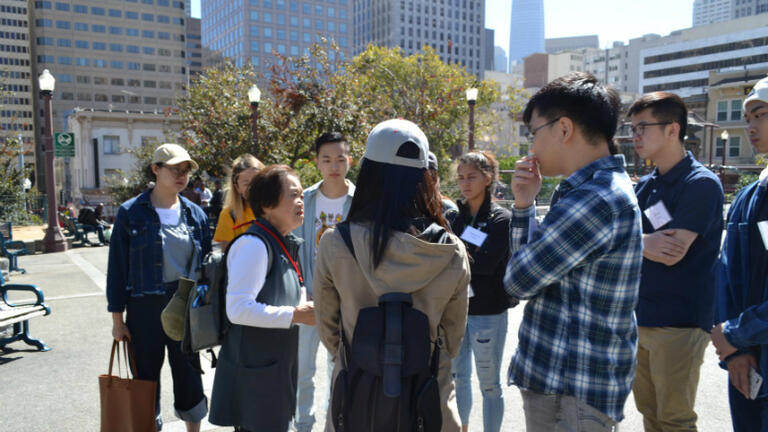 Promoting the understanding of Asian culture through language, this semester, the Center once again offered its popular conversation groups. With two new, enthusiastic language group coordinators, Mingyue Hu (Chinese group coordinator) and Ken Nishikata (Japanese group coordinator), the meetings attracted students, staff, faculty, and members of the public. Meeting every Tuesday during the lunch hour, the groups provided a fun, informal environment for members to practice their language skills. Seeking input from group members, Hu and Nishikata presented different themes each week, all designed to promote competency in everyday conversational language skills as well as more specialized topics of interest to particular members. Excited about having his students practice their skills in a real life setting, Nishikata even organized a field trip to Japantown for dinner and sightseeing. Looking back over the semester, Nishikata commented, "My goals were to share my love of the language with them and to teach them skills that will help them speak and interact with people in Japanese." Classes will resume in January at the start of the spring semester. For more information, contact the Center at centerasiapacific@usfca.edu.
Image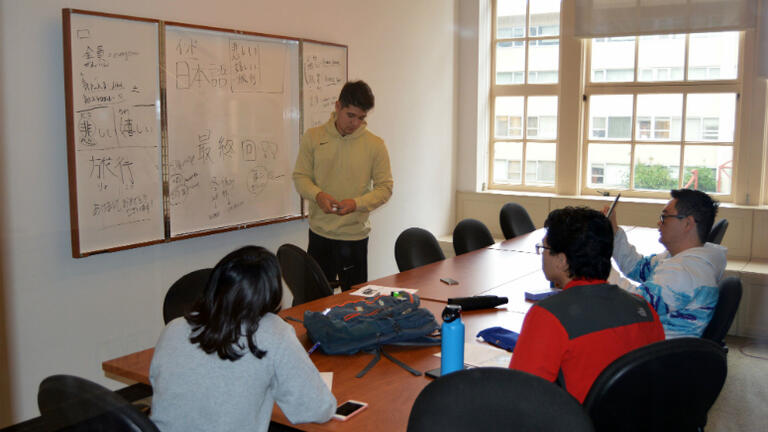 The Center closed out the semester with a film screening for USF students of Hayao Miyazaki's animated film, "Spirited Away." The screening of this student favorite, provided an opportunity for USF students to relax on the Friday night before the last week of class. Students gathered together to socialize with others who share their interest in Japanese film and culture and have a bite to eat before the film started. Then, the film, presented in Japanese with English subtitles, allowed Japanese language students to practice their comprehension skills in a fun environment. 
Students interested in proposing future events that promote student interaction and engagement with one another and the Center are encouraged to send their ideas to the Center's program manager, Anny Crisp (acrisp@usfca.edu).