Global Perspective
Bridging Cultures with Boba, An Evening with The Boba Guys
On Wednesday, April 10, 2019, the USF Center for Asia Pacific Studies hosted an event featuring the founders of "Boba Guys." Thanks to the generosity of the Asia Pacific Alumni Network and donors who contributed to their spring crowdfunding campaign, the center was able to bring Andrew Chau and Bin Chen to campus for an evening event focusing on entrepreneurship, sustainability, and bridging cultures. Speaking to an enthusiastic audience of 300 USF faculty, staff, students, and members of the public, Andrew Chau and Bin Chen shared their personal stories and what they've learned from building their highly successful bubble milk tea business.
Image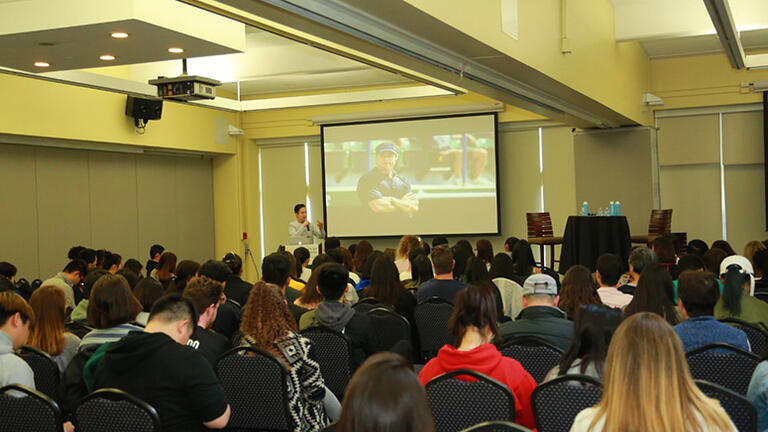 Growing up in lower-middle income families in the US, Andrew and Bin didn't have a lot. That never stopped them from dreaming big though. Aspiring to use food to build bridges between Asian and Western cultures, they experimented with ways to make Boba more approachable to Americans. After trial and error in their home lab, Andrew and Bin opened the first Boba Guys in 2011.
Andrew and Bin are like majority of us. They don't consider themselves to be the smartest, the most athletic, or the most charismatic person in the room. The key to their success is that they found a system that worked for them and they took advantage of it. Their mission of making Boba, "accessible," "normal" and "cultural" became their company's culture.
Image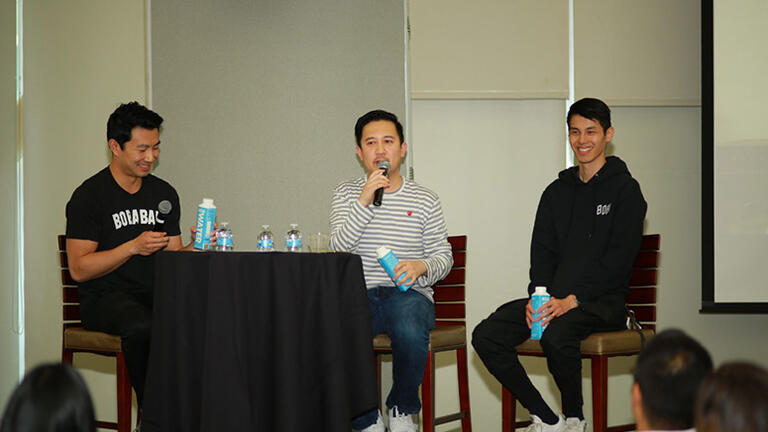 Students studying entrepreneurship were particularly interested in learning from the Boba Guys' success story. When it came to starting their business, they shared that at first, they did everything the wrong way. They bought and sold four ice machines before getting the right one for their first store in the Mission. They took a lease when they didn't have the cash flow to sustain themselves. They became partners without a written agreement. Essentially, they broke all the rules.
Along the way, they learned what mattered most to them is culture. For the Boba Guys, "culture" is that hidden value, what they refer to as the "Moneyball" metric (a reference to the 2011 sports film featuring Brad Pitt). Andrew and Bin like to think that what they lack in talent, they make up for in grit. According to Bin, "It's not about how I need this thing today, or how I want this job today, or how I deserve this now. It's about how will what I do today lay the foundation for who I will become tomorrow. In order to maximize our skill, set or to find the hidden value, we don't optimize today's outcome. We optimize all future outcomes. We need a generation of leaders who will carry the torch and show grit, especially when times get tough and people tell you that you are being stupid or naïve. We need someone who can break that glass and bamboo ceiling."
Image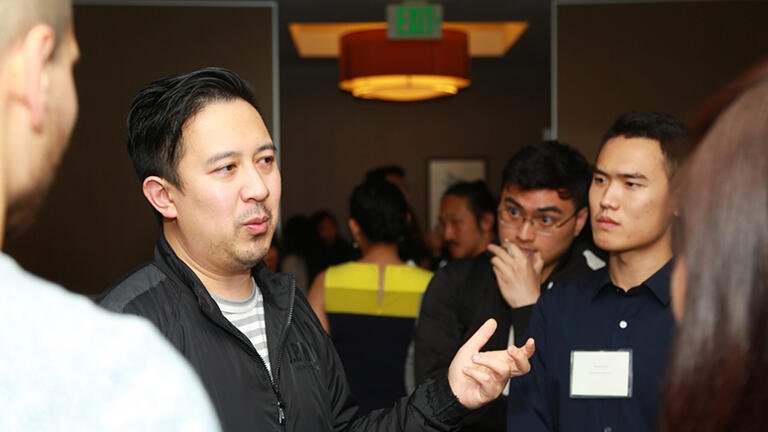 Andrew and Bin surprised the audience with a special guest, Simu Liu, the star of the Canadian series, "Kim's Convenience Store." The three engaged with the audience in a lively Q&A about their business model, the importance of giving back to the community, and their future plans.
Immediately following the public program, the center hosted a VIP reception for current USF students. The center invited 25 students from USF programs in entrepreneurship, business, and Asia Pacific Studies to have the opportunity to speak one-on-one with Andrew and Bin. During the reception, Andrew and Bin discussed details about their experiences as entrepreneurs in the San Francisco Bay Area and their thoughts about the Bay Area's current business environment, especially for Asian American business owners. The reception ran well before the scheduled end time with Andrew and Bin captivating students with their story and lessons learned from building their business.
Image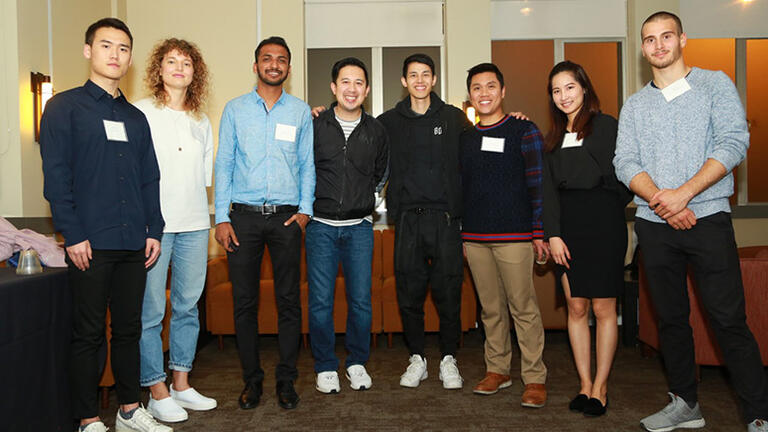 The center appreciates the support of the Asia Pacific Alumni Network and its board as well as the MA in Asia Pacific Studies program for supporting the event. Support the center in bringing programs like this to USF.