Giving
Being Part of the Solution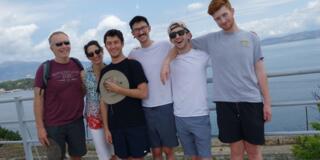 Father of four and USF parent, Robert Foster is the owner of MC3 Cardiopulmonary, a medical device manufacturer located in Dexter, Michigan. Through partnerships with leading heart surgeons, Foster has developed life-saving technology that has been essential during the global pandemic – a feat he believes was made possible by continuously working to be in service of others.
Of Foster's four children, Alexander Foster '18 graduated from USF with a degree in design. And just recently, Jackson Foster '21 will be the second of Foster's sons to have graduated from USF's College of Arts and Sciences. 
Reflecting on his son's time at USF, Foster shares his belief that higher education is essential to harnessing the talents and skillsets that live within each of us. This, he says, is a gift afforded to students in higher education.
Developing Milestones
As chairman and one of the cofounders of MC3 Cardiopulmonary, Foster sets organizational goals and works directly with physicians to understand what's happening in the field and to anticipate future and unmet needs. 
The Nautilus™ Smart ECMO Module, launched under Foster's leadership, is a derivative of the heart-lung machine used during cardiac surgery. This fifth-generation technology incorporates microprocessors and sensors within an external artificial lung. The device provides full temporary lung support and real-time clinical data to clinicians caring for critically ill patients on life support. It has been especially important for the sickest Covid patients suffering from respiratory distress.
"In many cases, very sick lungs won't tolerate the push of air provided by a ventilator, but with the ECMO (Extra Corporeal Membrane Oxygenation), all the breathing is done for the patient through a gas exchange as their blood passes through the device. Essentially they are breathing through their blood giving their lungs a chance to heal," said Foster.
Coronavirus patients experiencing respiratory distress quickly became some of the primary beneficiaries of the device. To date, most Covid-related patients that have received respiratory assistance from this machine have survived.
Through a partnership with MedtronicPLC, the device was first available in Europe and following FDA approval, is now being used in 20 U.S. hospitals — helping to save many more lives. 
Birthing Narratives of Virtue
Foster advises students in higher education to pursue an academic or cultural interest that teaches them how to learn. Taking advantage of the lessons imparted by a Jesuit education will help students grow and get out of their comfort zone.
"My wife Gina and I are very proud to see our kids so passionate about their careers as well as matters of social justice," stated Foster.
 Appreciating USF's commitment to diversity and teaching introspective thinking, Foster and his family have given generously to the university. Through their gift to USF's Arrupe Immersion Program, a program designed to allow students to experience and reflect in a socioeconomic environment different from their own, Foster hopes more students will benefit from this unique opportunity focused on mindful growth.
"Robert realizes that today's climate creates many roadblocks for the tradition of spiritual retreat. At institutions like USF, these programs provide students with a sanctuary for exploration and reflection that he believes shouldn't be missed," shared Fr. Patrick Dorsey, a USF development officer.
Concerning the pandemic and other events that have sparked significant conversations in the past few years, Foster believes that such passions make for interesting and fruitful discussions.
"An undergraduate degree at USF is an opportunity to educate the whole person and a chance to explore intellectual pursuits and interests with others," shared Foster. "It's about learning how to develop a vocabulary to communicate and express yourself to the world. This is something I have seen reflected in my sons, and I credit USF for being an important part of that formation."
Support is still needed in many areas as the situation continues to unfold worldwide. So we can continue to support our global USF community, consider giving to the COVID-19 Response Fund »