Engaged Learning
Been There, Giving Back
Alumn establishes scholarship for other first-gen Sport Management students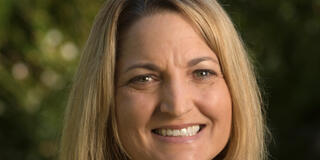 Since Heather L. Hunter MA '99 credits the University of San Francisco's Sport Management program with launching her career in the sports industry, giving back to the program was a no-brainer.
The result of her generosity is the new Heather L. Hunter Cohort 8 Scholarship, which will award $1,000 to a first-generation graduate student in the Sport Management master's program.
Broad Assistance
Unlike other scholarships, this one can be used for more than tuition. The reason, Hunter said, is simple: She remembers well what it was like to be a grad student responsible for costs including books and living expenses. She also honors her history by opting to pay it forward to first-generation graduate students: she was one, too.
The scholarship recipient also must demonstrate skills such as collaboration/teamwork, integrity, leadership, the ability to build relationships with others, and a strong work ethic. Those skills are essential in the sports industry, Hunter said, and they're important in graduate school.
"My USF cohort contributed to my success as a student," Hunter said. "I am grateful for the support and collaborative work we did together that helped me launch my sports career."
While in the program, Hunter landed an internship in the UC Berkeley Athletics Department. That led to her first job, also at UC Berkeley, where she served as marketing coordinator for Cal Athletics. From there, Hunter worked for Sharks Sports and Entertainment before moving to a sports marketing agency and then UC Davis. She's now executive director of UC Davis' Preferred Partnership Program, a sponsorship program that works with the athletics department, among other groups.
Support for Success
Her scholarship's name recognizes the role Hunter's cohort played in her success and also the importance of alumni support for the program. "When you provide a gift, hopefully that leads to others doing the same thing, whether that's in my cohort or another cohort," Hunter said. "For me, supporting current or prospective students is not just about the scholarship. It's also about being available, being a resource as they start their career in the sports industry."
Such alumni support is a critical piece of the program's continued success, said Brent R. von Forstmeyer, director of administration for the Sport Management program
"Earning a master's degree at USF is about more than a piece of paper. It's about joining an alumni community of leading professionals who go out of their way to help the next generation succeed," he said. "USF Sport Management alumni have repeatedly demonstrated their willingness to lift when they climb. Due to the generosity of our alumni, USF Sport Management remains a leading program in the world."