Equipped to Lead and Succeed
Student Wins Award at National Conference
She brings home the gavel from the Model U.N.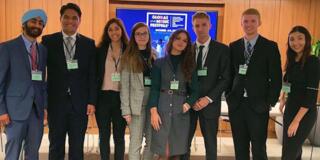 Anisa Alazraie '22 won the outstanding delegate award at the 24th annual University of Chicago Model United Nations Conference earlier this month.
Alazraie, a politics major and member of the USF Model U.N. team, won for her leadership and policy writing on a committee that was asked to create a constitution for the divided Yemen of 1989. The conference, with more than 1,000 students from more than 50 schools including Harvard, Yale, and Georgetown, was online this year because of the pandemic.
The award, the highest that a delegate from USF has ever received, comes with a gavel — a prized symbol among Model U.N. participants.
"It really validated the work we've put into it," Alazraie said. "It came right in the middle of this virtual semester, and it's just what we needed."
Student-Run Team
Alazraie is co-president of the USF Model U.N. along with Kellen Moran '22, a philosophy major. The team of 15 students is student-run, with a faculty adviser, Jeffrey Paller, associate professor of politics.
About 200,000 high school and college students participate in Model U.N. nationwide.
The USF team excels at "crisis committees," Alazraie said, a form of debate that often addresses a historical problem (such as a nation divided) or a fantasy issue (Star Wars and Harry Potter are big themes).
During the three-day conference, Alazraie actually dreamed about the Yemeni constitution, she said. Still, she was shocked to win.
"I always felt the conferences were just practice for me. I never thought I would win an award."
Elevating USF
When Alazraie was a first-year student at USF, she was a psychology major. She switched to politics and now plans to go to law school.
She joined Model U.N. at a campus involvement fair but at first didn't really know what it was about, she said.
She and Moran attended conferences and focused on the teams that did well. They brought home those techniques and practiced with the other USF Model U.N. students.
"I've had the best university education," Alazraie said. "I was able to find what I'm passionate about at USF. We want to make USF's name known as a university to be reckoned with in Model U.N. I am incredibly honored to give USF the platform it deserves."