San Francisco Advantage
Leading By Example
New director of the McCarthy Center connects students with the community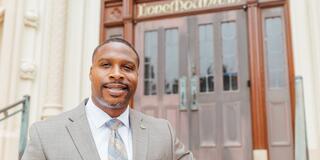 When Derick Brown talks about growing up in the Western Addition neighborhood, he talks about the friends who are no longer around.
"A lot of my friends are now dead, in jail, or wandering the streets of San Francisco," said the new senior director of the Leo T. McCarthy Center for Public Service and the Common Good at USF.
Brown joined a Zoom forum on Aug. 12 to meet with students, staff, and faculty and tell them a little about himself — and how community organizations helped shape his life. He grew up in public housing, and he spent a lot of time playing baseball, basketball, and football and learning to swim at the Boys & Girls Club. It was a safe haven for him, he said.
After attending City College of San Francisco, where he was valedictorian and commencement speaker and was elected a student member of the Board of Trustees, Brown moved on to UC Berkeley. He graduated with honors with a degree in public policy analysis.
Today, after more than 20 years of leading community efforts in the city, he said, his focus is to "prepare USF students for life in public service."
Brown said he will help the McCarthy Center work with more San Francisco groups, including United Playaz, the Boys & Girls Club, and the YMCA, with a goal of enriching USF students' community engagement.
And he wants to build partnerships between the McCarthy Center and teams like the Warriors, the Giants, the 49ers, and companies like Salesforce and Google — all organizations that care about the community engagement work the McCarthy Center is doing, Brown said.
Before joining USF, Brown worked with the San Francisco Police Department as senior community engagement adviser. Prior to his role with the SFPD, Brown directed the San Francisco Office of Neighborhood Services for the late Mayor Ed Lee, where he designed and managed the mayor's community relations strategy.
"I care about the community," Brown said. "I wouldn't change anything about the way I grew up because it created who I am."
Image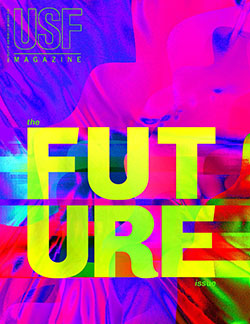 Featured in
USF Magazine
This USF News story was published inUSF Magazine, where you can find feature stories about university life, alumni Class Notes, and information about events at USF.