Campus Life
14 People to Know on Campus
They'll help you make the most of your time at USF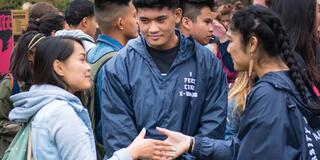 Starting the new year with a resolution to be more connected on campus? Here are 14 people you should know at USF.
Professors  Stay after class. Ask them questions. Attend their office hours. At USF, professors really are happy to help you, and their help — with both classwork and careers — can mean the difference between floundering and thriving. 
Clubs Concierge  Not sure which clubs to join? Stop by Student Leadership and Engagement. "You'll spend more time at USF outside of the classroom than in it," says Aileen Becerra '21, student organization consultant. "Come ask us how to fill that time with leadership, connections, and more."
Resident Adviser  The R.A. in your hall is your primary resource as you adjust to life on campus. "Any question you have, from 'Where is the financial aid office?' to 'What should I do for summer vacation?' we are here for you," says Bryan Munguia '22, resident adviser in Gilson Hall.
Academic Success Coach  Your Center for Academic and Student Achievement (CASA) coach will guide you from orientation to graduation, says Tanairy Carbo of CASA. If you're struggling with a class, "CASA coaches work with faculty advisers to create personalized plans to ensure success." 
Fitness Guide  The Koret desk can connect you to exercise classes, outdoor adventures, and intramural sports. "Our sports leagues are open to all levels — no experience required," says Jessica Javier, who oversees intramurals and club sports. "If you don't have a team to join, you can join as a free agent and I'll place you on a team to meet new people." 
Research Guru  Drowning in research materials? Look to the reference librarians in Gleeson. "If you're stuck at any point in the research process, don't stay in that stuck place. The semester is too short," says Colette Hayes, assistant librarian. 
Spiritual Guide  Visit University Ministry to join a retreat, take an immersion trip, or work for a cause close to your heart. "Whether you are a person of faith, spiritual but not religious, or somewhere in between, our staff and resident ministers are here for you," says Julie Dowd, director. 
On-Campus Counselor  When life is too much to handle, Counseling and Psychological Services is there for you, says Robin Z. Li, staff psychologist. "Be it emotional struggles, career concerns, relationship issues with a roommate, friends, romantic partners, family, or professors, we help you deal with it."
Peer Tutors  "Struggling with a class? Come see a peer tutor. Unsure how to organize your paper? Come to the Writing Center. Want to run through your speech or presentation before class? The Speaking Center can help you out," says Haley Rietman, program assistant in the Learning, Writing, and Speaking Centers. 
Career Coach  Create a LinkedIn profile, connect with employers and alumni, and use USF-exclusive online tools to search for internships and jobs. The Career Services Center can help you. "Most students tell me they wish they had visited our office sooner," says Juli-Anne Brockway, career counselor. "Don't be one of those students." 
International Student Adviser  If you're from another country, the International Student and Scholar Services office can help you navigate the waters of visa, travel, and work authorizations — and help you gel with the culture of the U.S., says Ying-Sing (Cynthia) Lai, associate director. 
Financial Aid Coach  The Office of Financial Aid helps you seek, obtain, and make the best use of all financial resources. "Students can find me counseling at our Financial Aid Services Center, where we welcome students on a walk-in and appointment basis," says Lori Prince, associate director of student financial services.
Cultural Connectors  "The Cultural Centers are lounge spaces where you can connect with other students who want to share their thoughts and learn about race, ethnicity, gender, sexuality, and other social justice issues," says Jinni Pradhan, assistant director. "Many students of color and queer students find connection by sharing their experiences through conversations, student-led discussions, and even spoken word performances."
Disability Specialist

 If you have a disability,

Student Disability Services can offer you accommodations. "Once students register with our office, they are assigned to a specialist who can teach them how to request and implement their eligible accommodations," says Greg Lee, office coordinator.