Diversity
Black History Month: In Conversation with Professor Richard Greggory Johnson III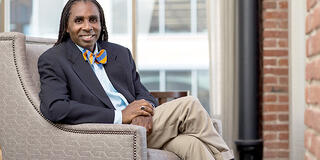 Professor Richard Greggory Johnson III shares his insights on public policy, activism, Black Lives Matter, the Obama administration, and what Black History Month means to him.
As an African American professor, Johnson explained that Black History Month "seeps into [his] work." "I am on the backs of my ancestors, and I just keep thinking about those slaves; and not only slaves, but individuals that lived through the Jim Crow segregated South, and even segregated San Francisco. I think about those folks during that period and I'm so reminded that I am not here solely on my own merit, but everything they went through," he said.
In terms of his field of public policy, he said, "We are seeing so many things that are applicable for the African American community, particularly during the Trump administration….There's never been a more pressing time to show that our history, and our heroes and sheroes are highlighted in the accomplishments they've made."
In this political climate during the times of the Trump administration, Johnson expressed the abundance of backlash the African American community has been facing. "We had eight really great years of Obama doing all types of things for everyone in the country, and we don't have that now. I don't think this president, or many people on the hill will be inclined to make changes or policies that positively impact African Americans, women, the LGBT community, or the working poor," he said. "If that happens, I will be pleasantly surprised, but given what we see now, I don't see it—which makes our resolve as African Americans to push harder and to let this country know that it was founded on the backs of our ancestors during the time of slavery, and because of that alone, we should be viewed in a positive light."
On the effect of the political climate on public policy, Johnson said, "I think we're seeing fewer African Americans go into the field of elected officials… and so that becomes more challenging." For Johnson, who pursued public policy, found the field to be a way of making a positive impact. "Intuitively I knew in order to make some type of change, I had to have some type of occupation to help make change—and now I do. I get a chance to do that via my students, via my colleagues, and via the organizations that I'm involved with," he said. "I think for me, I was always sort of hell-bent on being an activist in some type of way, and so my field allows me to do that."
Johnson believes policy is present in every field and organization, including those like Black Lives Matter, he explains. "There's a direct correlation between Black Lives Matter and also this notion of policy, because what that group is trying to do is impact change, specifically policies that undo the structural racism in which not only African Americans have endured, but other groups have endured as well… So I absolutely applaud that group."
Because of Johnson's passion and determination to be a force for change in the world, he brings social equity into the classroom with him each day.
I try to integrate social equity, race, sexual orientation, and gender—all that always comes out in all of my classes, whether through the lecturers, projects, or guest speakers.
For example, he recently assigned a project he has been utilizing in his courses for many years to his Human Resource Management students. "The students will focus on a case that has been adjudicated at the state, local, or federal level—and so many of the cases that the students have selected deal with race." The assignment is to produce a write-up of 20 to 30 pages in length by the end of the semester. "I'm very pleased at how forward thinking so many of our students are because they could easily fall back on a case that has nothing to do with social equity," said Johnson.
"I'm just going to keep doing my thing," he said. "I think it is important for my colleagues and my students to know that there is an African American full professor in the School of Management at USF, and that's an exciting thing."
In March, Johnson will receive the National LGBT Alliance Service Award at the National American Society of Public Administration Conference (ASPA), in Denver. "The purpose and significance of the award is to highlight ASPA members who are making a difference as an ally or member of the LGBT community on a national scale." For the past couple of years, Johnson has been addressing LGBT Homeless Youth issues. This year, he will conduct a national ASPA webinar, act as the Symposium Guest Editor for the Journal of Public Integrity, and chair a panel alongside other thought leaders, scholars, and community activists at a conference in Montreal.
By Lonny Wysard