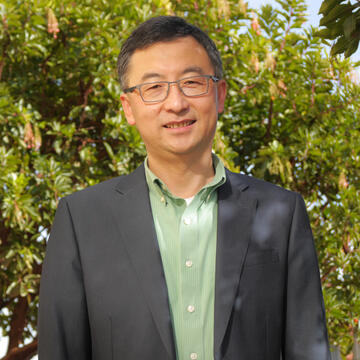 Program Coordinator
Full-Time Faculty
Biography
Professor Li received his PhD in Linguistics from Massachusetts Institute of Technology. He is the coordinator of the Chinese language program in the Department of Languages, Literatures, and Cultures. His research interests include phonetics, phonology and 
Chinese linguistics.
In addition to teaching Chinese courses at all levels at USF, Li has been actively involved in promoting Chinese language teaching and testing in the Bay Area. He was invited to speak at the Chinese Language Teachers Association Workshop in California, and the StarTalk Chinese Language Pedagogy Workshop at UC Berkeley.
Li's recent research is focused on the relation between tone realization and prosodic prominence, phonetic enhancement and its effect on phonological feature preservation, intonational structures, and production and perception of tones by non-native speakers of Chinese.
Li was also co-organizer of the 24th Annual North American Conference on Chinese Linguistics (NACCL-24).
Research Areas
Relation between tone realization and prosodic prominence
Phonetic enhancement and its effect on phonological feature preservation
Intonational structures
Production and perception of tones by non-native speakers of Chinese
Education
PhD, Linguistics, Massachusetts Institute of Technology