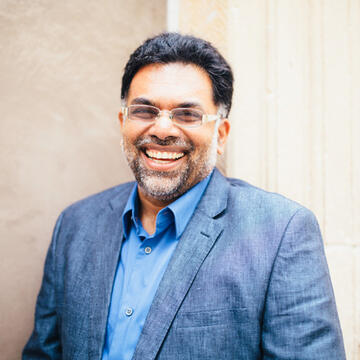 Biography
Vamsee Juluri received his PhD in Communication from the University of Massachusetts in 1999. His research interest is in the globalization of media audiences with an emphasis on Indian television and cinema, mythology, religion, violence and Gandhian philosophy. He is the author of four books:
Becoming a Global Audience: Longing and Belonging in Indian Music Television

(Peter Lang, 2003/Orient Longman, 2005) 

The Mythologist: A Novel

(Penguin India, 2010)

Bollywood Nation: India through its Cinema (Penguin India, 2013).
Rearming Hinduism: Nature, History and the Return of Indian Intelligence (Westland, 2014) 
His work has been published in journals such as Communication Theory, Television and New Media, European Journal of Cultural Studies, and Critical Studies in Mass Communication and in various scholarly anthologies on globalization, audiences, and Indian cinema.
He has also written numerous op-eds and feature articles for the San Francisco Chronicle, Times of India, Open Magazine, India-West and On Faith, among other publications, and is a frequent contributor to The Huffington Post and The Indian Express.
He has been interviewed or quoted about media matters in KQED's Forum, PRI, the Christian Science Monitor, India-Abroad, BBC World Service, Al Jazeera television, and KPIX-CBS, and is a recipient of the College of Arts and Sciences in the Media Award. His teaching areas include Media Audience and Research, International/Global Media, Media, Stereotyping and Violence, and Gandhi in the Media.
More information on Prof. Juluri's new book, Rearming Hinduism, is available at www.rearminghinduism.com.
Research Areas
Gobalization of media audiences with an emphasis on Indian television and cinema, mythology, religion, violence and Gandhian philosophy
Education
PhD, University of Massachusetts Amherst, 1999
Selected Publications
Bollywood Nation: India through its Cinema (Penguin India, 2013)

The Mythologist: A Novel (Penguin India, 2010)

Becoming a Global Audience: Longing and Belonging in Indian Music Television (Peter Lang, 2003/Orient Longman, 2005)