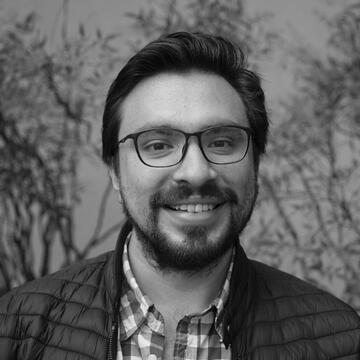 Sebastian Rubiano-Galvis
2022-2023 Gerardo Marin Postdoctoral Fellow
Full-Time Faculty
Fellows
Biography
Sebastian Rubiano-Galvis is the 2022-2023 Gerardo Marín Postdoctoral Fellow in the International Studies Department at the University of San Francisco. His work studies environmental politics and the politics of knowledge and technology in Latin America. He examines how states and non-state actors produce knowledge about environmental problems and what they do with it, especially in contexts of injustice, violence, and inequality. His most recent work explores these questions through the case of mercury toxicity in Colombian gold mining landscapes. In the last decade, he has also researched the politics and regulation of extractive industries, environmental knowledge in court, indigenous livelihoods, and pedagogy in environmental politics. 
Before joining USF, Rubiano-Galvis completed an interdisciplinary PhD in environmental and science studies at the University of California, Berkeley, and was a visiting doctoral fellow at Universidad del Rosario's school of law, Colombia.
He has worked and collaborated with various environmental, indigenous, and human rights organizations in Latin America and serves on the board of the Observatorio para la Gobernanza Marino Costera.
Expertise
Global environmental politics
Science and technology studies
Political ecology
Research Areas
Politics of environmental knowledge and technology
Environmental politics and environmental justice
Social studies of toxics, pollution, and extractive industries
Latin America
Education
UC Berkeley, PhD in Environmental Science, Policy & Management, 2022
Universidad de los Andes, MA in Geography, 2014
Universidad de los Andes, LLB (JD eq.), 2011
Prior Experience
Research Director of the Environmental Justice program, Dejusticia, Colombia.
Lecturer in environmental law, School of Law, Universidad de Los Andes, Colombia.
Awards & Distinctions
Service to Community Award. Department of ESPM, UC Berkeley, 2022.
Outstanding Graduate Student Instructor Award. GSI Teaching and Resource Center, UC Berkeley, 2021-2022.
Selected Publications
Rubiano-Galvis, S. (forthcoming) (ed.). Saberes, tecnologías y derecho en América Latina. Bogota: Ediciones Uniandes.

O'Neill, K & S. Rubiano-Galvis (forthcoming). "Teaching Perspective: Negotiating Climate Change in the UN System." In S. Jinnah, J. Dubreuil, J. Greene, & S. Foster (eds). Teaching Environmental Politics and Justice: Lessons from the Science of Teaching and Learning. Edward Elgar Publishing.

Rubiano-Galvis, S. (forthcoming). "Mercurio."In D. Ojeda & D. Ruiz (eds.). Belicopedia. Animales, plantas y otros seres de la guerra en Colombia. Bogotá: Ediciones Uniandes.

Barandiarán, J. & S. Rubiano-Galvis (2019). "An Empirical Study of EIA Litigation Involving Energy Facilities in Chile and Colombia." Environmental Impact Assessment Review 79.