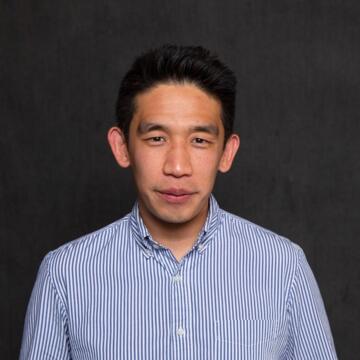 Sangman Kim
Assistant Professor
Harney Science Center 236
Biography
Professor Sangman Kim is broadly interested in the interaction between hosts and microbes. His current research focuses on a family of receptors called toll-like receptors (TLRs) that are used by host immune systems to distinguish between different classes of microbes, in order to drive a tailored immune response. He is utilizing a variety of molecular methods to dissect signaling downstream of TLR activation, and investigating the impact of commonly-occurring TLR polymorphisms on microbial recognition and consequent immune activation.
Research Areas
Immunology
Microbiology
Host-Pathogen Interactions
Education
University of Chicago, PhD in Immunology, 2018
Seoul National University, MS in Biological Sciences, 2010
UC Davis, BS in Biological Sciences, 2006
Selected Publications
Kim SM*, DeFazio JR*, Hyoju S, Sangani K, Keskey R, Krezalek MA, Khodarev NN, Sangwan N, Christley S, Harris KG, Zaborin A, Bouziat R, Ranoa DR, Ernest JD, Shakhsheer B, Flemming I, Wiegerinck M, Weichselbaum RR, Gilbert JA, Zaborina O, Jabri B†, Alverdy JC†. Fecal microbiota transplant rescues mice from sepsis due to multi-drug resistant healthcare pathogens by restoring systemic immunity. Nature Communications 2020 May 11;11(1):2354.
Abadie V*, Kim SM*, Lejeune T*, Palanski BA, Ernest J, Tastet O, Voisine J, Discepolo V, Marietta, EV, Gahmy M, Ciszewski C, Bouziat R, Panigrahi K, Horwath I, Zurenski MA, Lawrence I, Dumaine A, Yotova V, Grenier JC, Murray JA, Khosla C, Barreiro LB, Jabri B. "The interplay between IL-15, gluten, and HLA-DQ8 drives the development of coeliac disease in mice." Nature. 2020 Feb 12. doi: 10.1038/s41586-020-2003-8.
Meisel M*, Hinterleitner R*, Pacis A, Chen L, Earley Z, Mayassi T, Pierre J, Ernest J, Galipeau H, Thuille N, Bouziat R, Buscarlet M, Ringus D, Wang Y, Li Y, Dinh V, Kim SM, McDonald B, Zurenski M, Musch M, Furtado GC, Lira S, Baier G, Chang E, Eren A, Weber C, Busque L, Godley L, Verdu E, Barreiro L, Jabri B. "Microbial dependent inflammation drives myeloproliferative disease in a Tet2 deficient host." Nature 2018 May;557(7706):580-584.
Bouziat R*, Hinterleitner R*, Brown JJ*, Stencel-Baerenwald JE, Ikizler M, Mayassi T, Meisel M, Kim SM, Discepolo V, Pruijssers AJ, Ernest JD, Iskarpatyoti JA, Costes LM, Lawrence I, Palanski BA, Varma M, Zurenski MA, Khomandiak S, McAllister N, Aravamudhan P, Boehme KW, Hu F, Samsom JN, Reinecker H, Kupfer SS, Guandalini S, Semrad C, Abadie V, Khosla C, Barreiro LB, Xavier RJ, Ng A, Dermody TS†, Jabri B†. "Reovirus infection breaks tolerance to dietary antigens and promotes development of Celiac disease." Science 2017 Apr 7;356(6333):44-50.
Kim SM*, Mayassi T*, Jabri B. "Innate immunity: actuating the gears of celiac disease pathogenesis." Best Pract Res Clin Gastroenterol. 2015 Jun;29(3):425-35.