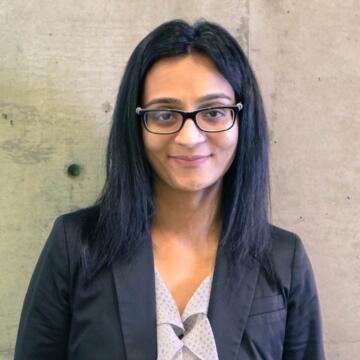 Sadia Saeed
Associate Professor
Department Chair
Full-Time Faculty
Biography
Sadia Saeed is a historical sociologist with substantive interests in religion and politics, international human rights, and global inequalities. Her first book Politics of Desecularization: Law and the Minority Question in Pakistan (Cambridge University Press, 2017) examines the contentious relationship between Islam, nationalism, and rights of religious minorities in colonial India and Pakistan. It received the 2016-2017 Book Prize from the American Institute of Pakistan Studies (AIPS). Her research has also been published in Theory & Society, Studies in Ethnicity & Nationalism, Political Power & Social Theory, Economic & Political Weekly, Critical Research on Religion, Comparative Studies in South Asia, Africa, & the Middle East, and edited volumes.
Building on this work, Saeed is working on a comparative and historical project that investigates how the place of religious minorities in Indo-Persian societies has changed in the course of the transitions from pre-modern to early modern, and then to modern, forms of rule.
Saeed's current research also focuses on struggles over decolonization and human rights in the second half of the twentieth century. She is working on a book manuscript that centers the United Nations General Assembly as a critical institutional site in these struggles.
At the University of San Francisco, Saeed teaches introductory courses on sociology and globalization. She also teaches on global inequalities, sociology of Islam, and global Asia.
Research Areas
Religion and Politics
Sociology of Islam
International Human Rights
Empires and Colonialism
Pakistan/South Asia
Appointments
Director, Minor in Peace and Justice Studies
Education
PhD, Sociology, University of Michigan at Ann Arbor
MA, University of Notre Dame, Indiana
BSc (Honors), Lahore University of Management Sciences, Pakistan
Selected Publications
S. Saeed (Forthcoming). "Decolonization Struggles at the United Nations: The Question of Algeria, 1955-1961." European Journal of Sociology.
S. Saeed (Forthcoming). "Ritual Cursing as an Oath of Submission: The Problem of Religious Difference across Safavid Iran and Modern Pakistan." Modern Asian Studies.
S. Saeed (2021). "Islam, Modernity, and the Question of Religious Heterodoxy: From Early Modern Empires to Modern Nation-States." In K. Barkey, S. Kaviraj and V. Naresh (eds.) Negotiating Democracy and Religious Pluralism. New York: Oxford University Press.
S. Saeed (2021). "Religion, Classification Struggles, and the State's Exercise of Symbolic Power." Theory and Society 50(2): 255-81.
S. Saeed (2017). Politics of Desecularization: Law and the Minority Question in Pakistan. New York: Cambridge University Press.