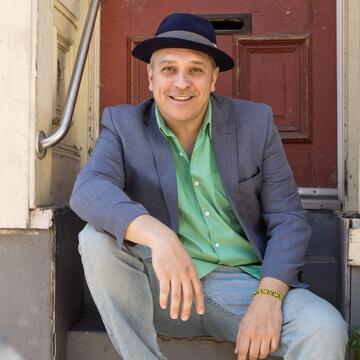 Paul Stojsavljevic-Flores
Adjunct Professor
Biography
Paul S. Flores creates plays and oral narratives that spur and support societal movements that lead to change. Flores last play "On The Hill: I Am Alex Nieto" brought San Francisco communities together divided by gentrification and police violence. Flores' ability to paint a vivid picture of bi-cultural Latino experience is shaped by growing up near the Mexican border.
Flores' performance projects have taken him from HBO's Def Poetry to Cuba, Mexico, and El Salvador. His comprehensive body of work touches on the immigrant story in all its complexities: from the violent — forced migration, gang life, war, incarceration, and separated families — to zooming in on intergenerational relationships and the struggle of preserving important cultural values. Paul's newest play "We Have Iré" was co-commissioned by Yerba Buena Center for the Arts and Pregones Theater. He is an adjunct professor of theater at the University of San Francisco.
Expertise
Writing
Theater
Hip-Hop
Latino Cultural Aesthetics
Immigration
Research Areas
Health Disparities in Latino Males
Education
UC San Diego, BA
San Francisco State Univeristy, MFA
Prior Experience
Season 3 & 4 contestant, HBO Def Poetry
Awards & Distinctions
Creative Capital Award, January 2019

SFFILM Westridge Grant- Screenwriting, November 2018

National Performance Network Creation Fund July 2018

San Francisco Arts Commission Individual Artist Grant July 2018

California Arts Council/Artist in Community (Fathers & Families San Joaquin) Jun
Selected Publications
Along the Border Lies, A ZYZZYVA First Novel, Creative Arts Books, Berkeley, CA: 2001. Awarded PEN Oakland Josephine Miles National Literary Award 2003

Bookmark Now: Writing in Unreaderly Times, Memoir essay, ed. Kevin Smokler; Basic Books, New York, July 2005

Aztlan: A Journal of Chicano Studies, interview and book review UCLA Chicano Studies Research Center, Spring 2009

Me No Habla With Acento: Contemporary Latino Poetry, poems, Ed. Emmanuel Xavier; El Museo Del Barrio in association with Rebel Satori Press, New York, New York; 2011

Journal of Critical Thought and Praxis, Dedication to Geoffrey Canada; Iowa State University, October 2012
Playwriting & Theater/Performance
WE HAVE IRÉ, original multidisciplinary bilingual musical play written, starring and developed by Paul S. Flores, musical director Yosvany Terry, choreographer Ramon Ramos, directed by Rosalba Rolón. Premiered at Yerba Buena Center for the Arts May 10-12, 2019, San Francisco, CA. Commissioned by Yerba Buena Center for the Arts. Co-Produced by Pregones Theater/Puerto Rican Travelling Theater (NYC). Currently on tour Winter 2019-Fall 2020.
PILGRIM STREET, original play written and coproduced by Paul S. Flores, directed by Sean San José. Premiered September 13-16, 2018 at Z Space Theater in San Francisco, CA. Commissioned by Youth Speaks, co-commissioned by Fathers and Families of San Joaquin. Played October 5-7, 2018 San Joaquin Delta College Atherton Auditorium, Stockton, CA; November 17, 2018, Alcatraz Island, Alcatraz, CA.
ON THE HILL: I AM ALEX NIETO, original play written, directed and developed by Paul S. Flores, with Loco Bloco Performance Ensemble, musical director Pedro Gomez. Premiered October 27-30, 2016 at Brava Theater in San Francisco, CA. Commissioned by Loco Bloco with Kenneth Rainin Foundation Grant. Tour Spring 2017: Laney College, Oakland, CA; San Joaquin Delta College, Stockton, CA; UC Santa Cruz, University of San Francisco, SF, CA.
PLACAS, original ensemble play written by Paul S. Flores, directed by Michael John Garcés, starring Ric Salinas of Culture Clash. Premiered September 6-16, 2012 in San Francisco at Lorraine Hansberry Theater; Co-Produced by CARECEN, CA, Mission Cultural Center, CA, San Francisco International Arts Festival CA, co-commissioned by GALA Theatre, Washington DC; Su Teatro, Denver, CO; Pregones Theatre, NYC; MACLA San Jose, CA and the National Performance Network. Toured to 25 cities, 25,000 audience.
You're Gonna Cry, original solo theater work written and performed by Paul S. Flores and Directed by Brian Freeman Premiered February 11-12, 2011 @ Dance Mission Theater, San Francisco; played Guadalupe Cultural Arts Center (San Antonio,TX); Free Street Theatre (Chicago), Interact Theater (Philadelphia); Houston Community College (Houston, TX); Grand Central Arts Center, Santa Ana, CA; Phoenix Theater, San Francisco May 2017.