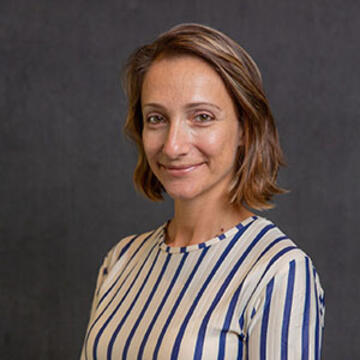 Nora Fisher Onar
Assistant Professor
Academic Director
Full-Time Faculty
Biography
Nora Fisher Onar is assistant professor of international studies at the University of San Francisco. Her research interests include the theory and practice of international relations, foreign policy analysis, comparative area studies (Turkey; Middle East; Europe), political ideologies, gender, and history/memory. She received her doctorate from Oxford and holds master's and undergraduate degrees from Johns Hopkins (SAIS) and Georgetown universities, respectively. She speaks five languages, has traveled to over 80 countries, and lived in eight. Fisher-Onar is editor of the volume, Istanbul: Living With Difference in a Global City.
Fisher-Onar regularly speaks at policy fora like Brookings, Carnegie, and the German Marshall Fund (GMF) where she has served as a Ronald Asmus Fellow, Transatlantic Academy Fellow, and Non-Residential Fellow. She also contributes frequent commentary to platforms like the Washington Post, Foreign Affairs, the Guardian, and OpenDemocracy. Her teaching and scholarship emanates from the analytical, but also normative and practical question: "How to better live together in diversity?"
Education
Doctorate of Philosophy (DPhil), University of Oxford
Master in International Affairs (MIA), Johns Hopkins University School of Advanced International Studies
BS, Foreign Service, Georgetown University
Awards & Distinctions
Davies Forum Professorship, USF Spring 2021
Deborah Garner Award, Women's Caucus for International Studies, International Studies Association (ISA), 2016
Transatlantic Academy, Residential Fellowship on "Religion and the Liberal Order" German Marshall Fund of the United States (GMF), 2013-4
Ronald D. Asmus Policy Entrepreneur Fellowship, German Marshall Fund of the United States (GMF), 2012-3
Sakip Sabanci International Research Award 2009
Selected Publications
Pluralism in Turkey: Islam, Liberalism and Nationalism (Cambridge University Press, forthcoming)
"Making Sense of Multipolarity: Eurasia's Former Empires, Family Resemblances, and Comparative Area Studies," Qualitative and Multi-Method Research (QMMR) symposium, 17-18:1, pp.15-19.
"An Emerging Paradigm: Ethno-Religious Nationalism in an Age of Anxiety", LSE blog Religion and Global Society, 30 July 2020.
"Between Neo-Ottomanism and Neo-Liberalism: The Politics of Imagining Istanbul" - Introduction to edited volume by Fisher Onar et al. Istanbul: Living with Difference in a Global City, (Rutgers University Press, 2018).
"Are 'Global Cities' an Antidote to Populism and Nationalism? Istanbul Offers some Hope." Washington Post, 19 June 2018.