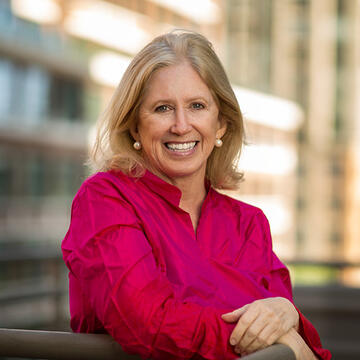 Moira Gunn
Associate Professor
Biography
Associate Professor Moira Gunn is a former NASA scientist, engineer and software programmer. Gunn is internationally recognized for her work with global biotechnology business and emerging global information systems. Her pioneering research continues to investigate and inform the next generation of conscientious developers and leaders in biotechnology and information systems.
As one of the leading drivers behind the Business of Biotechnology Program, Gunn teaches classes on the legal, ethical and social implications of biotech, as well as educating on information system design and analysis. Working with graduates in the MBA, MSIS and Professional Science Masters in Biotechnology Program, Associate Professor Gunn hopes to nurture a greater awareness of the ways in which technology and science can create more informed, effective and ethically sound communities.
Gunn is also a long-time journalist, hosting public radio's Tech Nation and its regular segment BioTech Nation. It can be heard four times each weekend on the National Public Radio website, npr.org, on its 24-hour program stream. Her book, Welcome to BioTech Nation: My Unexpected Odyssey into the Land of Small Molecules, Lean Genes, and Big Ideas, was named one of the Best Science Books of 2007 by the Library Journal.
Appointments
Director, Information Systems Program, USF, 2007 - 2009
Leader, Business of Biotechnology Program
Education
PhD, Mechanical Engineering, Purdue University, Lafayette, IN
MS, Computer Science, Purdue University, Lafayette, IN
BS, Computer Science, USF, CA
Awards & Distinctions
Public Service Award, for contribution to the public understanding of science and engineering, National Science Board, 2011

Commencement Speaker, UC Santa Cruz, School of Engineering, Class of 2009

EE Times 2008 Educator of the Year

Best Science Books of 2007, Library Journal

Science Journalism Laureate, 2006 - present

Chair, Professional Studies Directors' Forum, USF, 2007 - 2009

Advisory Board, Department of Mechanical Engineering, Stanford University, 2004 - present

Advisory Board, School of Mechanical Engineering, Purdue University, 2008 - present

Global Advisory Board, Trusted Computing Group (TCG) 2004 - present
Selected Publications
Gunn, M. Welcome to BioTech nation: My unexpected odyssey into the land of small molecules, lean genes, and big ideas. New York: AMACOM Publishers, New York. 2007.

"The Future of Information," Libraries Distinguished Lecture, Purdue University, 2009

"Explaining Science to the Everyday Person," National Science Board, 2011

"Strategic Engagement of the Science-Business Media," Journal of Commercial Biotechnology, 2012