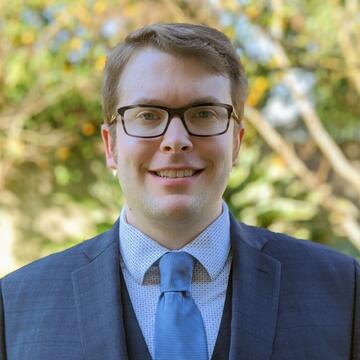 Michael J. Stevenson
Assistant Professor
Program Director
Full-Time Faculty
Harney Science Center 357
Biography
Michael Stevenson obtained a BS in biochemistry from the University of Washington and a PhD in chemistry from Dartmouth College. After graduate school, he first completed postdoctoral work at Ohio State University before going on to his second postdoctoral appointment at University of California, Davis. 
The Stevenson Group at USF studies the interplay between antimicrobial peptides (AMPs) and metals. Students in the group learn peptide biochemistry, coordination chemistry, spectroscopy, and calorimetry to elucidate how metals may influence AMPs. This bioinorganic research will help provide the foundation for rational design of new innovative therapeutics for treatment of bacterial infections as alternatives to traditional antibiotics.
Research Areas
Bioinorganic chemistry
Biochemistry
Antimicrobial peptides
Education
Dartmouth College, PhD in Chemistry, 2016
University of Washington, BS in Biochemistry, 2009
Prior Experience
Postdoctoral Scholar, University of California, Davis
Postdoctoral Scholar, Ohio State University
Selected Publications
Stevenson, M.J.; Janisse, S.E.; Tao, L.; Neil, R.L.; Pham, Q.D.; Britt, R.D.; Heffern, M.C. "Elucidation of a copper binding site in proinsulin C-peptide and its implications on metal-modulated activity" Inorganic Chemistry, 2020, 59, 9339-9349.

Stevenson, M.J.; Farran, I.C.; Uyeda, K.S.; San Juan, J.A.; Heffern, M.C. "Analysis of metal effects on C-peptide structure and internalization" ChemBioChem, 2019, 20, 2447-2453. (Highlighted in Science Daily, PhysOrg, and as a cover feature)

Stevenson, M.J.;* Uyeda, K.S.;* Harder, N.H.O.; Heffern, M.C. "Metal-dependent hormone function: the emerging interdisciplinary field of metalloendocrinology" Metallomics, 2019, 11, 85-110. *Equal contribution.

Stevenson, M.J.; Marguet, S.C.; Schneider, C.R.; Shafaat, H.S. "Light-driven hydrogen evolution by nickel-substituted rubredoxin" ChemSusChem, 2017, 10, 4424-4429.

Johnson, D.K.; Stevenson, M.J.; Almadidy, Z.A.; Jenkins, S.E.; Wilcox, D.E.; Grossoehme, N.E. "Stabilization of Cu(I) for binding and calorimetric measurements in aqueous solution" Dalton Transactions, 2015, 44, 16494-16505.