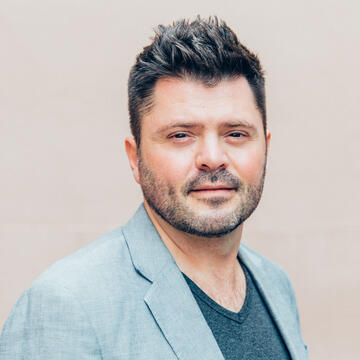 Marthinus JC van Loggerenberg
Assistant Professor
Biography
Joining the USF advertising program in fall 2018, Professor van Loggerenberg brought with him 20 years of industry experience, including lead positions across a number of roles: strategic planning at international digital and traditional advertising agencies such as Foote, Cone and Belding (FCB), branded entertainment production for television, and advertising and marketing manager roles at top retail and music entertainment companies. Prior to joining USF, Marthinus oversaw the brand and business leadership department at the Vega School of Brand Leadership in South Africa.
In addition to South Africa and the US, Marthinus has also lived in the UK. He loves touring and experiencing different cultures, like running with the bulls in Spain, and has many more adventures on his bucket list which he hopes to fulfill in the near future.
Expertise
Creative brand strategy
Brand identity, design and narrative
Branded content and entertainment
Word of mouth and influencer marketing
Generation studies and trend forecasting
Research Areas
Branded content and entertainment
Brand communication and advertising curriculum development
Word of mouth and influencer marketing
Education
PhD, University of Stellenbosch Business School
MBA, University of Stellenbosch Business School
Selected Publications
Towards a definition for branded entertainment: An exploratory study. Journal of Marketing Communications, published: 22 July 2019. 

Creating branded entertainment that resonates: Perspectives of multinational award winners. Presented at the 18th International Conference on Research in Advertising in Krems, Austria. ISBN: 978-3-200-06756-11. Published in Advances in Advertising Research Series (Vol. XI) by Springer.

Word of Mouth Marketing to Emerging Middle Class Women in South Africa. Best Paper Award at the 2010 Global Business and Technology Conference held at the Kruger National Park. 

Word-of-Mouth Marketing to a Female Emerging Market: A South African Perspective. The Journal of Digital Marketing (Vol.1 No.2 2010) Pages: 107-127. Research Science Press, ISSN: 2229-595X.

Brand Building: A Telling Story. USB's Leader's Lab. (Vol. 4 No. 2 2010) Pages: 13 – 17.