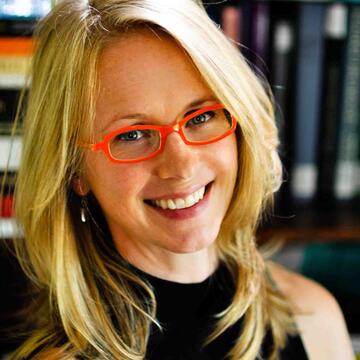 Marilyn E. DeLaure
Professor
Biography
Marilyn (Bordwell) DeLaure teaches courses in rhetoric, criticism, and social movements. Her research investigates how people effect social change, focusing especially on embodied performance. She has published essays on dance, civil rights rhetoric, and environmental activism, and is co-editor of Culture Jamming: Activism and the Art of Cultural Resistance (NYU Press). She is also a producer of the award-winning documentary film MOTHERLOAD about the cargo bicycling movement.
Research Areas
Social movements
Bodily performance
Environmental rhetoric
Civil rights and public memory
Culture jamming
Appointments
Co-Director, Tracy Seeley Center for Teaching Excellence (CTE)
Education
University of Iowa, PhD in Rhetorical Studies, 1999
Drake University, BA in Speech Communication
Awards & Distinctions
USF Faculty Association Distinguished Teaching Award, 2018
USF College of Arts and Sciences Service Award, 2018
Selected Publications
DeLaure, Marilyn. "Performing Loss: Sonic Rhetoric in Maya Lin's What is Missing?" Liminalities: A Journal of Performance Studies 16.1 (2020): 1-32. 
DeLaure, M. "Televisuality and the Performance of Citizenship on NBC's 'Sit-In'." In  Like Wildfire: The Rhetoric of the Civil Rights Sit-Ins. Edited by Sean Patrick O'Rourke and Lesli K. Pace. University of South Carolina Press, 2020.
DeLaure, M. and Fink, M., eds. Culture Jamming: Activism and the Art of Cultural Resistance. NYU Press, 2017.
DeLaure, M. "Environmental Comedy: No Impact Man and the Performance of Green Identity." Environmental Communication: A Journal of Nature and Culture 5.4 (December 2011): 447-66.
DeLaure, M. "Remembering the Sit-Ins: Performing Public Memory at Greensboro's International Civil Rights Center and Museum." Liminalities: A Journal of Performance Studies 7.2 (2011): 1-28.
DeLaure, M. "Planting Seeds of Change: Ella Baker's Radical Rhetoric." Women's Studies in Communication 31.1 (Spring 2008): 1-28.
Bordwell, M. "Jamming Culture: Adbusters' Hip Media Campaign Against Consumerism." In Confronting Consumption, edited by Ken Conca, Mike Maniates, and Tom Princen. Boston, MA: MIT Press, 2002.
Bordwell, M. "Dancing With Death: Performativity and Undiscussable Bodies in Still/Here." Text and Performance Quarterly 18 (October 1998): 369-79.