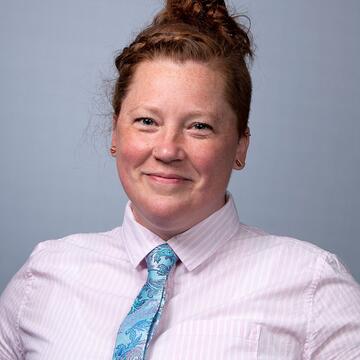 Kae McCarty
Assistant Professor
Harney Science Center 116
Biography
Kae McCarty, PhD (she/hers) is an assistant professor in the Department of Kinesiology. She has experience working in rehabilitation, health education programming, biomechanics, policy, and personal training. Her research focuses on disability justice within Kinesiology, specifically related to adaptive sports. She is passionate about how disability paradigms intersect with health and fitness, and advocating for health equity. She also plays roller derby for Peninsula Roller Derby.
Expertise
Disability justice
Health equity
Education
Oregon State University, PhD in Kinesiology, 2022
San Diego State University, MA in Kinesiology, 2015
Oakland University, BA in Communication, 2007
Awards & Distinctions
Graduate, Health Policy Research Scholars (2022), Robert Wood Johnson Foundation. 
Local AKA Doctoral Scholar (2021), American Kinesiology Association. Awards a student, recommended by department faculty, whose academic and leadership records are distinctive. The award recognizes and promotes academic excellence, to further the professional competence and dedication of academically accomplished students, and to promote kinesiology and its related fields.
Frances Dancy Hooks Legacy Award Nominee (2021), Dr. Martin Luther King, Jr. Celebration Event. Recognizes Oregon State students, staff or faculty who exemplify Frances Dancy Hooks' work: building bridges across cultures, showing courage in promoting diversity, and proudly "Walking the Talk." Oregon State University, Corvallis, OR. 
Herbert F. Frolander Award for Outstanding Graduate Teaching Assistant College of Public Health and Human Sciences Nominee (2020), Oregon State University, Corvallis, OR. 
President's Award for Research (2015), San Diego State University. Awarded for a pilot study conducted on the integration of an inclusive fitness initiative at the Peninsula Family YMCA as part of the YMCA of San Diego County. San Diego, CA. Amount awarded: $500.
Selected Publications
McCarty, K., Townsend, J., & MacDonald, M. (in press). Intercollegiate Sports and the Need for Disability Equity. PALAESTRA.
McCarty, K., Case, L., & Kennedy, W. (2022). Beyond the Checkbox: Practical Social Justice Strategies in Kinesiology and Physical Education. Journal of Physical Education, Recreation & Dance, 93(9), 15-20.
McCarty, K., Kennedy, W., Logan, S., & Levy, S. (2021). Examining the relationship between falls self-efficacy and postural sway in community-dwelling older adults. Journal of Kinesiology & Wellness, 10(1), 21-30.
Ross, S.M., Schram, B., McCarty, K., Fiscella, N., Leung, W., Lindland, K., & Beamer, J. (2021). Promoting Inclusion of Adults with Disabilities in Local Fitness Programs: A Needs Assessment. Developmental Disabilities Network Journal. 2(1), 99-117.
Stinson, J., McCarty, K., & MacDonald, M. (2020). Steps for community fitness organizations seeking to engage in inclusive practices. ACSM's Health & Fitness Journal, 24(2), 16-21.