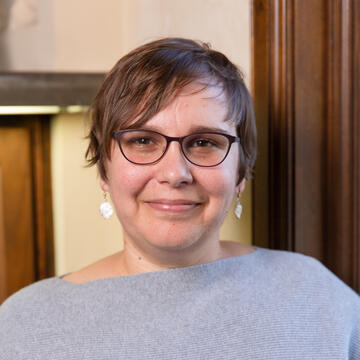 Julia Thompson
Assistant Professor, Faculty Director of the Innovation Hive and Engineering Partnerships
Biography
Dr. Julia Thompson has a passion for integrating the soul's work into the engineering design process and technology. She is driven to help students, and people in general, look at technology as a pathway toward healing of earth and unjust social structure. Julia did her undergrad in chemical engineering at UC Berkeley and her PhD in engineering education at Purdue. Her research interests focus on how engineering design practices impact the relationships that engineering programs create with the community.
Dr. Thompson's curriculum utilizes project-based service learning to engage passionate students. In addition to her academic work, she is a cyclist and she practices meditation.
Appointments
EPICS Director and Instructor
Education
PhD, Engineering Education, Purdue University
BS, Chemical Engineering, UC Berkeley
Selected Publications
(2017) Thompson, Julia and Brent Jesiek. "Transactional, Cooperative, and Communal: Relating the Structure of Engineering Community Engagement Programs to the Nature of Partnerships." Michigan Journal of Community Service Learning.

(2014) Thompson, Julia, Mel Chua, and Cole Joslyn. "Engineering Education as a Spiritual Vocation." 2014 ASEE Annual Conference and Exposition, Indianapolis, IN. Received Best Paper in LEES division.

(2018) Thompson, Julia, Geoffrey L. Herman, Travis Scheponik, Linda Oliva, Enis Golaszewski, Alan T. Sherman, David DeLatte, Dhananjay Phatak, Kostantinos Patsourakos. "Student Misconceptions about Cybersecurity Concepts: Analysis of Think- Aloud Interviews" Journal of Cybersecurity Education.