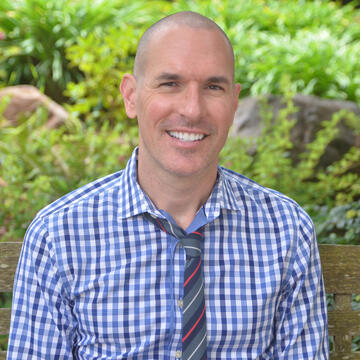 Jeremy Doughan
Adjunct Professor
Biography
Dr. Jeremy Doughan is an Adjunct Professor of Psychology and affiliate faculty in the School of Nursing and Health Professions at the University of San Francisco. He teaches courses in General Psychology, Abnormal Psychology and Clinical Psychology.
Dr. Doughan received his undergraduate degree in psychology from the University of Minnesota. He subsequently received his master's and doctoral degrees in Clinical Psychology from the Minnesota School of Professional Psychology. During his graduate tenure, he completed a neuropsychology practicum at Hennepin County Medical Center and an advanced practicum in geropsychology at the Minneapolis VA Healthcare System. In addition, he worked as a clinical research assistant for the University of Minnesota, Department of Psychiatry, on several R01 grants investigating cocaine addiction. Dr. Doughan completed his pre-doctoral clinical psychology internship at the Miami VA Healthcare System, where he completed rotations in Geropsychology and Neuropsychology. After his internship, Dr. Doughan trained in the Clinical Psychology postdoctoral fellowship at the Boston VA Healthcare System, specializing in Geropsychology. Dr. Doughan held academic appointments as a Teaching Fellow in Psychiatry at Boston University School of Medicine, as well as Clinical Fellow in Psychiatry at Harvard Medical School.
Dr. Doughan is an Associate Clinical Professor of Psychiatry at UCSF School of Medicine and is a staff psychologist in the Division of Geropsychiatry for the Department of Veterans Affairs San Francisco Medical Center. At the VA Medical Center, Dr. Doughan currently serves as geriatric psychologist for several services within the hospital. Dr. Doughan is the American Psychological Association, Division 2, 2017 Adjunct Faculty Teaching Excellence Award recipient.
Education
Postdoctoral Fellowship, Clinical Psychology, VA Boston Healthcare System, 2008
Internship, Clinical Psychology, Miami VA Healthcare System, 2007
PsyD, Clinical Psychology, Minnesota School Professional Psychology, 2007
MA, Clinical Psychology, Minnesota School Professional Psychology, 2003
BA, Psychology, University of Minnesota, 1998
Selected Publications
Hua, W., Burnias, M. and Doughan, J. (2016, Sept.). "Addressing Integrated Primary Care Services for LGBT Veterans Across the Lifespan." Symposium presentation for annual meeting of the Gay Lesbian Medical Association (GLMA): St. Louis, MO.

Tong, H., Zwelling, L., and Doughan, J. (2016). "Interpersonal Psychotherapy in Practice: Working with Depressed Adults." In  Comprehensive Textbook of Psychotherapy (2nd Ed.), eds. B. Bongar, A. Consoli and L. Beutler. New York: Oxford University Press.

Doughan, J., Threlfall, A., Key, G. and Niu, G. (2015, March). "Psychotherapy in Late Life: Palliative Psychotherapy at End of Life." Symposium presentation for annual meeting of the American Association for Geriatric Psychiatry (AAGP): New Orleans, LA.

Doughan, J., Threlfall, A., Arean, P. and Oslin, D. (2014, March). "Psychotherapy in Late Life: Geriatric Anxiety." Symposium presentation for annual meeting of the American Association for Geriatric Psychiatry (AAGP): Orlando, FL.

Partovi, D. anda Doughan, J. (2014, Feb.). "Competency Based Training Protocol for Graduate Students in Assessment of Neuropsychological Functioning in Geriatric Veterans." Poster presentation for Association for Gerontology in Higher Education's (AGHE) 40th annual meeting and Educational Leadership Conference: Denver, CO.

Doughan, J., Drucker, M. and Ferster, D. (2014, Feb.). "Mental Health Interprofessional Geriatrics Training in a VA Medical Center: Collaborative Model for Behavioral and Social Science Disciplines." Poster presentation for Association for Gerontology in Higher Education's (AGHE) 40th annual meeting and Educational Leadership Conference: Denver, CO.

Doughan, J., Threlfall, A., Arean, P., Gallagher-Thompson, D. and Satre, D. (2013, May). "Psychotherapy in Late Life: Geriatric Anxiety." Symposium presentation for 166th annual meeting of the American Psychiatric Association: San Francisco, CA.

Doughan, J. and Stripling, A.M. (2013, March). "Building and Launching a Successful Clinical Geropsychology Training Program: Lessons Learned from the Nascent Year." Poster presentation for Association for Gerontology in Higher Education's 39th annual meeting and Educational Leadership Conference: St. Petersburg, FL.

Stripling, A.M., & Doughan, J. (2012, Nov.). The Healthy Aging Group: A method for reducing ageism and promoting successful aging in later life. Poster presentation to the 65th annual meeting of the Gerontological Society of America: San Diego, CA.

Doughan, J. (2012, June). "Aging and Sexual Health." Human Sexuality Conference. Department of Veterans Affairs Palo Alto Healthcare System: Palo Alto, CA.

Hsu, A., Sudore, R., Doughan, J. and Williams, B. (2010, May). "When Caring Costs More." Poster presentation at the annual meeting of the American Geriatrics Society: Orlando, FL.

Karel, M., Emery, E., Molinari, V. and CoPGTP Task Force (2010). "Development of a Tool to Evaluate Geropsychology Knowledge and Skill Competencies." International Psychogeriatrics, 22(6), 886-896.

Moye, J., Archambault, E., Schuster, J., Karel, M.J., Trevino, K., Salib, B., Doughan, J. & Billings, R.L. (2009, July). Meeting Veterans Needs After Cancer Treatment. With the Stress, Health, and Aging Research Program (SHARP). Abstract presentation for 3rd Annual VA Mental Health Conference: Washington, DC.

Doughan, J. & Poon, L. (2009, May). Aging and Sexual Health. Human Sexuality Conference. Department of Veterans Affairs Medical Center: San Francisco, CA.

Karel, M., Biermann, J., Doughan, J., Emery, E., Molinari, V., Stoner, S., Tazeau, Y., Whitbourne, S., Yang, J. & Zweig, R. (2009, April). CoPGTP Task Force on Geropsychology Competency Assessment. Symposium presentation for the APPIC Conference: Portland, OR.

Karel, M., Northrop, L., Tazeau, Y., Whitbourne, S., Yang, J., Biermann, J., Doughan, J., Stoner, S., Emery, E., Zweig, R. (2008, August). Competencies for Professional Geropsychology Practice: Strategies for Definition and Assessment. Symposium presentation for the annual meeting of the American Psychological Association: Boston, MA.

Lim, K.O., Wozniak, J.R., Mueller, B., Franc, D., Specker, S., Rodriguez, C., Silverman, A. and Rotrosen, J. (2008). "Brain Macrostructural and Microstructural Abnormalities in Cocaine Dependence." Drug and Alcohol Dependence, 92(1-3), 164-172. [acknowledgement]