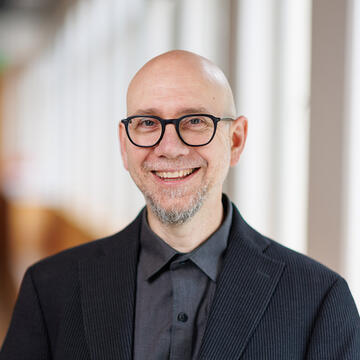 Jeffrey Paris
Acting Dean, College of Arts and Sciences and Associate Professor of Philosophy
Biography
Jeff Paris joined the USF faculty in 2001 when he left a teaching position at the California State University at Bakersfield. He received tenure and was promoted to Associate Professor in 2008, later serving as the Department of Philosophy chair (2010-2013) and the Environmental Studies program director (2016-2018). He was appointed as Academic Assistant Dean (2018-2019), then as Associate Dean for Arts & Humanities (2019-2023), and currently as Acting Dean for the College of Arts & Sciences (2023-2024). Other service roles included the Faculty Director for Adjunct Faculty, and Chair of the First Year Seminar Committee. 
Jeff's teaching and research interests began with courses in existential and postmodern philosophy, then included courses on imprisonment, science fiction, and literature, before settling into his most recent focus on environmental and animal ethics. He has two co–edited volumes — Liberation between Selves, Sexualities and War and New Critical Theory: Essays on Liberation — and papers in a variety of journals. He has taught at San Quentin Prison and the Northern California Women's Facility, bringing USF students to San Quentin to participate in classes with incarcerated students. He was awarded the College Service Learning Merit Award (2005), the University Distinguished Teaching Award (2006), and the College Full Time Faculty Service Award (2012).
Jeff lives in Oakland with his wife, daughter, three cats, and a dog. In his free time, he enjoys an eclectic mix of music, and joined online radio station KUSF for a few years as a weekly heavy metal and punk rock DJ. Since 2018, he has been training in the Japanese martial art aikido.
Research Areas
Environmental ethics
Animal ethics
Appointments
Acting Dean, College of Arts and Sciences, 2023–2024
Associate Dean for Arts & Humanities, College of Arts and Sciences, 2019–2023
Academic Assistant Dean, College of Arts and Sciences, 2018–2019
Education
PhD, Purdue University, 1998
MA, Purdue University, 1995
BA, Humboldt State University, 1992
Awards & Distinctions
College of Arts & Sciences Full-Time Faculty Service Award, 2012
University Distinguished Teaching Award, 2006
Service Learning Merit Award, 2005