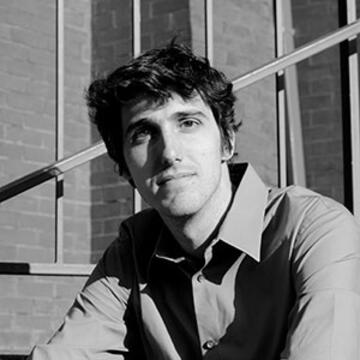 Giacomo Fiore
Adjunct Professor
Biography
Italian-born guitarist and musicologist Giacomo Fiore has premiered more than two dozen new works for justly tuned, electric, and classical guitars, and released eight recordings for Cold Blue, Pinna, Spectropol, Paper Garden Records, and his own label. As a scholar, his research focuses on U.S. experimental music, intonation, and performance. He has published articles in Music Theory Spectrum, JSAM, and TEMPO, and writes regularly for Classical Guitar and SFCV. He lectures on historical topics at the San Francisco Conservatory, UC Santa Cruz, and the University of San Francisco.
Expertise
Guitar
Musicology
Live Electronic Music
Research Areas
Guitar
Musicology
US experimental music
Tunings
20th Century Music
Electronic Music
Education
University of California Santa Cruz, Ph. D. in Music, 2013
San Francisco Conservatory of Music, MM in Music Performance, 2009
Belmont University, BM in Performance, 2006
Prior Experience
Lecturer, University of California, Santa Cruz
Part-Time Faculty, San Francisco Conservatory of Music
Awards & Distinctions
2020 and 2018 Open Access Education Grants, University of San Francisco

2018 Encore Award, Belmont University School of Music

2017 Foundation for Contemporary Arts Emergency Grant

2014 San Francisco Friends of Chamber Music Musical Project Grant

2014 New Music USA Project Grant
Selected Publications
"Tuning Theory and Practice in James Tenney's Works for Guitar." Music Theory Spectrum (2018), Vol. 40, Iss. 2, 338–356.
"Heterophonic Tunings in the Music of Larry Polansky" TEMPO (2014), Vol. 68, Iss. 267, 29–41.
"Reminiscence, Reflections, Resonance: The Just Intonation Resophonic Guitar and Lou Harrison's Scenes from Nek Chand" Journal for the Society of American Music (2012) Vol. 6, No. 2, 211–237.