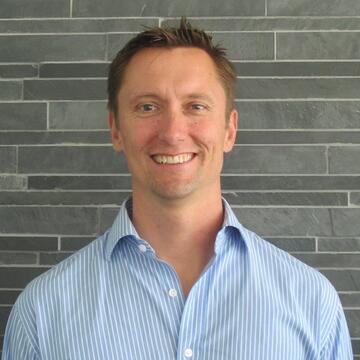 Christian Thompson
Associate Professor in Kinesiology Department, Program Director for Gerontology Minor
Program Director
Full-Time Faculty
Harney Science Center 116
Biography
Professor Thompson has published several scientific publications on exercise programming for older adults in peer-reviewed journals such as the Translational Journal of the American College of Sports Medicine, Journal of Aging and Physical Activity, and Journal of Applied Research.
Professor Thompson is engaged in numerous research and community projects investigating the effects of exercise programming on the physical function of older adults, including his work with the city-wide Always Active program in San Francisco.  He is heavily involved in professional service as well. He has served as Chair of the Interest Group on Aging and as a member of the Health and Fitness Summit Planning Committee for the American College of Sports Medicine. He is an associate editor for both the Translational Journal of the American College of Sports Medicine and the ACSM Health Fitness Journal.
He is a featured author on older adult exercise for the Functional Aging Institute and the National Academy of Sports Medicine.  He serves as an advisor and consultant to many companies in the health and wellness sector.
Research Areas
Older adult exercise program design
Exercise for prevention of falls
Effect of exercise training on cognitive function
Appointments
Program Director, Gerontology Minor
Chair, Interdisciplinary Committee on Aging
New Faculty Mentor, Department of Kinesiology
Education
University of Kansas, PhD in Exercise Science, 2001
University of Oklahoma, MS in Health and Sport Science, 1997
Cornell University, BS in Atmospheric Science, 1993
Prior Experience
Research Affiliate, Neuroscape Laboratory at UCSF Medical Center
Instructor in the Department of Health, Sport & Exercise Science, University of Kansas
Awards & Distinctions
Fellow of the American College of Sports Medicine, 2023
Council on Aging and Adult Development, Young Researcher Award, 2009
Selected Publications
Thompson, C., Porter Starr, K., Chmelo Kemp, E., Chan, J., Jackson, E. & Phun, J.  (2023). Feasibility of virtually delivering functional fitness assessments and a fitness training program in community-dwelling older adults. International Journal of Environmental Research & Public Health, 20(11).
Anguera J., Volponi, J., Simon, A., Gallen, C., Rolle, C., Anguera-Singla, R., Thompson, C., & Gazzaley, A.  (2022). Integrated cognitive and physical fitness training enhances attention abilities in older adults, npj Aging, 8(12).  
Thompson, C., Simunovich, S, Harrington T., Wallenrod, S., & Corn, R. (2019). Effectiveness of a 12-week falls prevention program in reducing falls risk in community dwelling older adults. Translational Journal of ACSM, 4(3), 17-22.