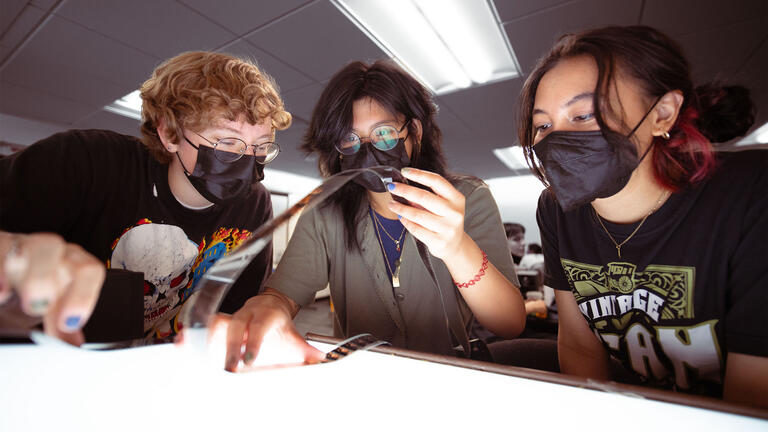 Human Rights Film Festival
Past Festivals
Films showcased at the festival have addressed human rights violations in locations all over the world, and have touched on issues including: political repression, disappearances, women's rights, gentrification, housing justice, abolition, LGBTQ rights, migrations, refugees, the prison system, racism, eugenics, reproductive justice, and environmental pollution.
2021
Institutions of Fear

Directed by Montsé Armengou and Ricard Belis

Q&A with director Montsé Armengou, Professor Aránzazu Borrachero and Professor Pedro Lange Churión

Spain. Even after the advent of democracy (1977), thousands of boys and girls remained locked away in charitable institutions; religious schools, orphanages, preventoriums or Social Assistance centers, which became a prison of sorts for these children. This film delves into this hidden and silent part of our history. Unlike other countries such as Ireland, in which the mistreatment of children under state care has been recognized, in Spain, such abuse has not been prosecuted and no redress provided.

Unsettled: Seeking Refuge in America

Directed by Tom Shepard

Q&A with director Tom Shepard and USF Professor Karina Hodoyan

A feature-length documentary revealing the untold stories of LGBT refugees and asylum seekers who have fled intense persecution from their home countries and who are resettling in the United States. This film sets out to humanize a group few people know who are desperately trying to create new and safer homes. What are the costs persecuted immigrants pay for seeking refuge in America? And how are everyday Americans stepping forward to help those most in need?

La Lucha Sigue

Directed by Sam Vinal

Q&A with Sam Vinal, the Film Director and Environmental Media students

A feature length documentary that highlights the work of social movement organizations COPINH (co-founded by Berta Cáceres) and OFRANEH in Honduras.

Belly of the Beast

Directed by Erika Cohn

Q&A with director Erika Cohan. Moderated by Lara Bazelon (USF Professor of Law)

When an unlikely duo discovers a pattern of illegal sterilizations—nearly forty years after being banned— in women's prisons, shielded by prison officials and doctors inside the correctional system, they wage a near-impossible battle against the Department of Corrections. Belly of the Beast exposes modern-day eugenics and reproductive injustice in California prisons, through intimate accounts from currently and formerly incarcerated people.

Couper Was Here

Directed by Nicole Foley

Q&A with star of the documentary, Couper Oroña, and Jackie Ramos, Instructor of the Community Empowerment Activists

Couper Was Here is about an unhoused San Francisco resident, Couper Oroña. She was a firefighter, injured on the job, and now lives with disabilities. She supports herself on a small monthly disability check. After her injury and a divorce, she could no longer afford an apartment in the Bay Area, and subsequently found herself living on the street. She's known by houseless people throughout the city because of the way she looks out for them and advocates for their rights. This film follows Couper in her caring for fellow unhoused San Franciscans, and in her quest to find permanent housing in the city
2020
The USF Human Rights Film Festival was canceled in 2020. This was the scheduled program.
Q&A

Student Filmmakers

Belonging

Eliza Otto, 5.5 min.
A film that highlights a USF student's experience as a DACA student.

Getting By

Victoria Hunt, 4.5 min.
A film that exposes the struggles of needing to work as a college student.

Breaking the Mold: Episode 1

Lynh Ngyuen, 2 min.
An interview with a dancer that defies mainstream expectations of dance.

Mogul Turned Monster: Why It Took 40 Years to Expose Weinstein

Sophia LeTourneau, 5.5 min.
A mini-documentary that follows the downfall of Harvey Weinstein.

Recidivism in California

Caley Medina & Ian Acker, 6.5 min.
A critique on the lack of support that causes high rates of recidivism in California prisons.

Surf Rider

Michael Enos, 7 min.
A surfer's journey to fight for preservation of the environment and public spaces at San Francisco's Ocean Beach.

Roots: Episode 3

Abby Asuncion, 6.5 min.
A profile of a young woman navigating her mixed-race identity.

Cabrillo Village

Dyvianne Martinez, 3 min.
A success story of the first housing cooperative formed by Ventura County farmers.

Lowrider Culture

Marisela Martinez, 8 min.
A father's new car that becomes a symbol of Chicano pride and activism.

El Tecolote Newspaper

Wendy Reyes, 5.5 min.
A short documentary about the history of the longest running bilingual newspaper in California, El Tecolote.

The Story's Not Done

Georgia Rodger, 6.5 min.
The heartbreaking story of a young activist that inspired the creation of Creative Visions, an organization dedicated to supporting young activists.

Fire in Paradise

Filmmakers: Zackary Canepari and Drea Cooper, USA, 2019, 40 min

Q&A: Filmmaker Drea Cooper

"On the morning of November 8, 2018, a seemingly small fire broke out in Butte County, California, near the town of Paradise. Over the course of a few short hours, the Camp Fire grew into the country's deadliest wildfire in over a century, killing 85 people and destroying Paradise" (from Hamptons International Film Festival). The film uses multiple viewpoints—first responders, 911 operators, elementary school teachers, and residents—to chronicle acts of heroism that occurred during the devastating fire. The inside story of the most destructive fire in California history, its causes and the impact of climate change. The film premiered at Telluride before winning the Audience Award at the Hamptons Film Festival.

Deep Waters Pacific Film Series Shorts

Q&A: Kumu Kau'i Peralto, Native Hawaiian,`āina warrior, Mauna Kea kia`i (guardian); Malia Aiello, USF Pacific Island Collective (PIC) student activist; and TBA

Standing Above the Clouds

Jalena Keane, USA, 2019, 15 min
Standing Above the Clouds​ is a story of inter-generational women activists, Ku Kia'i Mauna, or guardians of the mountain. The film follows three sets of mothers and daughters indigenous on the Big Island of Hawaii who find themselves standing at the forefront of the movement to safeguard their sacred mountain, Mauna a Wakea, when a construction permit is granted for an eighteen story, Thirty Meter Telescope (TMT) to be built directly below the summit on pristine, untouched land.

Anointed

Dan Lin, USA, 2018, 6 min
Acclaimed Marshallese poet and activist, Kathy Jetnil-Kijiner, explores the nuclear testing legacy of her country through the legends and stories of one particular island that houses a dark secret.

Paradigm Now: The Albizia Project

Joseph Valenti, USA, 2019, 5 min
Is the albizia tree a destructive force disrupting native ecosystems and communities in Hawaiʻi, or the material that can awaken new paradigms through thoughtful design? PARADIGM NOW dives into the journey undertaken by Joseph Valenti, founder of the Albizia Project.

The Cave

Filmmaker: Feras Fayyad, Syria/Denmark/Germany/Quatar/USA, 2019, 107 min

Oscar nominee Feras Fayyad ("Last Men in Aleppo") delivers an unflinching story of the Syrian war with his powerful new documentary, The Cave. For besieged civilians, hope and safety lie underground inside the subterranean hospital known as the Cave, where pediatrician and managing physician Dr. Amani Ballour and her colleagues Samaher and Dr. Alaa have claimed their right to work as equals alongside their male counterparts, doing their jobs in a way that would be unthinkable in the oppressively patriarchal culture that exists above. Following the women as they contend with daily bombardments, chronic supply shortages and the ever-present threat of chemical attacks, The Cavepaints a stirring portrait of courage, resilience and female solidarity.

Standing on Sacred Ground: Islands of Sanctuary*

Filmmaker: Christopher Toby McLeod, USA, 2014, 57 min

Q&A: Filmmaker Toby McLeod, founder of Sacred Land Film Project

In Australia's Northern Territory, Aboriginal clans maintain Indigenous Protected Areas and resist the destructive effects of a mining boom. In Hawai`i, indigenous ecological and spiritual practices are used to restore the sacred island of Kaho`olawe after 50 years of military use as a bombing range.

*Deep Waters Pacific Film Series at USF

Ai Weiwei, Yours Truly

Filmmaker: Cheryl Haines, USA, 2019, 76 minutes

Q&A: Filmmaker Cheryl Haines

Human rights become profoundly personal when dissident artist Ai Weiwei's monumental exhibition on Alcatraz inspires thousands of visitors to write messages of support to prisoners of conscience worldwide. Following Ai's detention and torture in a Chinese prison, and while still under house arrest in Beijing, the outspoken artist and activist remotely transformed a notorious former island penitentiary into a remarkable expression of socially engaged art focused on the plight of the unjustly incarcerated. The film explores the extraordinary results when prisoners received those messages, and asks us all to take the issue of global human rights to heart with simple gestures of empathy. Illuminating the little-known history of Ai's childhood spent in remote Chinese prison camps, Ai Weiwei, Yours Truly connects the life of one of the world's most famous living artist with the urgency of his work on behalf of human rights everywhere.

SARIA

Filmmaker: Bryan Buckley, USA, 2019, 22 min

SARIA explores the unimaginable hardships that faced young female orphans at the Virgen de La Asuncion Safe Home in Guatemala, leading up to the tragic fire which claimed 41 of their lives in 2017. Since the fire, there has been no prison time given to any parties responsible, despite reporting from the New York Times, Guardian, Washington Post, and several other news organizations. The film follows the story of two inseparable orphaned sisters - Saria 12, and her sister Ximena 14, as they fight against mounting daily physical abuse at the very institution designed to protect them. In the sisters' desperation for survival, they devise a daring plan of escape for all the orphans to find freedom in America. 2020 Academy Award. Nominee Best Action Short Film.

Unsettled: Seeking Refuge in America

Filmmaker: Tom Shepard, USA, 2019, 84 min

Q&A: USF Professor Karina Hodoyan, Languages, Literatures, and Cultures, Migration Studies, Center for Latinx Studies in the Americas (CELASA)

A feature-length documentary revealing the untold stories of LGBT refugees and asylum seekers who have fled intense persecution from their home countries and who are resettling in the United States. This film sets out to humanize a group few people know who are desperately trying to create new and safer homes. UNSETTLED takes place largely in the San Francisco Bay Area, historically a beacon for dislocated LGBT people in the U.S. While cultural narratives of a "queer promised land" still persist, the film asks whether Northern California is even practical as a place to resettle LGBT refugees, especially given the enormous gentrification, increased costs of living, and scarcity of housing in recent years—a set of problems present in many American cities. What are the costs persecuted immigrants pay for seeking refuge in America? And how are everyday Americans stepping forward to help those most in need?

Exiled

Filmmaker: Leonor Zuniga, 2019, Costa Rica/USA/Nicaragua, 24 min

Q&A: Filmmaker Leonor Zúniga (via Skype)

This documentary film explores the life of Zoilamérica Ortega Murillo, adoptive daughter of Daniel Ortega, leader of the Sandinista revolution and the current President of Nicaragua. The film reveals her struggle as a survivor of sexual abuse twenty years after she publicly accused Ortega of rape. We learn about her fate, her family and the impact of the accusation on her 10 years old son. The film works in two time frames, the past, using archival footage, from the time Zoilamérica made her accusation in 1998, and the present, when she is forced into exile in Costa Rica, as Daniel Ortega runs for the presidency for the fourth time with the unconditional support of Rosario Murillo, Zoilamérica's mother and Ortega's running mate. The film, mostly shot inside Zoilamérica's home, delves into her exile as a form of physical and emotional isolation, which is imposed on her as punishment for daring to seek justice, confront her abuser, her family and the Sandinista party.

Knock Down the House

Filmmaker: Rachel Lears, USA, 2019, 86 min

When tragedy struck her family in the midst of the financial crisis, Bronx-born Alexandria Ocasio-Cortez had to work double shifts in a restaurant to save her home from foreclosure. After losing a loved one to a preventable medical condition, Amy Vilela didn't know what to do with the anger she felt about America's broken health care system. Cori Bush was drawn into the streets when the police shooting of an unarmed black man brought protests and tanks into her neighborhood. Paula Jean Swearengin was fed up with watching her friends and family suffer and die from the environmental effects of the coal industry. At a moment of historic volatility in American politics, these four women decide to fight back, setting themselves on a journey that will change their lives and their country forever. Without political experience or corporate money, they build a movement of insurgent candidates challenging powerful incumbents in Congress. Their efforts result in a legendary upset. Winner of the Audience Award: U.S. Documentary and the Festival Favorite Award at the 2019 Sundance Film Festival.

The Condor & the Eagle

Filmmakers: Sophie and Clement Guerra, Germany/France/USA, 2019, 82 min.

Four Indigenous leaders embark on an extraordinary trans-continental adventure from the Canadian Boreal forests to deep into the heart of the Amazonian jungle to unite the peoples of North and South America and deepen the meaning of "Climate Justice". The Condor & The Eagle documentary offers a glimpse into a developing spiritual renaissance as the film four protagonists learn from each other's long legacy of resistance to colonialism and its extractive economy. Their path through the jungle takes them on an unexpectedly challenging and liberating journey, which will forever change their attachment to the Earth and one another.

The Condor & The Eagle Facebook

The Cordillera of Dreams

Filmmaker: Patricio Guzmán, Chile/France, 2019, 85 minutes

Q&A: USF Professor Roberto G. Varea, Performing Arts and Social Justice, Latin American Studies, Center for Latinx Studies in the Americas (CELASA)

Winner of the Best Documentary award at the Cannes Film Festival, the film completes Guzmán's trilogy investigating the relationship between historical memory, political trauma, and geography in his native country of Chile. Guzmán contemplates the enduring legacy of the 1973 military coup d'état. Along the way, he interviews artists, writers, and documentarians, drawing out their conflicted feelings towards the Cordillera and its relationship to Chilean national identity and history. Looking at both the past and future, Guzmán's work rescues Chile from the threat of historical amnesia. He considers how the neoliberal economic policies introduced under the Pinochet regime have continued to stratify Chilean society along increasingly rigid class lines. The Cordillera of Dreams moves beyond despair and looks towards the possibilities of political change by linking the ideological struggles of the past with the inequalities of the present.

Invasion

Filmmakers: Michael Toledano and Sam Vinal , Canada, 2019, 18min

In this era of "reconciliation", Indigenous land is still being taken at gunpoint. Invasion is a new film about the Unist'ot'en Camp, Gidimt'en checkpoint and the larger Wet'suwet'en Nation standing up to the Canadian government and corporations who continue colonial violence against Indigenous people. The Unist'ot'en Camp has been a beacon of resistance for nearly 10 years. It is a healing space for Indigenous people and settlers alike, and an active example of decolonization. The violence, environmental destruction, and disregard for human rights following TC Energy (formerly TransCanada) / Coastal GasLink's interim injunction has been devastating to bear, but this fight is far from over.

California's Forgotten Children*

Filmmaker: Melody C. Miller, USA, 2018, 93 min

Q&A: Filmmaker Melody Miller, Benita Hopkins, Co-Chair, San Francisco Collaborative Against Human Trafficking, Sarai Smith-Mazariegos, Executive Director, S.H.A.D.E Movement, and Jazmyn Brown, Advocate & Trainer, S.H.A.D.E Movement

California's Forgotten Children is an award-winning feature documentary that follows a diverse group of resilient survivors who have overcome commercial sexual exploitation of children and are changing the world by ensuring no child is left behind. The film features stories from leaders in the movement such as Time 100 Most Influential People Withelma "T" Ortiz Walker Pettigrew, attorney Carissa Phelps, academic scholar Minh Dang, activist Leah Albright-Byrd, therapist Nikolaos Al-Khadra, and educator Rachel Thomas, M. Ed. The film supports the stories of survivors with current statistics and perspectives of sexual exploitation from professionals in social services, law enforcement, advocates, and child welfare. It focuses on those who were wrongfully criminalized in the judicial system; manipulated and coerced by family, friends, and caretakers; and exploited by multiple slavery industries. ​ The film won Best Documentary at the Soho International Film Festival in New York, screened at the United States Senate and the United State of Women Summit.

California's Forgotten Children Website

Neighbor*

Filmmaker: Tony Gapastione, USA, 2017, 11 min

A homeless man uncovers a dirty little secret in Suburbia.

*San Francisco Collaborative Against Human Trafficking Films at USF.

Messenger on a White Horse

Filmmaker: Jayson McNamara, Argentina/Australia, 2017, 102 min

The only newspaper that demanded answers about the human rights crimes committed by Argentina's 1976-1983 was the small and unassuming English-language community newspaper "The Buenos Aires Herald". Its editor, Robert Cox, led the charge by publishing hundreds of articles that exposed the complex system of repression the military used against young left-wing activists and militants. Thanks to Cox, the world learned about the "disappeared ones" and their brave mothers, the Mothers of Plaza de Mayo. But his work would come at a cost. Years of threats against him and his family culminated in a letter to his 11-year-old son and Cox was forced to abandon the country. A documentary that portrays the courage of a journalist in the face of violence, censorship, misinformation and the complicity of media organizations with the state during Argentina's darkest hour.

Messenger on a White Horse Facebook

On The President's Orders

Filmmakers: James Jones and Olivier Sarbil, UK/USA, 2019, 72 min

In 2016, President Rodrigo Duterte announced a "war on drugs" in the Philippines, launching a wave of violence and murder targeting thousands of suspected drug dealers and users. With unprecedented, intimate access both to police officials implicated in the killings and the families destroyed as the result of Duterte's deadly campaign, On the President's Ordersis a shocking and revelatory investigation into the extrajudicial murders. Entering a murky world of crime, drugs and politics, the filmmakers have managed to capture the clear trajectory of what depths those who wield excessive power can reach, when attacking those who have the very least. Shot in the style of a thriller, this observational film combines the look and feel of a narrative feature film with a real life revelatory journalistic investigation into a campaign of killings - and reveal that although the police have been publicly ordered to stop extra-judicial killings, the deaths continue.

On The President's Orders Trailer

Voice of the Rohingya

Filmmaker: Kylie Zarmati (USF Student), USA, 2019, 50 min

Q&A: Filmmaker Kylie Zarmati

A film that listens to the story of the Rohingya refugees, a voice that has largely gone ignored by the international community. The film highlights the plight of the Rohingya during the genocide initiated by the Buddhist Myanmar military, observes the everyday situation of their existence in what is the world's largest refugee camp, and looks at the larger political climate surrounding the crisis. The Rohingya live in a very precarious time without citizenship to any country and a lack of basic freedoms. With a new case in the International Court of Justice and a deep desire to eventually return to their homeland, Voice of The Rohingya glimpses at the fate that awaits this resilient community.
2019
Q&A

Student Filmmakers

ROOTS

Abby Asuncion, 6:39 min.
In the third episode of the ROOTS series, Alaina Aflague Arroyo discusses her heritage, what it's like growing up mixed race, the misconceptions associated with her cultures, and creating spaces for students on campus associated with those cultures.

Gunpowder Girls

Pamela Barajas and Hailey Pope, 8:01 min.
Gunpowder Girls is a documentary that examines and interrogates contemporary concepts of womanhood, femininity, and identity. The film provides an intimate look into the experiences of three young women existing with and resisting societal expectations of women.

Children of Vallejo

Kiko Valle, 7:59 min.
A documentary centered around Benny, a rapper and songwriter from Vallejo, California. Benny delves into the conditions of the environment in which he and his friends grew up in and how it made them the people the are today. Powered by Thizzler on The Roof. GRAPHIC LANGUAGE THROUGHOUT.

Rising

Conni McKenzie, 7:01 min.
Rising is an experimental dance-documentary inspired by the work of Maddy Lawder, Kuan-Hsuan Lee, and Danielle Smith. These women, who are featured in the film, created pieces about idealism, sexualization, and body-politics for their senior projects. The film explores the intersectionality of their experiences and how they've coped with sexism.

Borderline

Isabelle Gaus, 4:08 min.
Seeing the highs and lows of Borderline Personality Disorder— a highly stigmatized and silenced mental illness— through a deeply personal lens.

9/11 USF Growing Art Memorial Project

Camille Wilson, 5:01 min.
An Israeli artist's vision to create a living sculpture of memory and hope from remnants of the World Trade Center, comes to life with the help of students at the University of San Francisco.

Caravan

Kylie Zarmati, 4:50 min.
Caravan is focused on the recent Central American Migrant Caravan that arrived at the Mexico/USA border in November. The short film gives us a little look into the everyday lives of the people making the exhausting trek from the Northern Triangle (Guatemala, Honduras, and El Salvador) only to be denied the chance to seek asylum at the border.

Light in the Water

Filmmaker: Lis Bartlett | 2008 USF Media Studies alum | US | 2018 | 75 min

Q&A: Filmmaker Lis Bartlett

Light in the Water chronicles the birth and life of West Hollywood Aquatics Club, the first openly gay masters swim team. Founded to train for the inaugural Gay Olympic Games, which took place in San Francisco in 1982, the team is another lens through which to study LGBTQ history in America. Through archival footage and intimate interviews with members of the club, some of whom are record setting swimmers, Light in the Water celebrates athletes that happen to be gay. Constantly returning to the theme of water, Light in the Water sheds light on the inclusive team, which today still provides shelter and strength for queer athletes, young and old. A TV version of Light in the Water premiered on Logo TV last summer, and has since played in film festivals in Kansas, California, Scotland, and Paris! Tallgrass International Film Festival winner.

Anote's Ark

Filmmaker(s): Matthieu Rytz | Canada | 2018 | 77 min

Q&A: Dana Brechwald, Adapting to Rising Tides Program Manager, San Francisco Bay Conservation and Development Commission and USF Professor Gerard Kuperus (Philosophy and Environmental Studies)

What if your country was swallowed by the sea? The Pacific Island nation of Kiribati (population: 100,000) is one of the most remote places on the planet, seemingly far-removed from the pressures of modern life. Yet it is one of the first countries that must confront the main existential dilemma of our time: imminent annihilation from sea-level rise. While Kiribati's President Anote Tong races to find a way to protect his nation's people and maintain their dignity, many Kiribati are already seeking safe harbor overseas. Set against the backdrop of international climate and human rights negotiations, Anote's struggle to save his nation is intertwined with the extraordinary fate of Tiemeri, a young mother of six, who fights to migrate her family to New Zealand. At stake is the survival of Tiemeri's family, the Kiribati people, and 4,000 years of Kiribati culture. Best Feature Award at the Philadelphia Environmental Film Festival.

Rafiki

Filmmaker: Wanuri Kahiu | Kenya | 2018 | 82 min

Q&A: Professor Kathleen Klaus (Politics and International Studies)

This is the first Kenyan film to depict an LGBT romance on the big screen, and to be accepted by the Cannes Film Festival; where they received a 10-minute standing ovation, at their red carpet premiere of the film, which screened as part of the prestigious Un Certain Regard section of the festival. Rafiki tells the story of two young women; Kena and Ziki, who want more from life than the prospect of marriage and becoming a 'good wife'. A political rivalry between their families suggests that the girls should be enemies. But, when Kena meets the free-spirited and ambitious Ziki, she is drawn to her. This will be no easy love, as the couple face pressure from their families and prejudice from the broader community. The film was banned by the Kenyan Classification board who issued the following reason: "Due to its homosexual theme and clear intent to promote lesbianism in Kenya contrary to the law and dominant values of the Kenyans." Bratislava International Film Festival winner.

Harvest Season

Filmmaker: Bernardo Ruiz | US | 2018 | 82 min

Q&A: Filmmaker Bernardo Ruiz

This film delves into the lives of people who work behind the scenes of the premium California wine industry, during one of the most dramatic grape harvests in recent memory. The film follows the stories of Mexican-American winemakers and migrant workers who are essential to the wine business yet are rarely recognized for their contributions. Their stories unfold as wildfires ignite in Napa and Sonoma counties, threatening the livelihoods of small farmers and winemakers who are already grappling with a growing labor shortage, shifting immigration policies, and the impacts of a rapidly changing climate. "Director Bernardo Ruiz gives a first-hand account of small wine producers and the struggles they face both economically and politically in 2018 America. Trump is a cloud hanging over this film, sure, but what makes this such an expert and superlative piece of work is that the focus never loses sight of the minority population which is under attack, telling their stories through a film that's as beautiful as it is intimate and emotionally moving."— Joshua Brunsting. Part of the Official Selection of DOC NYC.

The Unafraid

Filmmakers: Anayansi Prado and Heather Courtney | USA | 2018 | 85 min

Q&A: Krsna Avila, Andy Grove Immigrants' Rights Fellow, Immigrant Legal Resource Center Raquel Gonzalez-Villarreal, USF DACA student (Law), and Kenny (Ka Kui) Lee, USF DACA student (MA in Migration)

The Unafraid High School seniors Alejandro, Silvia and Aldo, like most of their friends, are eager to go to college and pursue their education. However, their home state of Georgia not only bans them from attending the top five public universities, but also deems them ineligible for in-state tuition at public colleges due to their immigration status as DACA (Deferred Action for Childhood Arrivals) recipients. In response, these three ambitious and dream-filled students divert their passions toward the fight for education in the undocumented community. As President Donald Trump's campaign rhetoric against immigrants gains momentum, and with the three students under constant threat of losing their DACA status and being deported, The Unafraid follows these inspirational members of the generation of "undocumented, unapologetic and unafraid" young people who are determined to overcome and dismantle oppressive policies and mindsets. Full Frame Film Festival - Winner.

Te Kuhane O Te Tupuna "The Sprit of Our Ancestors"

DEEP WATERS Pacific Film Series at USF

Filmmakers: Leonardo Pakarati, Paula Rossetti | Chile | 2015 | 63 min

This documentary film is a journey from Easter Island to London, in search of the lost Moai, Hoa Haka Nanaia, a statue of significant cultural importance. It explores the social and political landscape of the island of Rapanui as the people attempt to claim back what is rightfully theirs: their land and a lava-rock image of tremendous presence, representing one of the world's most extraordinary cosmological views.

Te Kuhane O Te Tupuna Facebook

El Cisne/The Swan

Filmmaker: Daniel Chavez-Ontiveros | MEXICO/USA | 2017 | 22 min

Q&A: Sthefany Galante Bautista, Outreach Coordinator, El/La Para TransLatinas and  Luis Enrique Bazán, USF Associate Director for Immersions

Sthefany Galante is a Mexican trans woman who migrated to the United States after experiencing gender discrimination in her hometown Mixquiahuala, Hidalgo. After being away from home for six years, Sthefany decides to prepare for an imminent trip to Mexico and confront her family about her gender identity. El Cisne (The Swan) arose from the filmmaker's concern to explore the issue of gender identity as a migration factor in Latin America. It began when the film director arrived to California and noticed that there were many Latina trans women working in different careers. For him, this was a revelation, as there is still a great stigma in Mexico to be transexual, and many cannot find regular and decent jobs. From that moment on, the director began to explore migration for reasons related to gender identity.

Leitis in Waiting

DEEP WATERS Pacific Film Series at USF

Filmmakers: Dean Hammer, Joe Wilson, Hinaleimoana Wong-Kalu | USA | 2018 | 70 min

Leitis in Waiting tells the story of Tonga's evolving approach to gender fluidity through a character-driven portrait of the most prominent leiti in the Kingdom, Joey Joleen Mataele, a devout Catholic of royal descent.  Over the course of an eventful year, Joey organizes a beauty pageant, mentors a young leiti who is rejected by her family, and battles with fundamentalist Christians over Tonga's antiquated anti-sodomy and cross-dressing laws. Her story reveals what it means to be different in a deeply religious and conservative society, and what it takes to be accepted without giving up who you are.

MATANGI / MAYA / M.I.A.

Filmmaker: Steve Loveridge | UK/USA/Sri Lanka | 2018 | 97 min

Q&A: USF Professor Monisha Bajaj (International and Multicultural Education - IME)

Drawn from a cache of personal video recordings from the past 22 years, this film is a startlingly personal profile of the critically acclaimed artist, chronicling her remarkable journey from refugee immigrant to pop star. She began as Matangi, the daughter of the founder of Sri Lanka's armed Tamil resistance, when her family fled to the UK she became Maya, and finally, the world met her as M.I.A. when she emerged on the global stage. Her identity became a sonic sketchbook that blended Tamil politics, art school punk, hip-hop beats and the unwavering, ultra-confident voice of a burgeoning multicultural youth. This film provides unparalleled, intimate access to the artist in her battles with the music industry and mainstream media as her success and fame explodes, becoming one of the most recognizable, outspoken and provocative voices in music today. Sundance Winner: World Cinema Documentary Special Jury Award.

MATANGI / MAYA / M.I.A. Trailer

Don't Give Up Your Voice

Filmmakers: Mark Dworkin and Melissa Young | Argentina/US | 2018 | 40 min

Q&A: Filmmakers Mark Dworkin and Melissa Young

In 2015, a year before Trump was elected in the U.S., Argentina elected president Macri. These two are remarkably similar in how they campaigned and the policies they are promoting once in office. But Argentines are resilient, and they have fought right wing governments before. They have mounted creative resistance - worker coops, street protests, theater and music - that offer lessons for us in the North. Don't Give Up Your Voice! looks at the widespread and creative resistance to Macri's policies. The film offers instructive parallels with the situation in the US, while illustrating the power of collective action.

The Cleaners

Filmmakers: Hans Block and Moritz Riesewiek | Germany/Brazil | 2018 | 88 min

Q&A: USF Professor Tamara Kneese (Media Studies)

Social media sites — particularly Facebook and YouTube — have been under intense pressure to monitor and delete offensive, pornographic, and incendiary posts. Compassionately portraying the Filipino workers who comb through thousands of online images in the dark of night, this film exposes the dark side of information technology. Who controls what you see on the internet? Welcome to a hidden industry of digital cleaning where content determined as inappropriate is deleted from the internet. The film exposes the extreme and often life-threatening impact of censorship capable of disappearing entire conversations, perspectives and events from world view. "The companies have more and more power… They take advantage of our desire for ease, our resistance to effort, our resistance to challenge, and I think, over time, if we're not already there, it will interfere with our ability to have critical thinking."- David Kaye, UN Special Rapporteur on Freedom of Expression. Moscow Film Festival Prize for Best Documentary Film.

Tre Maison Dasan

Filmmaker: Denali Tiller | USA | 2018 | 94 min

Q&A: Ivan Corado-Vega, Violence Intervention Facilitator, Men Allied Nationally Against Living In Violent Environments (manalive), Restorative Justice Advocate and Dr. Reggie Daniels, Social Justice Practitioner, USF Alum

Tre, Maison, and Dasan are three boys who all share something in common – one of their parents is in jail. Following their separate lives through boyhood and weaving their stories together, the film approaches the issue of mass-incarceration by exposing the effects of the criminal justice system on young men. "Working closely and hands-on with Tre, Maison, and Dasan, the film [is intended to] be an immersion into how they see themselves, how that is affected by the way they are seen by the systems they live within, and their individual potentials to break the barriers and confinement of stigma and generational trauma to succeed in their own ways. It is important to us that 'success' is defined more critically in American society, and for that reason this is not a Homeless-to-Harvard story. Not until children like Tre, Maison and Dasan can see and understand themselves to be important and necessary in the fabric of America, can we be comfortable with the world we expect them to grow into." – Denali Tiller. Rhode Island International Film Festival winner.

The Silence of Others

Filmmakers: Almudena Carracedo and Robert Bahar | Spain | 2018 | 96 min

Q&A: USF Professor Pedro Lange-Churión (Languages, Literatures, and Cultures, Latin American Studies, Film Studies, Urban Studies) and USF Professor Susana Kaiser (Media Studies & Latin American Studies)

A 1977 amnesty law in Spain known as "the pact of forgetting" prohibits legal action related to the oppression, torture and murder of an estimated 100,000 people during Franco's 40-year dictatorship. But for much of the population – including the survivor who passes his torturer's home every day on the way to market, the children of forcibly disappeared parents found buried in mass graves, and parents still searching for their children seized at birth and handed to Franco's allies – there is no peace in silence. This is the fight to get recognition and admissions of guilt against state-imposed amnesia. From award-winning directors and Executive Producer Pedro Almodovar comes a powerful film about a country still divided four decades into democracy. Berlin International Film Festival Best Documentary and Peace Film Prize winner.
2018
Q&A

Student Filmmakers

Roots #1

Filmmaker: Kiko Valle, 6 min
A series on first generation college students.

The College Fund

Filmmakers: Tera Thompson-Garner and Kacie Laguire, 6 min 30s
Two best friends struggle to pay their bills and dream of attending a university. After they both apply for a full-ride scholarship and only one of them is awarded it, their dreams test their friendship.

Hijab Stigma

Filmmaker: Sara Alghesheyan, 4 min 30s
Hijab Muslim females were never part of Fashion industries. Today Hijabi women broke the wall of fashion domination of stereotypes to be included as respected empowered women.

Expansion (On Eating)

Filmmaker: Sarah Frei, 8 min
An artist explains her eating disorder through visual metaphors in this experimental documentary.

Roots #2

Filmmaker: Kiko Valle, 6 min
A series on first generation college students.

From my Barrio to your Barrio - Filmmaker: Edward Wild Cat, 26 min
The film focuses on a doctoral student at USF conducting ethnographic research on gentrification and displacement through video footage, personal observations, and discussions with locals living in urban neighborhoods during a cross-country trip from the San Francisco Bay Area to Boston. As the researcher travels further east, he provides a gritty and uncompromising analysis of how gentrification has displaced locals, created a divided society, and complicated social problems in communities.

Awake, a Dream From Standing Rock

Filmmakers: Josh Fox, James Spione, and Myron Dewey | USA | 2017 | 89 minutes

Q&A: Anthony Gonzales (American Indian Movement-West)

Standing Rock protesters facing police in full riot gear.Moving from summer 2016, when demonstrations over the Dakota Access Pipelines demolishing of sacred Native burial grounds began, to the current and disheartening pipeline status, AWAKE, A Dream from Standing Rock is a powerful visual poem in three parts that uncovers complex hidden truths with simplicity. The film is a collaboration between indigenous filmmakers: Director Myron Dewey and Executive Producer Doug Good Feather; and environmental Oscar-nominated filmmakers Josh Fox and James Spione. The Water Protectors at Standing Rock captured world attention through their peaceful resistance. The film documents the story of Native-led defiance that has forever changed the fight for clean water, our environment and the future of our planet. It asks: "Are you ready to join the fight?"

Awake, a Dream From Standing Rock Trailer

Stranger in Paradise

Filmmaker: Guido Hendrikx | Netherlands | 2016 | 77 minutes

Q&A: USF Professor Marco Jacquemet (Communication Studies)

A migrant featured in Guido Hendrikx's documentary "Stranger in Paradise"If Lars Von Trier were to make a documentary about the current immigration crisis in Europe, it might very well turn out like "Stranger in Paradise," the debut feature by Guido Hendrikx. Aged just 28, the ambitious director – who believes himself a late-starter, having "only" taken up filmmaking in his early twenties – is already committed to thorny issues, as evidenced by his controversial 2014 short "Among Us," which focused on the stories of three adult pedophiles. Developed in his native Netherlands but shot in Italy, "Stranger in Paradise" offers three takes on immigration, first from an aggressive right-wing tabloid perspective, then from a more humane, liberal stance. Finally, a classroom of real-life migrants are told how their cases may yet be handled. Special Jury Award for Dutch Documentary, IDFA 2016.

Last Men in Aleppo

Filmmaker: Feras Fayyad | Syria | 2017 | 104 minutes

Q&A: USF Professor Lindsay Gifford (International Studies)

Rescuers marching through the rubble of AleppoIn this Oscar-nominated documentary, Syrian filmmaker Feras Fayyad's breathtaking work — a searing example of boots-on-the-ground reportage — follows the efforts of the internationally recognized White Helmets, an organization comprised of ordinary citizens who are the first to rush towards military strikes and attacks in the hope of saving lives. Incorporating moments of both heart-pounding suspense and improbable beauty, the documentary draws us into the lives of three of its founders – Khaled, Subhi, and Mahmoud– as they grapple with the chaos around them and struggle with an ever-present dilemma: do they flee or stay and fight for their country.

Awards: 2017 Sundance World Cinema Grand Jury Prize for Documentary.

Food Evolution

Filmmaker: Scott Hamilton Kennedy | USA | 2016 | 92 minutes

Q&A: Belinda Martineau (UC Davis), Ignacio Chapela (UC Berkeley), Doug Gurian-Sherman (Independent Consultant), USF Professor Brian Dowd-Uribe (International Studies)

A protester wearing a skull mask with "GMO" painted on it.Amidst a brutally polarized debate marked by passion, suspicion and confusion, Food Evolution explores the controversy surrounding GMOs and food. Traveling from Hawaiian papaya groves, to banana farms in Uganda to the cornfields of Iowa, the film, narrated by esteemed science communicator Neil deGrasse Tyson, wrestles with the emotions and the science driving one of the most heated arguments of our time. In the GMO debate, both pro and anti camps claim science is on their side. Who's right? How do we ensure that our food supply is safe, and that everyone has enough to eat? Has genetic engineering increased or decreased pesticide use? Are GMO foods bad for your health? While the passionate advocates in the film are all concerned with the stewardship of safe, nutritious food for the planet, their differing views over what constitutes the truth pit them against each other, rendering the subject of food itself into an ideological battleground. This documentary separates the hype and emotion from the science and data to unravel the debate around food, and help audiences reach their own conclusions.

Mama Colonel

Filmmaker: Dieudo Hamad | Democratic Republic of Congo / France | 2017 | 72 minutes

Q&A: USF Professor Jeffrey Paller (Politics, Director of African Studies)

Colonel Honorine Manyole speaking to assembled police officersColonel Honorine Manyole, commonly known as "Mama Colonel," works for the Congolese police force. More or less on her own, She runs a small police unit dedicated to protecting women who've been raped and children who've suffered abuse in the war-plagued regions of the Congo. She wields her uniform, beret and black handbag like a protective shield, which her daily work desperately requires. Having worked for 15 years in Bukavu, in the east of the Democratic Republic of the Congo, she learns she is transferred to Kisangani. There, she finds herself faced with the new challenges. Through the portrait of this extraordinarily brave and tenacious woman, who fights for justice to be done, this film addresses the issue of violence towards women and children in the DRC and the difficulty of overcoming the past war. The film is a tribute to a heroine of our times and the document of a true achievement with respect to civilization.

Awards: Grand Prize, 2017 Cinema du Reel Documentary Festival; Jury Prize, 2017 Berlinale Film Festival. (from Icarus and Berlinale Archive)

 

Out of State

Filmmaker: Ciara Lacy | USA | 2017 | 82 minutes

Q&A: Philip Melendez (Prison Project's Restorative Reentry Fellow), Harrison Seuga (Reentry Director, Asian Prisoner Support Committee), and Ke Lam (Reentry Coordinator, Asian Prisoner Support Committee)

Hawaiian prison inmates practicing their native dancesIn 2007, the state of Hawaiʻi outsourced the care of roughly two thousand male prisoners to a private, for-profit prison on the continental U.S. Now, deep in the desert of Arizona, exiled thousands of miles from their island home, a group of indigenous Hawaiian inmates has discovered their calling on the inside –– teaching each other their native language and dances while behind bars. It's from this unlikely setting that David and Hale finish their terms and return to Hawaii, hoping for a fresh start. Eager to prove to themselves and to their families that this experience has changed them forever, David and Hale struggle with the hurdles of life as formerly incarcerated men, asking the question: can you really go home again? Out of State explores complex questions of cultural and religious identity; the overabundance of native Hawaiians and minorities in the prison system; the cycle of criminal behavior and its impact on the family; and prisoner entitlement in a character-driven documentary.

Awards: Inaugural Made in Hawaii award, 2017 Hawaii International Film Festival; Best Feature Documentary, 2017 San Diego Asian Film Festival.

Complicit

Filmmakers: Heather White and Lynn Zhang | USA | 2017 | 90 minutes

Q&A: Filmmaker Heather White

Girl working in electronics factoryShot below the radar, Complicit follows the journey of Chinese factory migrant worker-turned-activist Yi Yeting, who takes his fight against the global electronic industry from his hospital bed, where he helps other workers, to Silicon Valley and the international stage. While battling his own work-induced leukemia, Yi Yeting teaches himself labor law in order to prepare a legal challenge against his former employers. But the struggle to defend the lives of millions of Chinese people from becoming terminally ill due to working conditions necessitates confrontation with some of the world's largest brands including Apple and Samsung. Unfortunately, neither powerful businesses nor the government are willing to have such scandals exposed. Yi's efforts along with the support of others, ultimately contributes to Apple banning two of the most toxic chemicals, benzene and n-hexane, in its final assembly.

Awards: Best Feature Documentary, 2017 Valencia Spain's Human Rights Film Festival, Journalism Prize for Best Research and Investigation.

Company Town

Filmmakers: Deborah Kaufman and Alan Snitow | USA | 2017 | 77 minutes

Q&A: USF Professor Rachel Brahinsky (Director, MA in Urban and Public Affairs) and Sunny Angulo (USF Alumna, BA in Media Studies, and District 3 Supervisor, Chief of Staff)

Signs in San Francisco apartment windows saying, "Evicted" and "Us Too"The once free-spirited city of San Francisco is now a "Company Town", a playground for tech moguls of the "sharing economy." Airbnb is the biggest hotel, Uber privatizes transit. And now these companies want political power as well. Meanwhile, middle class and ethnic communities are driven out by gentrification, skyrocketing rents and evictions, sparking a grassroots backlash. Can an insurgent electoral campaign overcome corporate power and billionaires megabucks to change a city's course? Company Town shows how a grassroots coalition of unions, tenants, neighborhoods of color, activists and artists can come together to win.

500 Years: A Life in Resistance

Filmmaker: Pamela Yates | USA | 2017 | 108 minutes

Q&A: Andrea Ixchiu Hernández, Maya K'iche' leader, activist, social communicator, and law student featured in the film

Stern-looking Mayan woman500 Years tells the epic story that led Guatemala to a tipping point in their history, from the genocide trial of General Rios Montt to the popular movement that toppled President Otto Perez Molina. While indigenous peoples of Guatemala are no stranger to oppression, the recent events that took place over a tumultuous three-year span, change finally seems possible when their movement is met with popular society's outcry to end corruption. As witness to this heroic moment in Guatemalan history, The film documents the beginning of the end of an unaccountable rule of law, and a society ready for change. Focusing on universal themes of justice, racism, power and corruption, it tells the story from the perspective of the majority indigenous Mayan population, and their struggles in the country's growing democracy. This is the third chapter of the trilogy of documentaries on Guatemala, led by Pamela Yates, and follows the films When the Mountains Tremble (1983) and Granito: How to Nail a Dictator (2011).

What Doesn't Kill Me: Domestic Violence and the Battle for Custody

Filmmakers: Rachel Meyrick | UK | 2017 | 81 minutes

Q&A: Sarah Kerlow (MA candidate in Human Rights Education at USF; Graduate Fellow at Center for Judicial Excellence) and Kathleen Russell (Director of Center for Judicial Excellence)

86-year-old Charlotta HarrisonEvery day, 5 million children in the U.S. either witness or are victims of domestic violence. In the current system, a judge is more likely to award child custody to the violent father if the mother tries to escape the abusive relationship. In fact, fathers win up to 70 percent of contested cases even when they've been found guilty of domestic or sexual violence against the mother or the children. In this bold and provocative film, mothers, lawyers, and domestic violence experts share intimate personal stories, hard-hitting facts and frank discussions about what is wrong with the system and how to fix it. What Doesn't Kill Me features the indomitable 86-year-old Charlotta Harrison, who stayed 60 years in an abusive marriage to protect her son. She speaks hauntingly about the pressures and fears that made it so difficult to leave. You will also meet other women and children who have been separated, silenced, and pushed to extreme solutions in order to escape. Hear their stories and what they're doing to fight back.

Awards: Special Jury Activist, Awareness Film Festival.

 

Bones of Contention

Filmmaker: Andrea Weiss | USA / Spain | 2017 | 75 minutes

Q&A: USF Professor Pedro Lange-Churión (Languages, Literatures, and Cultures, Urban Studies)

Gravestone of Federico Garcia LorcaBones of Contention is the first nonfiction feature film to explore the theme of historical memory in Spain, focusing on the repression of lesbians and gays under Franquismo. Lining the roads of Spain are unmarked graves in which over a hundred twenty thousand victims of the Franco regime are buried. Today the families of the desaparecidos lead a grassroots effort to uncover and identify their loved ones bones despite opposition from Spanish government. Invisible to the eye but hyper-visible in the mind, these mass graves of Spain's missing persons are an apt metaphor for the historical memory conundrum. How does a country excavate a past that is actively suppressed? The film weaves together two strands, the historical memory movements campaign to uncover the past, and the search for the hidden lives of lesbians and gays under Franco. These strands are connected through poet, Federico Garcia Lorca, who was killed by a right-wing firing squad during the Spanish Civil War. The mystery of his missing remains and the debates over their significance provide the narrative spine of the documentary, as he has become the symbol today for both the historical memory movement and the LGBT movement.

Dolores

Filmmaker: Peter Bratt | USA | 2017 | 95 minutes

Q&A: USF Professor Nicole Gonzales Howell (Rhetoric and Language)

Dolores Huerta speaking through a megaphoneDolores Huerta bucks 1950s gender conventions by starting the country's first farm workers union with fellow organizer Cesar Chavez. What starts out as a struggle for racial and labor justice, soon becomes a fight for gender equality within the same union she is eventually forced to leave. As she wrestles with raising 11 children, three marriages, and is nearly beaten to death by a San Francisco tactical police squad, Dolores emerges with a vision that connects her newfound feminism with racial and class justice.

Awards: Audience Award best documentary feature, 2017 San Francisco International Film Festival.

 

Disturbing the Peace

Filmmakers: Stephen Apkon and Andrew Young | Israel / Palestine / USA | 2017 | 86 minutes

Q&A: USF Professor Sarah Anne Minkin (Sociology)

An interviewee in Stephen Apkon and Andrew Young's documentary, "Disturbing the Peace"In a world torn by conflict, an energy of determined optimism emerges. Disturbing the Peace follows everyday people who took extraordinary actions by standing for what they believe in. The movie challenges us to understand the narratives we live within, to look at our current roles in society, and to decide what role we are going to play in creating a humane world for all. It is a story of the human potential unleashed when we stop participating in a story that no longer serves us and, with the power of our convictions, take actions to create new possibilities. It follows former enemy combatants — Israeli soldiers from elite units and Palestinian fighters, many of whom served years in prison--who have joined together to challenge the status quo and say "enough." The film reveals the transformational journeys from armed soldiers to nonviolent peace activists, leading to the creation of Combatants for Peace, a movement that has the potential to shift the conversation from the inevitability of conflict, to the possibility and process of establishing peace.
2017
Curated by Sarah Frei

Just Human

Filmmakers: USF students from the 2015-16 Martín-Baró Scholars Program, 12 min
Created in collaboration with the Faithful Fools, a Tenderloin-based arts and advocacy organization, Just Human is a short film that explores the possibilities, implications, and future of what a Just Society might look like. Incorporating a variety of perspectives from multiple individuals (from City Hall officials to recent refugees), Just Human seeks to envision what "justice" actually means while questioning how homelessness, poverty, race, education, the arts, and more could potentially operate in a world of justice.

Made in the USA

Filmmakers: Melissa Oei and Asia Hayes, 5.5 min
What does it mean to make America great again? What does it mean to be American? Students of various racial and ethnic backgrounds attempt to answer these questions in this 5min 30s documentary.

Labor Pains

Filmmaker: Brittany Roker, 11.5 min
Through comedic storytelling, various retail employees discuss their experience working in customer service, a position which is often taken for granted by their customers.

La Cocina

Filmmakers: Jenn Kang and Brianna Sanchez, 3 min
A documentary about La Cocina, an organization located in the Mission that strives to help low-income food entrepreneurs start their businesses.

Letter Box

Filmmaker: Vi Bui, 11.5 min
A heartwarming love story of two Vietnamese immigrants who came to America in search of a bright future.

Black Horror Matters

Filmmaker: De'Andre Armstrong, 2 min
An experimental compilation of various horror films. Both funny and earnest, the film makes you think about the representation of black people in this particular genre of film.

Ciclo do Cambio

Filmmaker: Sarah Frei, 8 min
The story of Reina Molina, a young woman from El Salvador who travels to Guatemala to learn pedal-power technology at BiciTec, an organization that uses pedal-powered technology to make an impact on communities around the world.

Berta Vive/Berta Lives

Filmmaker: Katia Lara, Honduras, 2016 documentary / 30 min

Q&A: USF Professors Dorothy Kidd, Media Studies, and Christopher Loperena, International Studies

On March 2nd, 2016 news of Berta Caceres' murder shook the world. The woman whose fight defending Lenca territories brought her to lead COPINH, the Council of Popular and Indigenous Organizations of Honduras. Gustavo Castro, Mexican environmental activist, witnessed the crime, and survived the horror of that night but was then trapped in Honduras. The defense against the construction of a dam at the Gualcarque River, sacred to the Lenca indigenous communities, is the preface to a story in which we follow Miriam Miranda, leader of the Garífuna Afro-descendant people, as well as a friend and comrade of Berta. Both women unified in a struggle for decolonization in a country that is being sold to transnational capital and where death is delivered in so many different ways.

Sonita

Filmmakers: Rokhsareh Ghaem Maghami with Sonita Alizadeh, Germany, Switzerland, and Iran, 2015 documentary / 91 min

Q&A: Filmmaker Rokhsareh Ghaem Maghami

Sonita Alizadeh's dream is to become a famous rapper. Like her idols, Eminem and Yas, her passion is music. If she had a say in things, Michael Jackson would be her father and Rihanna her mother. But in a world where women are prohibited from singing and sold into marriage, and everyday is a fight against poverty and an escape from the violence of the Taliban, where does Sonita stand in pursuit of her dreams? Filmmaker, Rokhsareh Maghami, answers these questions, showing the setbacks, success and endeavors Sonita Alizadeh journeys to find her path and be the voice for women who are silenced. This film has been awarded Grand Jury Prize and Audience Award for World Cinema documentary at the 2016 Sundance Festival.

Finding Mabel

Filmmaker: Eileen Mabel Abarrca, Argentina and USA, 2016 documentary / 60 min

Q&A: Filmmaker Eileen Mabel Abarrca

Argentina's repression (1976 to 1983), infamously known as the 'Dirty War,' claimed the lives of 30,000 victims. These victims -- kidnapped, tortured, and killed by their own government -- are now referred to as the "disappeared". Among them was a young woman named Mabel Damora. In the film Finding Mabel, an American woman journeys to her parents' homeland of Argentina to piece together the story of her namesake, Mabel Damora. Through interviews and investigations, she learns about Mabel and contextualizes the dark years that claimed her life and the 30,000 like her. With little more than a photograph and some of her parents' memories, the jigsaw-like mystery of Mabel's disappearance begins to take shape. What will she find along the way? Will she find Mabel? Finding Mabel has received several awards including The Humanitarian award from IndieFest, and official selection at Fog Film festival and Rolls Deep Film Fest. Filmmaker Eileen Abarrca is a SF Bay Area native, now living in Los Angeles.

Surviving International Boulevard

Filmmaker: Sian Taylor Gowan, USA, 2016 documentary short / 20 min

Q&A: Sarai T. Smith-Mazariegos from SHADE (Survivors Healing Advising & Dedicated to Empowerment), SHADEproject.org. Introduction by filmmaker Sian Taylor Gowan, USF Alumna (School of Education)

Surviving International Boulevard: Domestic Child Sex Trafficking reveals the complex reality of domestic child sex trafficking through the real-life experiences of two local women from Oakland, California. Driving along International Boulevard's dark streets, a mother recounts her own wild determination to rescue her 15-year- old daughter from a sex trafficker "boyfriend". Night after night, combing the dangerous streets of East Oakland, she never gives up on her child. Switching to daylight, a nonprofit advocate and survivor of sexual exploitation shares her extensive experience helping young victims get the help they so desperately need. Driving along The Blade as they call it, Sarai T. Smith Mazariegos, co-founder of MISSSEY.org and founder of SHADEproject.org, breaks down the raw truth about victims and traffickers as it unfolds on the street around her. Filmmaker Sian Taylor Gowan is USF alumna (School of Education).

Surviving International Boulevard Trailer

Oklahoma City

Filmmakers: Barak Goodman, Mark Samels, and Emily Singer Chapman, USA, 2017 documentary / 102 min

Q&A: Filmmaker Emily Singer Chapman, USF Alumna (Media Studies)

On April 19, 1995, Timothy McVeigh, a former soldier deeply influenced by the literature and ideas of the radical right, parked a Ryder truck with a five-ton fertilizer bomb in front of the Alfred P. Murrah Federal building in Oklahoma City. Moments later, 168 people were killed and 675 were injured in the blast. OKLAHOMA CITY traces the events — including the deadly encounters between American citizens and law enforcement at Ruby Ridge and Waco — that led McVeigh to commit the worst act of domestic terrorism in American history. With a virulent strain of anti-government anger still with us, the film is both a cautionary tale and an extremely timely warning. Filmmaker Emily Singer Chapman is USF alumna (Media Studies).

Do Not Resist

Filmmaker: Craig Atkinson, USA, 2016 documentary / 73 min

Winner of Best documentary Feature at the 2016 Tribeca Film Festival, Do Not Resist opens with shocking scenes from Ferguson, Missouri, to introduce an array of stories that collectively detail the disturbing realities of American police culture. The film depicts a high-end weapons expert who instructs police departments around the nation on the need for force and intimidation; a growing number of small towns and cities being armed with expensive military-grade equipment; and the development of face- recognition technology that makes the automated scanning of cities for wanted offenders a likely reality. Director Craig Atkinson presents a unique and powerful portrait of the individuals and institutions each playing their part in a growing billion-dollar industry. Do Not Resist begs the question—who is it we "protect and serve" Also awarded Best documentary Feature at the Indy Film Festival 2016.

Out Run

Filmmakers: S. Leo Chiang and Johnny Symons, Philippines, 2016 documentary / 75 min

Q&A: Filmmakers S. Leo Chiang and Johnny Symons

This feature documentary shows a unique look into the challenges LGBT people face as they enter the political world to fight for dignity, legitimacy and acceptance across the globe. As leader of the world's only LGBT political party, Bemz Benedito apires in becoming the first transgender woman in the Philippine Congress. However, rallying for LGBT representation in a predominantly Catholic nation requires Bemz and her team of queer political warriors to rethink traditional campaign strategies to amass support from unlikely places. They mobilize working-class trans hairdressers and beauty queens to join the fight against their main political opponent, a homophobic, evangelical preacher, and prove to Filipino electorate that it's time to take the rights of LGBT people seriously. But as outsiders attempt to subvert their system, will they have to compromise their political ideals in order to win? This film has been awarded Best Cinematography at the Los Angeles Asian Pacific Film Fest 2016.

Hooligan Sparrow

Filmmaker: Nanfu Wang, China, 2016 documentary / 91 min

Q&A: Professor Bernadette Barker-Plummer, Media Studies

A group of activists protesting the alleged rape of six girls by a school headmaster and a government official quickly become fugitives. Filmmaker Nanfu Wang and super-activist Ye Haiyan ("Hooligan Sparrow") must avoid government thugs and arrest. Sparrow becomes an enemy of the state, but detentions, interrogations, and evictions can't stop her protest from going viral. A thriller set across southern China featuring friends who will go to any lengths to expose the truth. The Human Rights Watch Film Festival presented Nanfu Wang—director of Hooligan Sparrow—with the 2016 Nestor Almendros Award for courage in filmmaking. This film has also been awarded the Feature Length documentary at Ashland Independent Film Festival 2016; Best Film for Moves That Matter Festival 2016; Special Jury Prize at Nashville Film Festival 2016; Special Mention at Sheffield International documentary Festival 2016; Youth Jury Prize and Prize of Gilda Vieira De Mella at the International Film Festival and Forum on Human Rights 2016.

The Long Night of Francisco Sanctis

Filmmakers: Francisco Márquez and Andrea Testa, Argentina, 2016 drama / 78 min

Q&A: Professor Nadina Olmedo, Modern and Classical Languages

It's Buenos Aires, 1977. During the military dictatorship, Francisco Sanctis is given information, two names and an address, of two people sentenced to "disappear". He's a quiet middle-aged family man without any political ties and is stunned by the urgency of his situation. That night he must make a crucial decision: does he risk his own life to warn these strangers or remain calmly blanketed under the eyes of the dictatorship? Over the course of one night, Francisco travels through the city, wrestling with his conscience. The film is a timely investigation of what it means to be silent under a despotic government. The Long Night of Francisco Sanctis was awarded Best Film, International Competition, at the 2016 Buenos Aires International Independent Film Festival (BAFICI).

The Long Night of Francisco Sanctis Trailer

National Bird

Filmmaker: Sonia Kennebeck, USA, 2016 documentary / 92 min

Q&A: Asma Eschen, featured in the film, writer and photographer, USF Alumna, School of Education, Lisa Ling, US Veteran featured in the film, and producer Ines Hofmann Kanna.

National Bird follows the dramatic journey of three whistleblowers who are determined to break the silence around one of the most controversial current affairs issues of our time: the secret U.S. drone war. At the center of the film are three U.S. military veterans. Plagued by guilt over participating in the killing of faceless people in foreign countries, they decide to speak out publicly, despite the possible consequences. Their stories take dramatic turns, leading one of the protagonists to Afghanistan where she learns about a horrendous incident. But her journey also gives hope for peace and redemption. National Bird gives rare insight into the U.S. drone program through the eyes of veterans and survivors, connecting their stories as never seen before in a documentary. Its images haunt the audience and bring a faraway issue close to home.

Les Sauteurs (Those Who Jump)

Filmmakers: Moritz Siebert, Estephan Wagner, and Abou Bakar Sidibé, Denmark, 2016 documentary / 80 min

Q&A: Professor Lindsay Gifford, International Studies

On the border between Morocco and Spain are over a thousand hopeful African migrants who want to pursue a better life in Europe. One of them is Abou Bakar. A protagonist in front of the camera, as well as the person behind it. He documents the lives of Les Sauteurs ("Those Who Jump"), many who succumb to the forces of hopelessness, razor-wire fences and brutal authorities- and some who never return. Through the lens, Abou Bakar finds expression and meaning in his situation. Film gives him beauty and existence in images, but after 16 months, he comes close to a tragic accident that only strengthens his determination to successfully jump the border. Les Sauteurs delivers a testament to courage and the world's neglect- telling us true horror that is happening right outside our door. Winner of the Ecumenical Jury Award at the Forum Section of the 2016 Berlin International Film Festival; won the Amnesty International Award at Millennium Docs Against Gravity 2016; Best documentary Feature and Special Mention at the Camden International Film Festival 2016.

When Two Worlds Collide

Filmmakers: Heidi Brandenburg and Mathew Orzel, USA, Peru, and UK, 2016 documentary / 103 min

Q&A: Professor Susan Katz, School of Education

What happens when the thirst for power and riches takes priority over human life? The Amazon Rainforest, one of the planet's most valuable natural resources, is being auctioned off, and its people condemned. Alberto Pizango, a young indigenous leader fighting to make the voices of indigenous Peruvians heard, stands up to political leaders and is accused of conspiracy and inciting violence. Set against the backdrop of a global recession and climate crisis, When Two Worlds Collide, winner of the World Cinema documentary prize for best first feature at Sundance Film Festival, reveals the human side to the battle of conflicting visions and political wills working to shape the future of the Amazon, and of an already debilitated global ecosystem. This film has been awarded Special Jury Prize at the Sundance Film Festival 2016; Audience Award at the Zurich Film Festival 2016.

When Two Worlds Collide Trailer

The Prison in Twelve Landscapes

Filmmaker: Brett Story, USA, 2016 documentary / 90 min

Q&A: A member of Critical Resistance, Oakland

More people are imprisoned in the United States at this moment than in any other time or place in history, yet the prison itself has never felt further away or more out of sight. The Prison In Twelve Landscapes is a film about the prison in which we never see a penitentiary. Instead, the film unfolds as a cinematic journey through a series of landscapes across the USA where prisons do work and affect lives, from a California mountainside where female prisoners fight raging wildfires, to a Bronx warehouse full of goods destined for the state correctional system, to an Appalachian coal town betting its future on the promise of prison jobs. This film has been awarded Best Canadian documentary and Honourable Mention at Hot Docs Canadian International documentary Film Festival 2016; Best documentary and Alliance of Women Film Journalists EDA Award at DOXA documentary Film Festival 2016.

The Prison in Twelve Landscapes Trailer

Adios Amor – The Search for Maria Moreno

Filmmaker: Laurie Coyle, USA, 2017 documentary / 60 min

Q&A: Filmmaker Laurie Coyle. Introduction by Olga Talamante, Director Chicana Latina Foundation

Before Cesar Chavez and Dolores Huerta, there was Maria Moreno. So why haven't we ever heard of her? In Adios Amor, the discovery of forgotten photographs prompts a search for an unsung heroine, Maria Moreno, a migrant mother who sacrificed everything but her twelve kids in the struggle for farm worker justice. In the late 1950s at the height of the Cold War, Maria stepped out of the shadows and spoke up for 3 million farm workers living in poverty while they harvested food for the most affluent nation in the world. Elected by a group of Okie, Arkie, Black, Filipino and Mexican farm workers to represent their demands for equal rights and fair pay, Maria took her crusade all the way to the halls of power and left an inspiring legacy of multi-ethnic unity. The filmmaker's quest to find Maria becomes an exciting journey whose missing clues and dramatic twists reveal the buried history of an intrepid woman whose fight for a better life has universal resonance. Supported by the National Endowment for the Humanities, Latino Public Broadcasting, California Humanities, Creative Work Fund, LaFetra Foundation and San Francisco Arts Commission.
2016
High & Dry

David Delatorre, 5:08 min.
After experiencing sexual assault, Radhika falls in love with music all over again and finds herself in the process.

Borderless Dreams

Crystal Valencia, 8:18 min.
Jose Majano grew up with little to nothing back in his home country, El Salvador. Finding his way into the United States was hard, but fitting in was even harder.

Microaggression in College Campuses

Sarah Frei, 8:30 min.
College is a place to learn and grow, but with such a coddled environment are students prepared for the "real world"?

Free Farm Stand

Diego Torres, 11:42 min.
With over 6,400 homeless individuals living in San Francisco, food equity is a major issue facing the city and its people. In response to this, a group in the Mission grows and distributes fresh produce to those in need at no cost.

Note to Self

Chev-Vaughn Lum, 18:27 min.
The self is a mysterious realm that has been studied for ages. Note to Self explores the lives of four individuals who give their definitions of what they believe the self is.

Well Contested Sites

Filmmakers: Amie S. Dowling and Austin Forbord, USA, 2015, 13.17 min

Q&A with creative collaborators Reggie Daniels and Amie Dowling

Well Contested is a 13- minute dance/theater film that explores the issue of mass incarceration and the complexity of experiences faced by those who are incarcerated in prisons. The film is collaboration between Bay Area performing artists, some of who were previously incarcerated, filmmakers/choreographers Amie Dowling and Austin Forbord.

American Dreamers

Filmmakers: Saray Deisel & Jennifer Castillo, USA, Year: 2015, 88 min

Q&A with filmmaker Jennifer Castillo and Veronica Gomez, CAD Walker / Community Organizer

American DREAMers" tells the story behind the Campaign for an American DREAM (CAD), a group of six undocumented youth and an ally who risk their freedom when they publicly come out as undocumented and walk 3,000 miles to the nation's capital to organize for immigrant rights. These are college students, young professionals, activists, and community leaders. Follow their journey as they come out of the shadows, share their stories, empower communities, and put everything on the line to fight in what they believe is their civil rights movement. They are undocumented and unafraid. And some are UndocuQueer, too.

What Was Ours

Filmmaker: Mat Hames, 2015, USA, 80 min

Q&A with co-producer and USF alumnus Jordan Dresser (MA, Museum Studies, '15)

A young Arapaho journalist and a teenage powwow princess travel from the Wind River Indian Reservation with a Shoshone elder and Vietnam veteran, to explore thousands of artifacts removed from their people in the archives of a museum. The three uncover ancestral objects kept in boxes for many years, setting each on a journey to discover their true purpose. As the elder looks to the future, the young people look to the past to revive hope for their beloved home. A beautiful, haunting and positive portrait of an unseen world that is often portrayed negatively in the media.

The Black Panthers: Vanguards of the Revolution

Filmmaker: Stanley Nelson, Country of Production: US, Year: 2015, 116min

Q&A with Chinyere´ Tutashinda, Center for Media Justice, Organizer and Co-founder of BlackOUT Collective

In the 1960s, change was coming to America, ready or not. A new revolutionary culture was emerging, and those seeking to drastically transform the system believed radical change was not only feasible, but imminent. For a short time, the Black Panther Party for Self-Defense put itself at the vanguard of that change. Whether they were right or wrong, good or bad, the group and its leadership remain powerful and enduring figures in our popular imagination nearly 50 years after the Black Panther Party was founded in Oakland, California. The Black Panthers: Vanguard of the Revolution is a feature documentary that includes eyewitness accounts from the first members who joined the organization, rank-and-file members in cities like Chicago, Oakland, Los Angeles, and New York, as well as the voices of lawyers, journalists, scholars, police officers, and former FBI agents.

Field of Vision Shorts

Field of Vision is a filmmaker-driven visual journalism film unit co-created by Laura Poitras, AJ Schnack and Charlotte Cook that pairs filmmakers with developing and ongoing stories around the globe.

Notes From The Border

Iva Radivojevic, 9 min.
Notes from the Border documents the refugee crisis on the borders of Europe during the summer of 2015 through the tale of one man's journey to the continent.

Eric & "Anna"

Kelly Duane de la Vega & Katie Galloway, 14 min.
A story of youth, dissent, love and betrayal in post 9/11 America woven exclusively with FBI surveillance, Eric & "Anna" tells the story of a teenage informant and the activist she helped to put in prison for nearly 20 years.

Peace In The Valley

Michael Palmieri & Donald Mosher, 15 min.
Eureka Springs, Arkansas is home to both the largest outdoor Passion Play in the U.S. and an important vote on LGBT rights. Peace in the Valley follows the town's inhabitants as they prepare for the historic vote.

Homeland Is Not A Series

Arabian Street Artists Heba Y. Amin, Caram Kapp, & Don Karl aka Stone, 7 min.
In what has become known as "The Homeland Incident," The Arabian Street Artists engineered a graffiti hack on the show Homeland by placing subversive messages written in Arabic on set. Homeland is not a Series is a message from the artists themselves.

The Above

Kirsten Johnson, 8 min.
In The Above, a U.S. military surveillance balloon floats on a tether high above Kabul, Afghanistan. Its capacities are both highly classified and deeply mysterious.

Absences (Ausencias)

Filmmakers: Tatiana Huezo, Mexico/El Salvador, 2015, 26 min

Q&A with Professor Karina Hodoyan, Director of the Center for Latino/a Studies in the Americas (CELASA)

Absences, by award winning filmmaker Tatiana Huezo (The Tiniest Place), exposes the ever-intensifying phenomenon of enforced disappearance in Mexico. A boy and his father disappear one morning, snatched off the road by armed men. Left behind, alone with her daughter, Lulu, a victim who refuses to give in, decides to tell the unacceptable story: the unfillable void, the absence of loved ones, the unanswered questions and the suffocating silence. After 5 years, absence has her living in a limbo that gives way to desire, hope and the struggle to find her 9-year old son Brandon and her husband, alive. This hauntingly beautiful short film illuminates the way disappearance affects women, and broadens our awareness on disappearance and its social consequences in Mexico and Central America.

Queer Migration: Multiple Borders

Filmmakers: Various, QWOCMAP (Queer Women of Color Media Arts Project), USA, 66 min

Q&A with Kebo Drew, Filmmaker & Managing Director at QWOCMAP

A selection of shorts from this 5-volume collection: Beyond Legal/Illegal; Work, Class & Globalization; Navigating Origins; Family Borders; Memory as Survival. At this time of extensive legal and political discourse on immigration, these films interrogate the terms on which the whole of human migration is grounded. They take into account the impact of multiple and mutually constitutive identities that include race, class, gender, and sexual orientation. These films will expand the understanding of immigration and our political imagination through this intersectional approach.

Corazón de Melon

Zoila Aviles, 13:48min, 2011.
A queer Mexicana couple journey through online dating and across borders to find their Corazón de Melon.

My Beautiful Resistance

Penny Baldado, 8:02min, 2014.
From the roots of struggle, My Beautiful Resistance inspires an undocumented, gender non-conforming, queer Filipina to start a cafe.

Coming In America

Aba Taylor, 10:56min, 2011.
Queer Africans share their personal journey across continents to preserve culture and create community in Coming In America.

The Invitation

Heba Gamal, 6:46min, 2010.
A young queer Egyptian resists her mother's pressure to wed a man after she receives The Invitation.

Crossing Barriers: To Re-Gay Ourselves

Carolina Reyes, 14:25min, 2011.
Young LGBTQ people of color are Crossing Barriers: To Re-Gay Ourselves as they navigate identity and acceptance.

Casey's Hope

Sanjay Chhugani, Viet Hoang, Casey Huynh, 6:05min, 2013.
For a Chinese-Vietnamese queer refugee, Casey's Hope is found in starting a family of her own.

De Colores, Our Lives

Edgardo Antonio Jr, Jovanka Beckles, Nicole Valentino, 5:24min, 2015.
An Afro-Latina queer couple explores De Colores, Our Lives at the intersection of cultural, sexual, and racial identity.

This Changes Everything

Filmmakers: Avi Lewis, Canada/USA, 2015, 90 min

Q&A with Professor Stephanie B. Ohshita, Environmental Science, Studies, & Management

What if confronting the climate crisis is the best chance we'll ever get to build a better world? Filmed over 211 shoot days in nine countries and five continents over four years, This Changes Everything is an epic attempt to re-imagine the vast challenge of climate change. Directed by Avi Lewis, and inspired by Naomi Klein's international non-fiction bestseller This Changes Everything, the film presents seven powerful portraits of communities on the front lines, from Montana's Powder River Basin to the Alberta Tar Sands, from the coast of South India to Beijing and beyond. Interwoven with these stories of struggle is Klein's narration, connecting the carbon in the air with the economic system that put it there. Throughout the film, Klein builds to her most controversial and exciting idea: that we can seize the existential crisis of climate change to transform our failed economic system into something radically better.

This Changes Everything Trailer

KUMU HINA

Filmmakers: Dean Hamer & Joe Wilson, 2014, 75 min

Q&A with Professor Daniel Morgan, Sociology, Talia De la Cruz, Asian & Pacific Islander Wellness Center, Transgender Health Peer Navigator, and Kate Franza, Asian & Pacific Islander Wellness Center, Asst. Associate Director of Behavioral Health and Community Programs

During a momentous year in her life in modern Honolulu, a transgender Native Hawaiian teacher uses traditional culture to inspire a student to claim her place as leader of the school's all-male hula troupe even as she seeks love and a committed relationship. An incredible docudrama that unfolds like a narrative film, "Kumu Hina" reveals a side of Hawai'i never before seen on screen.

On the Bride's Side (Io Sto Con La Sposa)

Filmmakers: Antonio Augugliaro, Italy/Palestine, 2014, 98 min

Q&A with Professor Lindsay Gifford, International Studies and Subhi Nahas, ORAM, the Organization for Refuge, Asylum and Migration

A Palestinian poet and an Italian journalist meet five Palestinians and Syrians in Milan who entered Europe via the Italian island of Lampedusa after fleeing the war in Syria. They decide to help them complete their journey to Sweden – and hopefully avoid getting themselves arrested as traffickers – by faking a wedding. With a Palestinian friend dressed up as the bride and a dozen or so Italian and Syrian friends as wedding guests, they cross halfway over Europe on a four-day journey of three thousand kilometers. This emotionally charged journey not only brings out the stories and hopes and dreams of the five Palestinians and Syrians and their rather special traffickers, but also reveals an unknown side of Europe – a transnational, supportive and irreverent Europe that ridicules the laws and restrictions of the Fortress in a kind of masquerade which is no other than the direct filming of something that really took place on the road from Milan to Stockholm from the 14th to the 18th of November 2013.

I am Listening

Filmmakers: Curtis Speck (MA at USF Theology & Religious Studies and Dance), John Kyrk, David Pangaro, USA, 2015, 25 min

Q&A with Curtis Speck, Dance film: the diaries of Anne Frank and Regina Shelton were the inspiration for the dance and film. (Two young women - one Jewish and one German) living through WWII - one in Amsterdam hiding and the other a young German girl living in Total War atmosphere in Eastern Germany). The film screened at the Jakarta International Film Festival in Jakarta, Indonesia September 14-22, 2015. It was awarded the International Award of Merit for their entry into the film festival which is focused on 3 themes: Peace, Inspiration, and Equality.

Mujeres De La Mina (Women of the Mine)

Filmmakers: Malena Bystrowicz and Loreley Unamuno, Argentina, 2014, 60 min

Q&A with Professor Dorothy Kidd, Media Studies

Women of the Mine provides an intimate portrait of three women that live and work at the mines of Cerro Rico in Potosi, Bolivia. The mine is the symbol of colonial plunder. The population worked and suffered while unimaginable riches were extracted. The mines have existed since the middle of the 16th century. In this society, it is the women whose lives are the most cursed, precarious and tenacious. Most are widows struggling to support their families. Women are not permitted in the mines, the males believe they bring bad luck, so they work outside the mines, hammering the rock on the side of the mountain. Women of the Mine profiles three remarkable women and tells us their stories of struggle, resistance and courage.

3½ Minutes, Ten Bullets

Filmmaker: Marc Silver, USA, 2015, 98 min

Q&A with Nolizwe Nondabula, USF Grad Student, black.seed organizer, and proud Brown Boi

On Black Friday in 2012, two cars parked next to each other at a Florida gas station. A white middle-aged male and a black teenager exchanged angry words over the volume of the music in the boy's car. A gun entered the exchange, and one of them was left dead. Michael Dunn fired 10 bullets at a car full of unarmed teenagers and then fled. Three of those bullets hit 17-year-old Jordan Davis, who died at the scene. Arrested the next day, Dunn claimed he shot in self-defense. Thus began the long journey of unraveling the truth. The film follows that journey, reconstructing the night of the murder and revealing how hidden racial prejudice can result in tragedy. Directed by Marc Silver (Who is Dayani Cristal?), the documentary intercuts powerful exclusive footage from a riveting trial with intimate, observational scenes of Jordan's parents, Ron and Lucy. The film integrates police interrogation footage, prison phone recordings and interviews with the others at the scene that night. The result is a powerful story about the devastating effects of racial bias, and the search for justice within the judicial system.

Sound of Torture

Filmmaker: Keren Shayo, Israel, 2013, 58 min

Q&A with Meron Semedar, MA Student, International Studies

Since Europe closed its borders in 2006, human trafficking has burgeoned in Egypt's Sinai Desert, where Eritrean asylum seekers and refugees heading north to Israel are kidnapped, held hostage, and tortured by Bedouin smugglers demanding exorbitant ransoms for their freedom. Fleeing an oppressive military dictatorship at home, with a "shoot-to-kill" policy at the border, over 300,000 Eritreans have fled their homeland in North Africa. Many of these men, women and children die in Sinai's torture camps. This documentary follows Meron Estefanos, an Eritrean journalist-activist living in Sweden. On her radio program she talks to hostages in the camps while recording their pleas for help as well as their family members raising money for their release. Sound of Torture spotlights one of today's most underreported human rights violations and the one woman who is making it her mission to create change.

The Look of Silence

Filmmaker: Joshua Oppenheimer, Country of Production: Denmark/Indonesia/Norway/Finland/United Kingdom, Year: 2014. 98min

Q&A with professors Olivier Bercault, International Studies, and Susana Kaiser, Media Studies/Latin American Studies

The Look of Silence is Joshua Oppenheimer's powerful companion piece to the Oscar®-nominated The Act of Killing. Through Oppenheimer's footage of perpetrators of the 1965 Indonesian genocide, a family of survivors discovers how their son was murdered, as well as the identities of the killers. The documentary focuses on the youngest son, an optometrist named Adi, who decides to break the suffocating spell of submission and terror by doing something unimaginable in a society where the murderers remain in power: he confronts the men who killed his brother and, while testing their eyesight, asks them to accept responsibility for their actions. This unprecedented film initiates and bears witness to the collapse of fifty years of silence.

Awards: 2016 Academy Award Nominee Best Documentary Feature
2015
The Homestretch

Filmmaker: Anne de Mare, Kirsten Kelly, USA, 2014 / 89 min

This film follows three homeless teens in Chicago as they fight to stay in school, graduate, and build a future. Each of these smart, ambitious teenagers—Roque, Kasey, and Anthony—will surprise, inspire, and challenge audiences to rethink stereotypes of homelessness as they work to complete their education while facing the trauma of being alone and abandoned at an early age. Through haunting images, intimate scenes, and first-person narratives, the teens take us on their journeys of struggle and triumph. As their stories unfold, the film connects us to larger issues of poverty, race, juvenile justice, immigration, foster care, and LGBT rights. The Homestretch is a powerful, original perspective on what it means to be young, homeless, and building a future in America today.

Big Men

Filmmaker: Rachel Boynton, Nigeria, USA, 2013 / 99 min

A cautionary tale about the toll of American oil investment in West Africa, Big Men reveals the secretive worlds of both corporations and local communities in Nigeria and Ghana. Director Rachel Boynton gained unprecedented access to oil companies in Africa and has created a gripping account of the ambition, corruption, and greed that epitomize Africa's 'resource curse. The film deftly uncovers the human impact of oil drilling and contains remarkable footage, in particular of militants operating in the Niger Delta. It provides a nuanced and compelling illustration of the responsibility that a range of actors bear for the environmental, economic, and political harm inflicted by resource extraction.

The Hunting Ground

Filmmaker: Michele Josue, USA, 2014 / 80 min

From the makers of The Invisible War comes a startling expose of rape crimes on US campuses, their institutional cover-ups, and the devastating toll they take on students and their families. Weaving together footage and first person testimonies, the film follows the lives of several undergraduate assault survivors as they attempt to pursue - despite incredible push back, harassment and traumatic aftermath - both their education and justice.

Matt Shepard is a Friend of Mine

Filmmaker: Michele Josue, USA, 2014 / 80 min

This film is a powerful feature documentary about Matthew Shepard, the gay young man who was tortured and murdered in one of the most notorious hate crimes in U.S. history. Directed by Michele Josue, a close friend of Shepards', the film revisits the shocking case with never-before-seen photos, rare video footage, and new revelations about Shepard's all-too-brief life.

Matt Shepard is a Friend of Mine Trailer

Sepideh - Reaching for the Stars

Filmmaker: Berit Madsen, Iran, USA, 2013 / 88 min

Sepideh is a young Iranian woman who dares to dream—of a future as an astronaut. At night, she stares up at the universe. At home, full of hope and longing, she watches recordings of the first female Iranian in space, Anousheh Ansari. When her father died suddenly six years earlier, Sepideh discovered that she could feel closer to him by watching the stars. And so her dream was born. But not everyone appreciates her boundless ambition. After all, becoming an astronaut is not exactly a normal goal for a girl in Iran. Her mother and uncle are worried about the emancipated young woman. She doesn't want to learn to cook, hardly ever visits her family, and doesn't seem to be thinking about marriage at all. As we follow Sepideh, it becomes clear just how at odds her dreams are with her current reality and the expectations of those around her.

Alfredo's Fire

Filmmaker: Andy Abrahams Wilson, Italy, USA, 2013 / 40 min

Fifteen years ago, an Italian gay writer shocked the world by setting himself on fire in St. Peter's Square as a protest against the Vatican's condemnation of homosexuality. Years later, his gesture faded into obscurity. What is the flame he ignited and how deep are its shadows? By unraveling this tragic story, Alfredo's Fire highlights the issue of religious intolerance, which burns as strong and deadly as ever at the crossroads of faith and sexuality.

Dejaste Atrás Lo Lejano

Filmmakers: USF Alumni: Michael Kuba ('12 Alumn) [Camera, Editing] & Pedro Lange, Nicaragua, 2013 / 14:30 min

In the wake of The Hague's International Tribunal's decision to grant Nicaragua part of the territorial waters of San Andrés (Colombia's island in the Caribbean). This short's suggestive photography captures a sense of quiet despair present in the ruinous spaces of the island and in the impassiveness of its inhabitants who seem to eternally wait for a solution to their problems.

Lockdown

Filmmakers: USF Alumni: Alexandra Kotcheff ('09 Alumna) + Sam Vinal ('10, Alumn), USA, 2014 / 20:30 min

Lockdown Logline: Activists in Texas are determined to stop the Keystone XL Pipeline from being built. After a tree sit fails to stop construction, two activists plan to lock their arms to heavy machinery in order to disrupt pipeline work.

African Prison Project Law Degree Program

Filmmakers: Manuela Vasconcelos ('13 Alumna) in partnership with Jonathan Remple + What Took You So Long Organization, Kenya/Uganda, 2015 / 4 min

African Prisons Project is a young charity founded to improve the welfare, health and education of detainees in Africa. APP, with support from the Undergraduate Laws Programme of the University of London, has worked to provide access to learning opportunities, via distance learning, for prison staff and inmates in Kenya and Uganda. Currently, 30 prisoners and staff are participation in the legal degree program. Visit whattookyousolong.org for more information.

Urban Blueprint: One Marine's Home Geography

Filmmakers: Erika Myszynski ('11 Alumna + '15, Graduate Alumna Candidate, Urban Affairs), USA, 2015 / 25 min

What does national service look like at a local level? Cities are the most common site of return for veterans. How can the urban environment serve the veteran? People and the surrounding community --- the public --- are vital in the homecoming process. The film serves as a robust profile of one military "family" as the human infrastructure in an urban landscape freckled with military fortifications. The film plays with the relationship between person and place --- human and "home." A story about "dress blues," fighting the blues, and acquired partnerships. The public is generally unable to relate to the veteran geography; this is an accessible opportunity for intimate connection.

Fear

Filmmaker: Raissa Reis, USA, 2014 / 3 min

This film takes the viewer through the journey of two young women as they discover their sexuality. It explores people's tendencies to live in fear rather than in the open about their sexuality.

People In The Streets

Filmmakers: Riley Covington & Brittany Roker, USA, 2014 / 5 min

Homeless are often ignored or disregarded by their communities and seen not the struggling people they are. People on the Streets aims to end this by examining the lives and issues surrounding homeless youth in San Francisco, particularly within the LGBTQA community.

Latinas Y Su Educacion

Filmmaker: Melissa Serrano, USA, 2014 / 5 min

Latinas y su Educación is a documentary film offering insight on women who want to succeed. Specifically, the film highlights three USF students sharing their personal experiences as Latinas pursuing higher education and offering advice to the women who come after them.

Pastures Of Plenty

Filmmakers: Ellie Vanderlip + Sonia Tagare, 2013 / 12 min

While industrial agriculture abuses the rights of its undocumented employees with low wages and a dangerous work environment, small organically-run farms provide a safe haven with steady work, fair payment, and healthy conditions for both workers and their families. Pastures of Plenty profiles one of these farms in particular and examines the positive change the organic system has brought to these farmworkers' lives.

A Quiet Inquisition

Filmmakers: Alessandra Zeka, Holen Sabrina Kahn, Nicaragua, USA, 2014 / 65 min

At a public hospital in Nicaragua, OBGYN Dr. Carla Cerrato must choose between following a law that bans all abortions and endangers her patients or taking a risk and providing the care that she knows can save a woman's life. In 2007, Dr. Cerrato's daily routine took a detour. The newly elected government of Daniel Ortega, a former Marxist revolutionary who converted to Catholicism to win votes, overturned a 130-year-old law protecting therapeutic abortion. The new law entirely prohibits abortion, even in cases of rape, incest, or when a woman's life is at stake. As Carla and her colleagues navigate this dangerous dilemma, the impact of this law emerges — illuminating the tangible reality of prohibition against the backdrop of a political, religious, and historically complex national identity. The emotional core of the story — the experiences and situations of the young women and girls who are seeking care — illustrate the ethical implications of one doctor's response.

Return to Homs

Filmmaker: Talal Derki, Syria, Germany, 2013 / 80 min

Filmed between August 2011 and August 2013, Return to Homs is a remarkably intimate portrait of a group of young revolutionaries in the city of Homs in western Syria. They dream of their country being free from President Bashar al-Assad and fight for justice through peaceful demonstrations. As the army acts ever more brutally and their city transforms into a ghost town, the young men begin to take up arms. The close-up camerawork takes the viewer right into the city and scenes of grim battles in a deserted city soon replace those of lively protest parties in the streets.

Aquí Y Allá

Filmmaker: Antonio Méndez Esparza, Spain, 2012 / 110 min

"AQUÍ": Pedro returns home to a small mountain village in Guerrero, Mexico after years of working in the US. He finds his daughters older, and more distant than he imagined. Having saved some earnings from two trips to the US, he hopes to now finally make a better life with his family, and even to pursue his dreams on the side by starting a band: Copa Kings. He cherishes the everyday moments with his family. "ALLÁ": The villagers think this year's crop will be bountiful. There is also good work in a growing city an hour away. But the locals are wise to a life of insecurity, and their thoughts are often of family members or opportunities far away, north of the border. While working in the fields, Pedro meets and begins to mentor a teenager who dreams of the US.

The Land of Many Palaces

Filmmakers: Adam James Smith, Song Ting, Adam James Smith, Wang Qihan, China, 2014 / 90 min

In Ordos, China, thousands of farmers are being relocated into a new city under a government plan to modernize the region. "The Land of Many Palaces" follows a government official whose job is to convince these farmers that their lives will be better off in the city, and a farmer in one of the last remaining villages in the region who is pressured to move. The film explores a process that will take shape on an enormous scale across China, since the central government announced plans to relocate 250,000,000 farmers to cities across the nation, over the next 20 years.

The Land of Many Palaces Trailer

Private Violence

Filmmaker: Cynthia Hill, USA, 2013 / 81 min

Private Violence explores a simple but deeply disturbing fact of American life: the most dangerous place for a woman in America is her own home. Every day in the US, at least four women are murdered by abusive (and often, ex) partners. Through the eyes of two survivors—Deanna Walters, a mother who seeks justice for the crimes committed against her at the hands of her estranged husband, and Kit Gruelle, an advocate who seeks justice for all women—we bear witness to the complex realities of intimate partner violence. Private Violence begins to shape powerful, new questions that hold the potential to change our society: "Why does he abuse?" "Why do we turn away?" "How do we begin to build a future without domestic violence?"

Scheherazade's Diary

Filmmaker: Zeina Daccache, Lebanon, 2013 / 80 min

This engaging tragicomic documentary follows women inmates through a 10- month drama therapy/theater project set up in 2012 by director Zeina Daccache at the Baabda Prison in Lebanon. Through their unprecedented theater initiative, entitled Scheherazade in Baabda, these "murderers of husbands, adulterers and drug felons" reveal their stories—tales of domestic violence, traumatic childhoods, failed marriages, forlorn romances, and deprivation of motherhood. The women of Baabda Prison share their personal stories, and in doing so, hold up a mirror to Lebanese society and all societies that repress women.

Women Under Suspicion

Filmmaker: Cecilia Montagut, Spain, 2013 / 10 min

These two films will be presented together as part of a reflection on the oppressive situation of women under the Franco regime in Spain. Compelling and provocative, these documentaries feature issues related to women ́s lives, ranging from sexuality, sexual preference and the patriarchal construction of women ́s domestic and public roles during a dictatorship spanning decades. These works complement the revealing and on-going project Women under Suspicion. Memory and Sexuality (1930-1980), coordinated by Raquel Osborne since 2013. The screening will follow a presentation by Prof. Aránzazu Borrachero Mendíbil.

Ariel

Filmmaker: Laura Bari, Argentina, Canada, 2013 / 95 min

This feature documentary follows 33-year-old Ariel after his legs are shredded by an industrial dough mixer in Mendoza, Argentina. Ariel embodies the ongoing duel between man and machine: he eventually sets out to rebuild his broken identity, keep his family together and design his own artificial legs. Ariel's newfound transhumanity is represented in a juxtaposition of his daily life with dreamlike inner worlds, pushing the boundary between the real and the imaginary. This story of healing and transformation is an introspective journey tinged with touches of magic realism.
2014
Unsettled

Filmmaker: Yannan Shen, USA, 2013 / 5 min

To pursue her dream as a photographer, Wenxin Zhang moved to the San Francisco, California. Although, she continues to turn down job offers because she wants to pursue her own artistic vision through her photographs rather than sitting in a gallery for nothing. Unable to leave the United States without ever being able to return, she must attain an O1 visa to have basic right of pursuing her dream.

Tidal Wave

Filmmaker: Lauren Abuali, 2013 / 5 min

A commentary on the way society portrays women in the media. A beautiful representation of one girls story, looking at how she is influenced by the media's portrayal of women and how she overcomes the pressures that surround her.

Hear My Story

Filmmaker: Moonui Choi, 2013 / 7 min

It's so easy to disregard those that called the streets their home, but it's imperative we remember that each person is significant and has a compelling story to tell. Hear this man's story.

White Bike

Filmmaker: Jennifer de Leon, USA, 2013 / 7 min

With the establishment of San Francisco's new bike share flooding the headlines, a dark cloud looms over our city streets. Four people have been hit and killed while biking in and around SoMa in the year 2013 alone. White Bike tells the story of one of these accidents, and the San Francisco Bike Coalition's project for safety and justice.

Pastures Of Plenty

Filmmakers: Ellie Vanderlip & Sonia Tagare, USA, 2013 / 13 min

72% of farmworkers in California are migrants who struggle daily in the fields of industrial agriculture giants. Lack of proper wages, job security, and health protection keep this population from thriving. Pastures of Plenty, centered around a small Biodynamic farm in Central California, examines how, in contrast, organic, small-scale farms can improve the safety, health, and success of migrant farmworkers and their families as they adjust to their life in a new country.

The New Black

Filmmaker: Yoruba Richen, Year, USA, 2013 / 82 min

The New Black tells the story of how the African American community is grappling with lesbian, gay, bisexual, and transgender (LGBT) rights in light of the marriage equality movement and the fight over civil rights. We meet activists, families, and clergy on both sides of the campaign to legalize same-sex marriage in Maryland, a state with a 30 percent African-American population. Through this story, the film examines homophobia in the black community's institutional pillar—the black church—and reveals the Christian right wing's strategy of exploiting this phenomenon in order to pursue an anti-gay political agenda. The New Black takes viewers into the pews and onto the streets as it tells the story of the historic fight to win marriage equality in Maryland and charts the evolution of this divisive issue within the black community.

Fatal Assistance

Filmmaker: Raoul Peck, Haiti/France/US, 2012 / 100 min

Award-winning Haitian born filmmaker Raoul Peck takes us on a two-year journey inside the challenging, contradictory, and colossal rebuilding efforts in post-earthquake Haiti. Through its provocative and radical point of view, Fatal Assistance offers a devastating indictment of the international community's post-disaster idealism. The film dives headlong into the complexity of the reconstruction process and the practice and impact of worldwide humanitarian and development aid, revealing the disturbing extent of a general failure. We learn that a major portion of the money pledged to Haiti was never disbursed, nor made it into the actual reconstruction. Fatal Assistance leads us to one clear conclusion: current aid policies and practices in Haiti need to stop immediately. Official Selection at the Berlin Film Festival.

Dirt Court Dreams

Filmmaker: Mike Kuba ('12 Alumn), Africa, 2013 / 9 min

Just outside the southern wall of Kibera, the largest urban slum in Africa, is Sadili Oval Sports Academy. Meaning "well-being" in Swahili," Sadili is a social enterprise that uses sports as a means to reach out to children and young people in need - both in the slums and from across East Africa. "Dirt Court Dreams" centers on Flo --- a Kibera resident and tennis coach --- and reflects how Sadili has made her life better and through her has, and is, improving the lives of many others.

The Pirogue

Filmmaker: Moussa Touré, France, Senegal, Germany, 2012 / 87 min

Senegalese director Moussa Toure's powerful new epic fiction film: a group of 30 West African immigrants leave Senegal in a pirogue captained by a local fisherman facing the sea—and the possibility of never reaching their destination—to undertake the treacherous crossing of the Atlantic to Spain where they believe better lives and prospects are waiting for them. A mix of tribes and nationalities cohabit in this group and tensions run high under stressful conditions.

Camp 14-Total Control Zone

Filmmaker: Marc Wiese, Germany, 2012 / 104 min

Camp 14 – Total Control Zone is a fascinating portrait of a young man who grew up imprisoned by dehumanizing violence yet still found the will to escape. Born inside a North Korean prison camp as the child of political prisoners, Shin Dong-Huyk was raised in a world where all he knew was punishment, torture, and abuse. Filmmaker Marc Wiese crafts his documentary by quietly drawing details from Shin in a series of interviews in which Shin's silence says as much as his words. Weaving anecdotes from a former camp guard and a member of the secret police with powerful animated scenes capturing key moments in Shin's life, Wiese pulls audiences into Shin's world. Shin escapes and becomes a human rights 'celebrity,' but as we see, his life outside the camp is often just as challenging as it was inside it. Official Selection Amsterdam International Documentary Film Festival 2012 and Toronto International Film Festival 2012.

Flying Paper

Filmmakers: Nitin Sawhney and Roger Hill, USA/Gaza Strip, Palestine, 2013 / 71 min

Flying Paper is the uplifting story of Palestinian children in Gaza on a quest to shatter the Guinness World Record for the most kites ever flown. It showcases the creative resilience of these children making and flying kites despite the difficult realities they face in their daily lives. The film has been co-produced with young Palestinians in Gaza trained by the filmmakers through a youth media program called Voices Beyond Walls. Through the perspective of children and young people comes a story of determination and artistic expression as the youth in the film work together to achieve a shared goal. While the record-breaking event is what drives the film's narrative arc, it is the everyday stories of the young kite makers that will touch audiences through their humor and playful spirit. The film seeks to humanize the conflict through a touching cinematic rendering of the fascinating kite culture among children as a form of creative resistance in Gaza.

Rosario

Filmmaker: Shula Erenberg, Mexico, 2013 / 70 min

The documentary is a portrait of Rosario Ibarra de Piedra, a woman whose son disappeared at the hands of the security forces in 1975 in the city of Monterrey and whose life was transformed forever. She became an indefatigable and emblematic activist searching for her disappeared son and dedicating her life to the struggle for social change and the defense of human rights in Mexico.

Deep South

Filmmakers: Lisa Biagiotti, Duy Linh Tu and Joe Lindquist, USA, 2013 / 72 min

Deep south explores the rural American South and the people who inhabit its most distant corners. Beneath layers of history, poverty, and now soaring HIV infections, four Americans redefine traditional Southern values to create their own solutions to survive. Josh, a college student, seeks the support of an underground gay family miles from his suffocating Mississippi Delta hometown. With no funds and few resources, Monica and Tammy tirelessly try to unite reluctant participants at their annual HIV retreat in rural Louisiana. Kathie, an Alabama activist, spends 120 days every year on the road fighting a bureaucracy that continues to ignore the South. Each of these stories shares a particular perspective on life with HIV in a region of the United States often ignored by politicians and the public – a point of view that turns out to be both educational and inspirational.

La Ciguena Metalica

Filmmaker: Joan Lopez Lloret, Spain, 2012 / 81 min

Twenty years have passed since the signing of the Peace Agreements of the Salvadoran Civil War, a conflict between the army and the FMLN guerrillas. Armed forces' operations in rural areas had devastating consequences for the civilian population, with thousands of dead and disappeared people. In the midst of the war, "la cigueña metálica" (the mechanic stork) determined the destiny of Ana Lilian, Ricardo y Blanca: Ricardo's adoption by a military family, Ana Lilian's wandering after surviving the massacre of her entire family, Blanca's arrival to Spain. In the 1980s, they were disappeared children. Today, they try to understand their past to bring peace to their future.

Who Is Dayani Cristal

Filmmaker: Marc Silver, UK, 2012 / 85 min

Deep in the sun-blistered Sonora desert beneath a cicada tree, Arizona border police discover a decomposing male body. Lifting a tattered T-shirt, they expose a tattoo that reads "Dayani Cristal". Who is this person? What brought him here? How did he die? And who — or what — is Dayani Cristal? Following a team of dedicated staff from the Pima County Morgue in Arizona, director Marc Silver seeks to answer these questions and give this anonymous man an identity. As the forensic investigation unfolds, Mexican actor and activist Gael Garcia Bernal retraces this man's steps along the migrant trail in Central America. In an effort to understand what it must have felt like to make this final journey, he embeds himself among migrant travelers on their own mission to cross the border. He experiences first-hand the dangers they face and learns of their motivations, hopes and fears. As we travel north, these voices from the other side of the border wall give us a rare insight into the human stories which are so often ignored in the immigration debate. Who Is Dayani Cristal? tells the story of a migrant who found himself in the deadly stretch of desert known as "the corridor of death" and shows how one life becomes testimony to the tragic results of the U.S. war on immigration. As the real-life drama unfolds we see this John Doe, denied an identity at his point of death, become a living and breathing human being with an important life story. Winner of the Sundance 2013 Cinematography award and nominated in the World Documentary Competition, "Who is Dayani Cristal?" has been described by The Hollywood Reporter as "A deeply moving doc [which] finds a new way of making the immigration debate personal."

The Act Of Killing: (The Director's Cut)

Filmmaker: Joshua Oppenheimer, Indonesia, 2012 / 159 min

A true cinematic experiment, The Act of Killing explores a chapter of Indonesia's history in a way bound to stir debate—by enlisting a group of former killers, including Indonesian paramilitary leader Anwar Congo, to re-enact their lives in the style of the films they love. When the government of President Sukarno was overthrown by the military in 1965, Anwar and his cohorts joined in the mass murder of more than one million alleged communists, ethnic Chinese, and intellectuals. Now, Anwar and his team perform detailed re-enactments of their crimes with pride, holding numerous discussions about sets, costumes, and pyrotechnics. Their fixation on style rather than substance—despite the ghastly nature of the scenes—makes them mesmerizing to watch. But as movie violence and real-life violence begin to overlap, Anwar's pride gradually gives way to regret. And we see a man overwhelmed by the horrific acts he has chosen to share with the world. Official Selection at the 2012 Toronto International Film Festival and winner of the 2013 Berlin Film Festival Panorama Audience Award – documentary film.
2013
La Identidad De Justicia: Mujeres Trans En Cochabamba (The Identity of Justice: Trans Women in Cochabamba)

Filmmaker: Lucas Waldron, Bolivia, 2012 / 14 min

La Identidad de Justicia exposes the struggles of the MTF transsexual community in Cochabamba, Bolivia. The film explores the experiences of transsexual women in the context of HIV infection, sex work, and political organizing.

Rwanda, The Beauty That Still Remains

Filmmaker: Stacey Mahealani Johnston, Rwanda, 2012 / 15 min

Set in Post-Genocide Rwanda 2012, this film follows the Anne Frank Project and Mashirika Theater Company on their journey to portray the horror that occurred in 1994 and find the beauty of a once-divided society struggling to forgive through theater and storytelling.

A March Forgotten: The Triumph Of Soviet Jewry

Filmmaker: Jared Nangle, USA, 2013 / 5 min

In an interview at the Jewish Federations of North America General Assembly, Ellie Wiesel and Nathan Sharansky tell the forgotten story of the 1987 march on Washington for Soviet Jewry.

Harthaven Children Home

Filmmaker: Karla Gallardo, Ghana, 2012 / 16 min

This documentary was produced in Kpando, Ghana in the summer of 2012, for Haven Children Home, an orphanage whose mission is to assist HIV/AIDS orphans and young victims. The purpose of the video is to help the orphanage raise money for its day-today activities, and find sponsors for the children.

Reportero

Filmmaker: Bernardo Ruiz, Mexico/US, 2011 / 72 min

Reportero follows veteran reporter Sergio Haro and his colleagues at Zeta, a Tijuana, Mexico-based weekly, as they dauntingly ply their trade in what has become one of the most deadly places in the world to be a journalist. Since the paper's founding in 1980, two of the paper's editors have been murdered and the founder viciously attacked. "Impunity reigns in Mexico, especially here along the northern border," explains Adela Navarro, Sergio's boss and Zeta's co-director. Despite the attacks, the paper has continued its singular brand of aggressive investigative reporting, frequently tackling dangerous subjects that other publications avoid, such as cartels' infiltration of political circles and security forces. As a veteran member of Zeta's editorial team, Sergio contributes to the investigative crime pieces that are the paper's bread and butter, but at this stage of his career, he is also after what he calls the "deeper story" of the region—the human stories that tend to fall between the cracks.

Dear Mandela

Filmmakers: Dara Kell and Christopher Nizza, South Africa, 2012 / 90 min

When Nelson Mandela was elected President of South Africa, his government was faced with a seemingly insurmountable task: providing a better life for those who had suffered under apartheid. The cornerstone of Mandela's 'unbreakable promise' was an ambitious plan to ensure housing for all. When the South African government begins evicting shack dwellers from their homes, three friends living in Durban's shantytowns refuse to be moved. Dear Mandela follows their journey to South Africa's highest court as they invoke Nelson Mandela's example and become leaders in a growing social movement led by shack dwellers. Mazwi, an enlightened schoolboy, Zama, an AIDS orphan and Mnikelo, a mischievous shopkeeper, discover that the new 'Slums Act' violates the rights enshrined in the country's constitution. By turns inspiring, devastating and funny, the film offers a fresh perspective on the youth's role in political change in a South Africa coming of age. Winner Grand Jury Prize and Best Documentary, Brooklyn Film Festival; Best South African Documentary, Durban International Film Festival; Best Documentary, Montreal International Black Film Festival.

Mobile Medicine

Filmmaker: Kate Elston ('09 Alum), USA, 2012 / 8 min

Fifty million Americans do not have health insurance and suffer every day because of it. But thanks to a roaming clinic, hundreds of thousands of uninsured people have received free medical services over the last twenty years. Mobile Medicine is a project Kate Elston produced for a TV reporting class at UC Berkeley's Graduate School of Journalism, where she currently studies.

Subida De Los Ninos (The Children's Ascent)

Filmmaker: Natalie Eakin ('12 Alum), Nicaragua, 2012 / 9 min

"Kids are like sponges. They absorb what they see, and if what they see is good they will have common sense in the future." SONATI is an organization in northern Nicaragua that is working to combat the destruction of the local environment by educating the youth so that the next generation can be better informed and make better choices. Natalie made this film through Actuality Media and collaborated with a cinematographer and director.

Disconnect

Filmmaker: Kevin Kunze ('11 Alum), 2012 / 40 min

The documentary examines the controversy surrounding cell phone radiation and the possible long-term health effects such as cancer and infertility. Exploring recent scientific research, national policies regarding safety, and telecommunication companies' response, Disconnect portrays a haunting perspective of the potential health consequences from cell phone radiation. It features interviews with the leading health and technology experts interwoven with accounts from brain tumor victims.

The Cooperative Product: Delicious Peace Coffee

Filmmaker: Erika Myszynski ('11 Alum), Uganda, 2012 / 12 min

This piece encompasses a message that cooperation should be a way of life, a lifestyle, and not solely applicable to businesses or community projects. The film punctures the underlying conundrum of religion as something that separates and naturally undoes collaboration through the operations of a peaceful, interfaith coffee farm. The film exhibits Thanksgiving Coffee Company (TCC) that works as a propeller for the coffee farm in Mbale, Uganda to help them work through their differences.

Justice For My Sister

Filmmaker: Kimberly Bautista, Guatemala, 2012 / 70 min

Adela, 27, left home for work one day and never returned. Her ex-boyfriend beat her until she was unrecognizable and left her at the side of the road. Her story is all too familiar in Guatemala, where 6,000 women have been murdered in the last decade. Only 2% of those killers have been sentenced. Adela's sister Rebeca, 34, is determined to see that Adela's killer is held accountable. She makes tortillas at home and sells them in order to raise her five children, as well as the three children Adela left behind. The challenges Rebeca encounters in her search for justice are illustrative of the thousands of other cases like this one in Guatemala. However, her willingness to practically take on the role of investigator while she is still mourning is exceptional. She encounters many setbacks during her three-year battle: a missing police report, a judge accused of killing his own wife, and witnesses who are too afraid to testify. Completely transformed by her struggle, Rebeca emerges as a feminist leader in her rural community with a message for others: justice is possible.

In Shopian

Filmmaker: Christopher Giamo, India, 2012 / 32 min

On May 29th, 2009, Shakeel Ahmad Ahanger, a Kashmiri man living in the town of Shopian, returned home from work to find his wife and sister missing. After notifying the police and searching through the night, he discovered their battered bodies in a nearby river. Although the initial post-mortem stipulated that they had been gang-raped and murdered, the Indian Government's Central Bureau of Investigation later changed the ruling to death by accidental drowning. The incident immediately sparked massive strikes and protests against the Indian occupation, and continues to be a rallying cry for human rights and Kashmiri independence activism. Filmed in 2010, "In Shopian" presents a firsthand account of Shakeel's story amidst the current state of social unrest in the capital of Srinagar and outlying rural areas. It features rare on-site interviews with separatist leaders Syed Ali Geelani, Yasin Malik, and Mirwaiz Umar Farooq, as well as street battles between local youths and security forces. Shakeel's story is a contextualized example of the plight of ordinary Kashmiris, and an aesthetic portrait of present-day Kashmir as a torn paradise.

The Harvest/ La Cosecha: The Story of The Children Who Feed America

Filmmaker: U Roberto Romano, USA, 2011 / 80 min

Every year there are more than 400,000 American children who are torn away from their friends, schools and homes to pick the food we all eat. Zulema, Perla and Victor labor as migrant farm workers, sacrificing their own childhoods to help their families survive. The Harvest/La Cosecha profiles these three as they journey from the scorching heat of Texas' onion fields to the winter snows of the Michigan apple orchards and back south to the humidity of Florida's tomato fields to follow the harvest. From the Producers of the Academy-Award® Nominated film, War/Dance and Executive Producer Eva Longoria, this award-winning documentary provides an intimate glimpse into the lives of these children who struggle to dream while working 12 – 14 hours a day, 7 days a week to feed America.

Tough

Filmmaker: Luc "Luckie" Nguyen, USA, 2012 / 14 min

A teenage girl trying to fight for a normal lifestyle, but her affiliation with the gang life makes it difficult.

Tule Lake

Filmmaker: Michelle Ikemoto, USA, 2012 / 7 min

Tule Lake is an animated short film; set during the Japanese American internment of World War II, a woman held at the Tule Lake segregation camp with her family leaves her barracks one winter night...

The Revolution Will Be Televised

Filmmaker: Livia Santos, USA, 2012 / 15 min

Shot in San Francisco, Oakland and New York City, this documentary gives an overview of the Occupy Wall Street movement from its inception to May 1, 2012, focusing on how the movement builds awareness about social change through community organizing.

Transgender Tuesdays: A Clinic in the Tenderloin

Filmmaker: Mark Freeman, USA, 2012 / 54 min

The first Public Health clinic in the country specifically for transgender people opened in the Tenderloin in 1993, at the height of the AIDS Epidemic. Historically, trans people in the TL lived in lousy Single Room Occupancy hotels, or at times lived on and worked its streets. Distrustful of medical settings, the street is where they often got their hormones as well. The new clinic's open-arms policy welcomed all who self-identified, breaking the old model of specialists and psychiatrists deciding who was trans. It worked. Within the first five years over 600 people "came for the hormones and stayed for the healthcare." Transgender Tuesdays allows twelve of these courageous individuals to tell their stories of life in "the bad old days," before any such clinic existed. The film also lets viewers go beyond labels or identities, to see transgender people—including those in the most harrowing circumstances—as normal, as neighbors, as part of us. And even as pioneers.

5 Broken Cameras

Filmmakers: Emad Burnat & Guy Davidi, France/Israel/Palestine, 2011 / 90 min

Winner at the Sundance Film Festival, 5 Broken Cameras is a deeply personal, first-hand account of non-violent resistance in Bil'in, a West Bank village threatened by encroaching Israeli settlements. Shot almost entirely by Palestinian farmer Emad Burnat, who bought his first camera in 2005 to record the birth of his youngest son, the footage was later given to Israeli co-director Guy Davidi to edit. Structured around the violent destruction of each one of Burnat's cameras, the filmmakers' collaboration follows one family's evolution over five years of village turmoil. Burnat watches from behind the lens as olive trees are bulldozed, protests intensify, and lives are lost. "I feel like the camera protects me," he says, "but it's an illusion."

The Invisible War

Filmmaker: Kirby Dick, USA, 2011 / 95 min

The Invisible War is a groundbreaking investigative documentary about the shameful and underreported epidemic of rape within the US military. With stark clarity and escalating revelations, The Invisible War exposes the rape epidemic in the armed forces, investigating the institutions that perpetuate it as well as its profound personal and social consequences. We meet characters who embraced their military service with pride and professionalism, only to have their idealism crushed. Focusing on the emotionally charged stories of survivors, the film reveals the systemic cover-up of the crimes against them and follows their struggles to rebuild their lives and fight for justice. The Invisible War features hard-hitting interviews with high-ranking military officers and members of Congress that reveal the perfect storm conditions that exist for rape in the military, its history of cover-up, and what can be done to bring about much needed change. Winner of Nestor Almendros Award.

Project Z: The Final Global Event

Filmmakers: Phillip Gara and James Der Derian, USA, 2012 / 75 min

Beginning in the Mojave Desert at the end of the Cold War and ending a decade after 9/11 in the wake of the Arab Spring and Occupy Wall Street, Project Z tracks first-hand the most critical global security challenges of the Post-Cold War era. Combining rare footage of military war games with commentary by leading intellectuals and officials in the Department of Defense, the film chronicles the rise of an age of unpredictable global events. Moving at the speed of a news cycle from best to worst-case scenarios, Project Z challenges the viewer to understand the logic behind a "final global event." Project Z is an experimental Global Media Project collaboration by James Der Derian (Human Terrain, After 9/11, VY2K), Phillip Gara (Virtuous War 2.0, Disastrous Horizons, The Costs of War).
2012
One Million Bones

Filmmaker: Natalie Eakin and Paul Sowards, 2011

Exchange student Andrea Soto collaborated with activist and artist Naomi Natale who created the project One Million Bones. Together they hold workshops to make one million bones that will line the National Mall in a collaborative art installation that recognizes victims of past and ongoing genocides in the world.

The Rush and Sarah Movie All About Protesting

Filmmakers: Sarah Hulsman and Rush Sawhney, USA, 2011

The documentary examines the nature of protesting by highlighting the current Occupy movement sweeping the United States. The documentary questions why people protest, what happens when both the police and protesters get carried away and, ultimately, how an individual can make an impact in a movement of thousands.

Arrupe Justice Immersion Programs

Filmmaker: Laura Waldron, USA, 2011

USF's Arrupe Justice Immersion Programs take students out of the classroom and into the communities of San Francisco and Oakland that are the most affected by poverty, discrimination, and homelessness.

Change From Within

Filmmaker: Jared Nangle, USA, 2011

A Short documentary film that explores a Bay Area organization called "Abraham's Vision," that seeks to change the consciousness of a new generation of Jews and Palestinians, while also looking at the Arab/Israeli conflict through the perspectives of Jewish, Palestinian, and non-affiliated citizens of the bay area.

El Camino A Cambio

Filmmakers: Victoria Mortati, Gabriela Ventuso, Sara Cabrera, Nicaragua, 2011

Filmed in a barrio, La Plusia, in the outskirts of Granada, Nicaragua. Documents the struggle of three La Plusia residents struggling to survive. With the help of Las Casas de Esperanza, a non-profit which gives housing materials, job opportunities, and free education, the residents of La Plusia are able to make a better life for themselves and their families. The organization, however, struggles to ignite optimism and motivation within the members of this extremely poor community. The documentary follows the story of three strong-willed individuals who never lost their hope for a better life.

The Price Of Sex

Filmmaker: Mimi Chakarova, US/United Arab Emirates/Bulgaria/ Moldova/Greece/Turkey, 2010 / 73 min

Intimate and revealing, The Price of Sex is a feature-length documentary about young Eastern European women who have been drawn into a world of sex trafficking and abuse. It is a story told by the young women who refused to be silenced by shame, fear, and violence. Emmy-nominated photojournalist Mimi Chakarova, who grew up in Bulgaria, takes us on a personal journey– exposing the shadowy world of sex trafficking from Eastern Europe to the Middle East and Western Europe. Filming undercover and gaining extraordinary access, Chakarova illuminates how even though some women escape to tell their stories, sex trafficking thrives. In English and Bulgarian, Romanian, Russian and Turkish with English subtitles. Winner, Nestor Almendros Award 2011; World Premiere, Sarasota Film Festival 2011; Official Selection, AFI/Discovery Channel Silverdocs Documentary Film Festival 2011

Better This World

Filmmakers: Katie Galloway (director) & Kelly Duane de la Vega (co-director), USA, 2011 / 93 min

When David McKay and Bradley Crowder, two boyhood friends from Midland, Texas, visit an Austin bookstore to hear a talk on upcoming protests at the 2008 Republican National Convention, they are approached by a charismatic local activist 10 years their senior, who quickly becomes their mentor. Six months later at the volatile 2008 Convention, McKay and Crowder cross a line that radically changes their lives. The result: eight Molotov cocktails, multiple domestic terrorism charges, and a high-stakes entrapment defense. A dramatic story of idealism, loyalty, crime, and betrayal, Better this World goes to the heart of the "war on terror" and its impact on civil liberties and political dissent in the United States after 9/11. Winner, Best Documentary Feature, San Francisco International Film Festival 2011; Winner, Best Documentary Feature, Sarasota Film Festival 2011; World Premiere, SXSW Film Festival 2011; Official Selection, Full Frame Documentary Film Festival 2011; Official Selection, Canadian International Documentary Festival 2011; Official Selection, AFI/Discovery Channel Silverdocs Documentary Film Festival 2011

Nostalgia for the Light

Filmmaker: Patricio Guzmán, France/Germany/Chile, 2011 / 90 min

For his new film master director Patricio Guzmán, famed for his political documentaries (The Battle of Chile, The Pinochet Case), travels 10,000 feet above sea level to the driest place on earth, the Atacama Desert, where atop the mountains astronomers from all over the world gather to observe the stars. The sky is so translucent that it allows them to see right to the boundaries of the universe. The Atacama is also a place where the harsh heat of the sun keeps human remains intact: those of Pre-Columbian mummies; 19th century explorers and miners; and the remains of political prisoners, "disappeared" by the Chilean army after the military coup of September, 1973. So while astronomers examine the most distant and oldest galaxies, at the foot of the mountains, women, surviving relatives of the disappeared whose bodies were dumped here, search, even after twenty-five years, for the remains of their loved ones, to reclaim their families' histories. Melding the celestial quest of the astronomers and the earthly one of the women, Nostalgia for the Light is a gorgeous, moving, and deeply personal odyssey. Winner Best Documentary, Prix ARTE, European Film Academy Awards 2010; Winner Best Documentary, Abu Dhabi Film Festival 2010; Official Selection, Cannes Film Festival 2010; Official Selection, Toronto International Film Festival 2010; Official Selection, San Francisco International Film Festival 2011; Official Selection, Miami International Film Festival 2011; Official Selection, Melbourne International Film Festival 2010

The Labyrinth

Filmmaker: Jason A. Schmidt, USA, 2010 / 37 min

Marian Kolodziej was on one of the first transports to enter Auschwitz. He was given number 432. He survived and never spoke of his experience for 50 years. After a serious stroke in 1993, he began rehabilitation by doing pen and ink drawings depicting the experiences he and others endured in the concentration camp. These drawings, in their skeletal detail, are a gripping depiction of the pain, death, and horrors of the camp. While most of the drawings represent the memories of a young man's hellish experiences in Auschwitz, some tell stories of small acts of kindness and dignity. Marian's drawings and art installations, which he called The Labyrinth, fill the large basement of a church near Auschwitz and draw visitors into the horrific reality of the holocaust. In The Labyrinth, Marian takes the audience on a journey through his drawings and art installations. Through the blending of his testimony and the graphic drawings, we explore the memories and nightmares of a man, who like so many others buried experiences deep within. Why would a confrontation with death late in life, trigger the need to record his long-suppressed memories? And why in this graphic, metaphorical way? This documentary raises these questions in a visually stunning way. This is eyewitness testimony that is unique in the annals of documenting the Holocaust. Marian is a Polish Catholic, who has used his drawings to give testimony to the horrors of Auschwitz and of the world today, and whose body of work provides a testament to suffering and "man's inhumanity to man." Official Selection, Docuweeks Theatrical Documentary Showcase 2010; Official Selection, Boulder International Film Festival 2011; Official Selection, Santa Barbara International Film Festival 2011; Official Selection, The Tel-Aviv International Documentary Film Festival 2011; Official Selection, Beverly Hills Film Festival 2011; Official Selection, Boston Film Festival 2010; Official Selection, Polish Film Festival Los Angeles 2010; Official Selection, Peace on Earth Film Festival 2011; Winner, Reel Rose Best Short Film, John Paul II International Film Festival 2011; Official Selection International Film Festival of the Art of Cinematography 2010; Winner, Redemptive Storyteller Award, Redemptive Storyteller Film Festival; Honorable Mention, Short Documentary Film, Los Angeles International Film Festival 2011

Photos Of Angie

Filmmaker: Alan Dominguez, USA, 2010 / 55 min

This moving and powerful documentary chronicles the life and murder of Angie Zapata -- a transgender teen who was murdered in rural Colorado in 2008. The film includes extensive interviews with her family about her journey of self-discovery, transgender lives across the globe, hate crimes legislation, and the mysterious nature of her killer -- all against the backdrop of his trial. Statement by filmmaker: Great stories never begin with the beginning, they start at the end or somewhere in the middle. Tragically, I only came to know Angie Zapata in the days after the end of her brief life. Angie was born as Justin Zapata, and the man accused of her murder says that he did so in a fit of rage after discovering that Angie was biologically a male. Photos of Angie tells the tale of this tragic death, the subsequent trial and explores transgenderism in its historical context. Angie was from a small town in northeastern Colorado and from a cultural background that does not allow for Angie to be the person she felt deep inside. In researching this film, many aspects of this story struck me – Angie's struggle to discover who she was and her courage to do right by herself, the fact that human sexuality is not nearly as neatly packaged as we like to think, and how common anti-transgender violence is. Angie's family took me on a very personal journey through their lives and it lead me to realize that only through compassion and understanding, all of us have to work together to write the end of the story – to create a world governed by freedom to be who we are, without fear. -Alan Domínguez. Winner, Best Documentary, Long Beach Q Festival 2011

Granito: How To Nail A Dictator

Filmmakers: Pamela Yates (director), Peter Kinoy (editor) & Paco de Onis (producer), USA, 2010 / 100 min

Part political thriller, part memoir, Granito takes us through a haunting tale of genocide and justice that spans four decades, two films, and filmmaker Pamela Yates's own career. Granito is a story of destinies joined together by Guatemala's past and of how a documentary film from 1982, When the Mountains Tremble, emerges as an active player in the present by becoming forensic evidence in a genocide case against a military dictator. In an incredible twist of fate, Yates was allowed to shoot the only known footage of the army as it carried out the genocide. Twenty-five years later, this footage becomes evidence in an international war crimes case against the very army commander who permitted Yates to film. Irrevocably linked by the events of 1982, each of the film's characters is integral to the country's reconstruction of a collective memory, the search for truth, and the pursuit of justice. Through the work of American filmmakers, forensics experts in Guatemala, and lawyers in Spain, the quest for accountability in Guatemala continues—with each individual contributing his or her own "granito", or tiny grain of sand. In English and Quiché and Spanish with English subtitles. Official Selection, Sundance Film Festival 2011; Grand Jury Prize, Politics on Film 2011

When The Mountains Tremble

Filmmakers: Pamela Yates (director) & Newton Thomas Sigel (co-director), USA, 1984 / 83 min

In the early 1980s, death squads roamed the Guatemalan countryside in a war against the unarmed indigenous population that went largely unreported in the international media. Filmmakers Pamela Yates and Newton Thomas Sigel threw themselves into the task of bringing the crisis to the world's attention by making a documentary that took them into remote areas of the country where civilian massacres were taking place. Central to their story is Rigoberta Menchú, a Maya indigenous woman who was spurred into radical action by the murders of her father and two brothers. No less admirable, however, is the courage of the filmmakers. When the Mountains Tremble, which was originally released in 1983, has been digitally re-mastered and updated since Menchú was awarded the Nobel Peace Prize in 1993. In English and Quiché and Spanish with English subtitles. Winner, Sundance Film Festival 1984; Winner, Blue Ribbon Award, American Film Festival; Winner, Grand Coral Award/Best North American Documentary, Havana Film Festival

Education Under Fire

Filmmakers: Jeff Kaufman (producer / director) & David Hoffman (executive producer), USA, 2011 / 30 min

People of the Baha'i Faith in Iran have been subjected to systematic persecution, including arrests, torture, and execution, simply for refusing to recant their beliefs. They are also prohibited from going to college. In 1987, the semi-underground Baha'i Institute for Higher Education (BIHE) was formed to give young Baha'is their only chance for a university-level education. Education Under Fire profiles the persecution on the Baha'is of Iran, with a special focus on growth, struggle, and spirit of the at-risk BIHE. In May 2011 the government launched a coordinated attack against the BIHE raiding dozens of homes, confiscating computers and materials and detaining a number of that institution's professors and administrators, some of whom continue to languish in prison without formal charges yet having been levied. Filmed in nine cities in the United States, the film also includes exclusive new footage from Iran, and never before shown footage from inside Tehran's Evin Prison.

POR QUÉ MURIÓ BOSCO WISUM?

Filmmakers: Julian Larrea Arias & Tania Laurini, Ecuador, 2010 / 35 min

In the demonstrations of September 2009, organized by indigenous organizations against the proposed Water Law, the Shuar were the only indigenous nationality to sustain roadblocks. Bosco Wisum, a Shuar bilingual intercultural teacher, dies from government-sponsored police repression at the Upano River in Macas, the provincial capital of Morona Santiago - the center of Shuar territory. Five days later, the President of Ecuador finally dialogues with the country's indigenous leaders. This documentary film won special mention for showing the struggle of the Shuar people and to expose the actions the government wanted to cover up. In Spanish and Shuar. Official Selection, International Documentary Film Festival Ecuador 2010; Official Selection, Montreal First Peoples' Festival 2011

Kinyarwanda

Filmmaker: Alrick Brown (director), USA, 2011 / 100 min

During the Rwandan genocide, when neighbors killed neighbors and friends betrayed friends, some crossed lines of hatred to protect each other. At the time of the 1994 Rwandan genocide, the Mufti of Rwanda, the most respected Muslim leader in the country, issued a fatwa forbidding Muslims from participating in the killing of the Tutsi. As the country became a slaughterhouse, mosques became places of refuge where Muslims and Christians, Hutus and Tutsis came together to protect each other. Kinyarwanda is based on true accounts from survivors who took refuge at the Grand Mosque of Kigali and the madrassa of Nyanza. It recounts how the Imams opened the doors of the mosques to give refuge to the Tutsi and those Hutu who refused to participate in the killing. The film interweaves six different tales that together form one grand narrative that provides the most complex and real depiction yet presented of human resilience and life during the genocide. With an amalgamation of characters, we pay homage to many, using the voices of a few. Winner, World Cinema Audience Award: Dramatic, Sundance Film Festival 2011; Winner, Audience Award, Starz Denver Film Fest 2011; Grand Prize, Sony D-Cinema Award, Skip City International D-Cinema Festival 2011; Winner, World Cinema Audience Award, AFI Fest 2011

The Green Wave

Filmmaker: Ali Samadi Ahadi (director), Germany/Iran, 2010 / 80 min

By providing an animated backdrop for the urgent blog posts and tweets that became a lifeline to Iranian pro-democracy activists, The Green Wave recounts the dramatic events of the most severe domestic crisis in the history of Iran. From the widespread hope of political change in Iran through the 2009 elections to the violent suppression of the mass protests against President Mahmoud Ahmadinejad's re-election, filmmaker Ali Samadi Ahadi brings us into the world of Iranian citizens who risked their lives in the hopes of a better future. Interweaving online posts, video footage caught by those present, and extensive interviews, The Green Wave is an artistic portrait of modern political rebellion, an exposé of government-sanctioned violence, and a vision of hope that continued resistance may galvanize a new future not just for Iran but for the region as a whole. In English and Farsi with English subtitles. Official Selection, Sundance Film Festival 2011; Official Selection, Hamburg Filmfest 2010; Official Selection, IDFA Amsterdam 2010

If A Tree Falls

Filmmakers: Marshall Curry (director) & Sam Cullman (co-director), USA, 2010 / 85 min

How far would you go to create change? In December 2005 Daniel McGowan, a prominent New York City social justice organizer, was arrested by federal agents in a nationwide sweep of activists linked to crimes by the Earth Liberation Front (ELF)—a group the FBI has called America's "number one domestic terrorism threat." For years, the ELF had carried out arson from Oregon to Long Island against businesses they accused of destroying the environment. Filmmaker Marshall Curry (Street Fight) creates a timely chronicle of a young man facing a long prison sentence as a terrorist for crimes committed in defense of the environment. By providing a closer look at the group's disillusionment with the strategies of non-violent protest —in which they suffered police abuse and public indifference—the film poses difficult questions about the possibility of effecting change from within the system and examines the raised stakes post 9/11 where the "terrorist" tag is broadly applied. Winner, Documentary Editing Award, Sundance Film Festival 2011; Winner of Best Documentary Award, Nashville Film Festival 2011; Winner, Environmental Visions Award, Dallas Film Festival 2011; Winner, Founder's Award for Best Documentary, Traverse City Film Festival 2011; Nominee, Best Documentary Feature, Academy Award 2012
2011 & Prior
2011

Youth Producing Change

Filmmaker(s): Patricia Cogley, USF School of Education, USA / 74 min

A Selection of the Human Rights Watch Traveling Film Festival, Young people are on the frontlines of many of the world's human rights crises, but we all too rarely get to hear their point of view. The third edition of Youth Producing Change shares powerful stories from young filmmakers across the globe as they turn the camera on their own lives and share their visions of change.

Hands of Love

Filmmaker(s): 14 youth filmmakers from Voiceless Children, Kenya, 2008 / 8 min

For David Were and his community in Kibera, the largest slum in Kenya, having access to simple facilities like a bathroom can be a matter of life and death. After a devastating attack on his father, David and his friends know their work to provide security, latrines, and clean-up projects is more than a struggle for a healthier environment - it is part of ensuring the survival of their community.

Migration

Filmmaker(s): Eddy Perlaza, Cinthya Durán, and Sinchi Chimba, Ecuador, 2008 / 5 min

Young people find themselves on their own when they seek refuge from violence in Colombia - or when parents are forced to seek work in other countries to support their families. Migration provides a new take on immigration, from the perspective of children left behind.

An Average Congolese Diet

Filmmaker(s): Sylvain Koko, Republic of Congo, 2007 / 1 min

For 14 years, Congo has been ravaged with conflict. Food insecurity remains the norm and millions have died, mostly due to malnutrition and lack of access to basic medicine. The simple truth for children in Congo - having a meal isn't always a given.

17 & Unidentified

Filmmaker(s): Alicia Wade of Global Potential , Dominican Republic / US, 2009 / 5 min

Born in Batey Cuchillia, Dominican Republic of Haitian descent, Deivei was never provided with a birth certificate. Without it, he cannot continue his education, find a job, marry or travel.

Growing up in India

Filmmaker(s): Produced by 17 youth filmmakers from Free the Children, Canada/India, 2009 / 9 min

In the northeastern desert state of Rajasthan in India, Sangita feels the limitations of her culture's caste system when she decides she must forgo an education to train as a dancer in order to support her family.

Babica

Filmmaker(s): Martina Hudorovic of DZMP/ Luksuz Produkcija, Slovenia, 2008 / 8 min

The Roma people have been the target of persecution and discrimination for centuries. A Roma grandmother shares her hopes for future generations as she prepares bread with her granddaughter.

Hudud

Filmmaker(s): 12 youth filmmakers from Camera, Occupied Palestinian Territories, 2008 / 8 min

Being 16 in the Occupied Palestinian Territories today is to have one's life dictated by curfews, clashes with soldiers at check points, arbitrary searches and arrests. Hudud (an Arabic word for restriction) illustrates the challenges that Israeli construction of the "separation barrier" or wall pose for Palestinian youth.

Mariposa

Filmmaker(s): Espie Hernandez, Wendy Sandoval, and Luna Serna of Immediate Justice Collective, USA, 2009 / 6 min

As Espie prepares for her quinceañera, a traditional rite of passage celebrating a 15-year-old Latina's debut, her family adjusts to Espie's decision to "come out" in a different way. Espie's story embraces the complexity of family tradition and sexual identity with an honest and brave heart.

See, Listen, Speak: Ngarrindjeri's Being Heard

Filmmaker(s): Nukkan.Kungan.Yunnan) Edie Carter, Rita Lindsay, Victor Koolmatrie, Melanie Koolmatrie and Veronica Wilson from Change Media., Australia, 2009 / 6 min

After water is diverted from natural streams and lakes in the rural Coroong community and delivered by pipeline to larger cities, the aboriginal Ngarrindjeri face a disastrous water crisis, threatening their way of life. Ngarrindjeri youth speak out to protect their culture and traditions.

Image of Contamination

Filmmaker(s): Elizabeth Gonzalez and Antonio Rodriguez of SAY Sí in association with Listen Up! and Adobe Youth Voices., USA, 2008 / 8 min

The course of Air Force enlistee Diana López's life changes forever when she learns that toxic waste has been seeping off nearby Kelly Air Force Base and into her community's ground water. Realizing this pollution is likely responsible for cancer and birth defects, Diana decides to fight for her community's right to clean water, soil, and air.

The Dawn Will Break

Filmmaker(s): Micklina Peter Kenyi, South Sudan, 60 min

Lost Girl" Micklina Peter Kenyi describes the horrific and ultimately inspirational journey that began in 1987 when she ran into the bush from her from her embattled Southern Sudanese village. After walking for weeks, only to languish as an orphan at Kakuma Refugee Camp in Kenya, Micklina found her way to "The Mother of Southern Sudan" Sister Luise Radlmeier and ultimately, to the United States. Now she is getting her masters degree, working with the fledgling government of Southern Sudan on women's rights issues and producing a documentary film. The Dawn Will Break is the never-been-told story of the Lost Girls of the Sudan and the extraordinary nun who single handedly saved them from genocide.

Offside

Filmmaker(s): Jafar Panahi, Iran/Austria, 2006 / 93 min

Who is that strange boy sitting quietly in the corner of a bus full of screaming fans going to the football match? In fact, this shy boy is a girl in disguise. She is not alone, women also love football in Iran. Before the game begins, she is arrested at the check point and put into a holding pen just by the stadium with a band of other women all dressed up as men. They will be handed over to the vice squad after the match. But before this, they will be tortured! They must endure every cheer, every shout of a game they cannot see. Worse yet, they must listen to the play-by-play account of a soldier who knows nothing about football. Yet, these young girls just won't give up. They use every trick in the book to see the match. Jafar Panahi's films are often described as Iranian neo-realism, exploring the very human side of the conflicts in his native country. In the case of Offside, he used a fake name and false papers in order to get permission to shoot at an actual soccer match in Iran. As a result, Offside has a documentary feel which captures the very real humor and determination of the Iranian women - and men - who love soccer and are willing to go to extreme lengths for the opportunity to cheer on the home team. All of his films, including Offside, have been banned by Iran. In December 2010, Panahi was sentenced by an Iranian court to six years in jail and banned from making films, traveling abroad, and talking to local and foreign media for 20 years.

Monseñor, the Last Journey of Óscar Romero

Filmmaker(s): Ana Carrigan and Juliet Weber, El Salvador/US, 2010 / 87 min

On March 24, 1980, Monseñor Óscar Romero, archbishop of San Salvador, was killed by a professional hit man as he stood at the altar celebrating a memorial Mass for a friend. His assassination became the catalyst for a civil war that lasted for twelve years and cost more than 75,000, mostly civilian, lives. This film tells the story of the last three years of his life. The narrative spine of MONSEÑOR ( Monseñor, the Last Journey of Óscar Romero) develops through Romero's own words, in extracts from his Sunday homilies and from his personal diary, in which each night he recorded the events of the day and his own thoughts and reflections. The story of El Salvador as the war approaches is told through the experiences of a cross section of Salvadorans: campesinos, guerrillas, soldiers, politicians, priests, nuns, catechists — providing a chorus of voices of people who shared with Romero the tragic history of their country. As this history evolves, so too will the reasons for Romero's murder. There have been several films about Monseñor Romero; this one is different in several respects: It is the first film about Romero that goes beyond the classic genre of a filmed biography, to explore and probe the contemporary significance and legacy of his life and tragic death. It is the first film about Romero to place the Latin American campesinos at the center of the story: it was they who inspired Romero to find his mission; it was because of the relationship he developed with them that he was killed. Towards the end of his life, when his conviction and courage were leading him irrevocably to a "death foretold," Romero had transcended his own small country. In the telling of this story, the film will connect Romero's life and death to the larger story of the cycles of poverty, rural abandon, and despair that — beyond the borders of El Salvador — are today's reality across Latin America and beyond.

Enemies of the People

Filmmaker(s): Rob Lemkin & Thet Sambath, Cambodia/UK, 2009 / 94 min

Enemies of the People follows the project of Thet Sambath, whose parents were among the approximately two million people who perished under the Khmer Rouge regime in the late 1970s. With unprecedented access and groundbreaking confessions from the notorious "Brother Number Two," Nuon Chea, and from numerous grassroots killers, he uncovers terrifying personal explanations for the genocide by allowing the perpetrators to speak for themselves.

Waste Land

Filmmaker(s): Lucy Walker, USA/Brazil, 2010 / 99 min

Filmed over nearly three years, Waste Land follows renowned artist Vik Muniz as he journeys from his home base in Brooklyn to his native Brazil and the world's largest garbage dump, Jardim Gramacho, located on the outskirts of Rio de Janeiro. There he photographs an eclectic band of "catadores"—self-designated pickers of recyclable materials. Muniz's initial objective was to "paint" the catadores with garbage. However, his collaboration with these inspiring characters as they recreate photographic images of themselves out of garbage reveals both the dignity and despair of the catadores as they begin to re- imagine their lives. Director Lucy Walker and co-directors João Jardim and Karen Harley have great access to the entire process and, in the end, offer stirring evidence of the transformative power of art and the alchemy of the human spirit.

Testify

Filmmaker(s): U.S. Human Rights Network, USA, 2010 / 16 min

In 2010, people throughout the U.S. spoke out on human rights issues in their communities as part of the United Nation's Universal Periodic Review (UPR). Through the Testify! Project recorded video testimonies were gathered and added to the written reports to the UN and testimonials given before U.S. government officials. This compilation of short videos provides a glimpse into contemporary human rights struggles within the U.S. Activists speak about police brutality, racism discrimination, profiling, torture, exploitation, health care, housing and indigenous rights.

Nile Revolution 2.0: Egypt's Youth Uprising

The Yalla! Students in Solidarity group is a university student-led movement who, inspired by the courageous activism shown in Tunisia and Egypt, are committed to the resistance of authoritarian and repressive regimes around the world by conglomerating and using non-violent, direct-action methods and principles. We urge students to use social media tools/platforms as a medium to reach out to and educate their local community and beyond. Our purpose is to influence political, social, and economic landscape to create the conditions that support peaceful, democratic change throughout the world.

Ana Mish Fahim ("I Don't Understand")

Filmmaker(s): Mustafa Eck, USA/Egypt, 2006 / 18 min

A biracial young man explores the cultural misconceptions of his Middle Eastern heritage. Filmmaker Mustafa Eck travels to Egypt in hopes of capturing the average Middle Eastern attitude towards various current events. Ana Mish Fahim, meaning "I don't understand" in Arabic, features a rare interview with Gihan Sadat, the widow of Egyptian President Anwar El Sadat.

2010

Skinny, Sexy, Synthetic

Filmmaker(s): Meghan Raab and Daniela Ricci-Tam, USA, 7 min

The film explores how unrealistic media representations affect women's body image and self esteem. In response, About-Face, a local non-profit, teaches women and girls to understand harmful media messages and resist sexist advertisements.

Generacion

Filmmaker(s): Kate Elston, Peru, 11 min

Thousands of children in Lima, Peru live on the streets where they are victims of violence, police brutality, sexual exploitation and trafficking. Generación is an organization that supports the kids and gets them into homes where they are free to learn, play, and work.

Ugandan Days, A Video Journal

Filmmaker(s): Erika Myszynski, Uganda, 50 min

Initially created to document USF's Erasmus Community students' travels to Uganda, Ugandan Days, A Video Journal became more than just an immersion, observation and social analysis of the Ugandan people. In researching child soldiery in war-torn Gulu (northern Uganda), many of us had been surprised to witness a world quite different from what we had read. Instead, we found a peaceful and progressive nation. The video reveals a people little scarred by their past struggles and Joseph Kony's 23-year long war against order. The video journal exposes how the war victims' underlying pains are transformed into a humbling determination to improve the current situation. A message from Ugandans to Americans: Africa is not such a dark place. It is a place filled with strength, community, resilience, and joy because of an undying hope to forgive and to survive.

Tapestries of Hope

Filmmaker(s): Michealene Cristini Risley, USA, 2009 / 76 min

Tapestries of Hope, explores filmmaker and child rights advocate Michealene Cristini Risley's sojourn to Zimbabwe to document the work of Betty Makoni and the Girl Child Network. The film exposes an issue that continues to be ignored: the rape and sexual abuse of thousands of young girls in Zimbabwe, by men who believe their actions will cure them of HIV/AIDS.

Ask Not

Filmmaker(s): Johnny Symons, USA, 2008 / 73 min

Ask Not is a rare and compelling documentary film that explores the effects of the US military's "don't ask, don't tell" policy on gay and lesbian soldiers and service members. The award-winning film exposes the tangled political battles that led to the discriminatory law and examines the societal shifts that have occurred since its passage in 1993. Current and veteran gay soldiers reveal how "don't ask, don't tell" affects them during their tours of duty, as they struggle to maintain a double life, uncertain of whom they can trust. The film also explores how gay veterans and youth organizers are turning to forms of personal activism to overturn the policy. From a national speaking tour of conservative universities to protests at military recruitment offices, these public events question how the U.S. military can claim to represent democracy and freedom while denying one segment of the population the right to serve.

Crude

Filmmaker(s): Joe Berlinger, Ecuador/UK/USA, 2009 / 101 min

Three years in the making, this riveting new documentary from acclaimed filmmaker Joe Berlinger (Brother's Keeper, Paradise Lost, Metallica: Some Kind of Monster) tells the epic story of one of the largest and most controversial legal cases on the planet. An inside look at the infamous $27 billion "Amazon Chernobyl" case, Crude is a real-life, high stakes legal drama involving global politics, the environmental movement, celebrity activism, human rights advocacy, multinational corporate power, and the fate of disappearing indigenous cultures. Subverting the conventions of advocacy filmmaking, this award-winning film explores a complex situation from all angles, bringing an important story of environmental peril and human suffering into focus.

Made in LA

Filmmaker(s): Almudena Carracedo, USA, 2007 / 70 min

Made in L.A. is an Emmy award-winning feature documentary that follows the remarkable story of three Latina immigrants working in Los Angeles garment sweatshops as they embark on a three-year odyssey to win basic labor protections from trendy clothing retailer Forever 21. In intimate observational style, Made in L.A. reveals the impact of the struggle on each woman's life as they are gradually transformed by the experience. Compelling, humorous, deeply human, Made in L.A. is a story about immigration, the power of unity, and the courage it takes to find your voice.

The End of Poverty?

Filmmaker(s): Philippe Diaz, USA, 2008 / 104 min

Global poverty did not just happen. It began with military conquest, slavery and colonization that resulted in the seizure of land, minerals and forced labor. Today, the problem persists because of unfair debt, trade and tax policies -- in other words, wealthy countries taking advantage of poor, developing countries. Renowned actor and activist, Martin Sheen, narrates The End of Poverty?, a feature-length documentary directed by award-winning director, Philippe Diaz, which explains how today's financial crisis is a direct consequence of these unchallenged policies that have lasted centuries. Consider that 20% of the planet's population uses 80% of its resources and consumes 30% more than the planet can regenerate. At this rate, to maintain our lifestyle means more and more people will sink below the poverty line. Can we really end poverty within our current economic system? Think again.

The Road To Fondwa

Filmmaker(s): Daniel Schnorr & Justin Brandon, USA, 2009 / 37 min

The Road to Fondwa tells the powerful story of a rural Haitian community poised to change the future of Haiti one University student at a time. Up against centuries of oppression and decimated natural resources, the people of Fondwa have taken matters into their own hands. Leaders and dreamers and dedicated workers. Children, mothers, priests, and students. Haitians, Cubans, Americans, and French- all pitching in for a better tomorrow. With unprecedented access to the entire Fondwa community, The Road to Fondwa weaves the seasoned voices and stunning imagery of Fondwa into a tangible story that challenges the status quo of international development and seeks to inspire a new paradigm of international cooperation- one founded on true partnership and understanding.

The Reckoning: The Battle For The International Criminal Court

Filmmaker(s): Pamela Yates, Paco de Onis, and Peter Kinoy, USA, 2009 / 95 min

The International Criminal Court represents the most ambitious attempt ever to apply the rule of law on a global scale and to protect the most basic human rights. The Reckoning follows ICC prosecutor Luis Moreno-Ocampo for three years across four continents as he and his team tirelessly issue arrest warrants for Lord's Resistance Army leaders in Uganda, prepare to put Congolese warlords on trial, challenge the UN Security Council to bring Sudan's president to justice for the Darfur massacres, and shake up the Colombian justice system. Moreno-Ocampo has a mandate but no police force. At every turn he must put pressure on the international community to muster political clout for the cause. Will the court succeed and will the world ensure that justice prevails? *Official selection, Sundance Film Festival 2009.

Tapologo

Filmmaker(s): Gabriela Gutierrez Dewar and Sally Gutierrez Dewar, South Africa/Spain, 2008 / 88 min

Freedom Park squatter camp, situated in the Northwest province, accommodates a migrant workforce that mines the world's largest single source of platinum. The women in this community service the needs of the male miners as a means of basic survival. A group of former sex workers living with HIV have created a network called Tapologo and have learnt to be home-based care-workers, joining in solidarity to care for others in the community living with HIV. As we learn each woman's story, we come to understand how she herself was transformed—from someone who had lost hope into someone who decided to help others in the same situation.

Like A Man On Earth (Come Un Uomo Sulla Terra)

Filmmaker(s): Andrea Segre, Dagmawi Yimer, Riccardo Biadene, Italy, 2008 / 60 min

Come un uomo sulla terra/Like a Man on Earth is a journey of pain and dignity, in which Ethiopian refugee Dagmawi Yimer, with the collaboration of Italian filmmakers Andrea Segre and Riccardo Diabene, documents harrowing human suffering and denounces a tragic political and humanitarian situation. Giving voice to Ethiopian refugees living in Rome, this film exposes the ways in which Libya, with the financial and logistical support of Italy and the European Community, persecutes migrants from Sub-Saharan Africa. Dagmawi had been a law student in Addis Ababa, Ethiopia. In 2005, because of the climate of political repression in the country, he decided to leave. In the winter of that year, he crossed the desert between Sudan and Libya. On his arrival in Libya, he met up with traffickers controlling the routes through the Mediterranean Sea. Just days before taking a boat to Italy, he was arrested by the Libyan police, which for the last five years has carried out arbitrary arrests and mass deportations against migrants. Dag survived his Libyan ordeal, managed to cross the sea, and reached the Italian coastline. He was granted asylum in Rome, where he attended a language school run by Asinitas, a local non-governmental organization catering to recent immigrants. There he learned Italian and basic film-making techniques. Using these skills he collected the testimonies of other Ethiopian migrants who shared his traumatic experience, breaking the silence about the fate awaiting African migrants in Libya.

2009

4 De Julio. La Masacre De San Patricio(July 4TH- St. Patrick's Massacre)

Filmmaker(s): Juan Pablo Young and Pablo Zubizarreta, Argentina, 2007 / 98 min

On Sunday July 4th, 1976, three priests and two seminarists belonging to the Pallottine congregation were brutally murdered at Saint Patrick's church in Buenos Aires. The military authorities developed the hypothesis of a terrorist attack. But evidence revealed the involvement of a paramilitary group linked to the de facto government. The Church refused to talk about the murders and the judicial investigation covered up the incriminating evidence of the massacre that pointed to the government as murderers. In a country where the ecclesiastical hierarchy had backed up the military coup, such an attack to the heart of the Church seemed to offer no explanation. What were the motives for the murder?

Promise To The Dead

Filmmaker(s): Peter Raymont, Canada, 2006 / 92 min

On September 11, 1973, Chile's military attacked its government. As the coup took hold, the democratically elected president Salvador Allende called government members to the presidential palace to stand against their attackers, facing certain death. Ariel Dorfman was Allende's cultural advisor, and should have been called too; he later discovered his name had been struck from the list so he could live to tell what happened that day. Three decades later, Dorfman is an internationally respected writer and human rights activist, winner of the Sir Laurence Olivier Award for the play "Death and the Maiden." Filmmaker Peter Raymont travels to Chile with Dorfman in late 2006, at the time when Augusto Pinochet, Allende's overthrower and Dorfman's long-time nemesis, is dying. Raymont follows Dorfman through emotional reunions with his friends and fellow resistors, to personal landmarks that are powerful both emotionally and historically. During the journey they explore exile, memory and the search for justice.

Nuevo Dragon City

Filmmaker(s): Sergio De La Torre, USA/Mexico, 2008 / 12 min

The Chinese first came to Tijuana in the early 1900s. They either came because they were kicked out of the United States, or they came from Mainland China. Now, more than 100 years after their arrival, thousands of Chinese are still invisible in/to the city. Nuevo Dragon City is a reenactment of a historical event that occurred in 1927 in northern Mexico, where six Chinese were either trapped or hid inside a building. Given the unresolved relations between Chinese and Mexicans, they were never rescued or they hid forever; no one knows what really happened. There are little or no film projects (as there are just a few articles on this topic) that focus on the Chinese presence in Tijuana. Nuevo Dragon City offers an experimental alternative to mainstream media fare: it plays with invisibility from the perspectives of Chinese-Mexicans.

Sleep Dealer

Filmmaker(s): Alex Rivera, USA, 2008 / 90 min

Set in a near-future, militarized world marked by closed borders, virtual labor and a global digital network that joins minds and experiences, three strangers risk their lives to connect with each other and break the barriers of technology. The concept of a world connected by technology, but divided by borders, is the central concept of Sleep Dealer. This ironic reality pushed director Alex Rivera to imagine a future in which borders are sealed, and immigrants no longer come to America. Instead, in the world of Sleep Dealer, immigrants stay in their home countries, connect their bodies to 'the net,' and send their pure labor to robots in America. This is what used to be called the "American Dream."

FreeHeld

Filmmaker(s): Cynthia Wade, USA, 2007 / 38 min

Detective Lieutenant Laurel Hester spent 25 years investigating tough cases in Ocean County, New Jersey, protecting the rights of victims and putting her life on the line. She had no reason to expect that in the last year of her life, after she was diagnosed with terminal cancer, that her final battle for justice would be for the woman she loved. The documentary film "Freeheld" chronicles Laurel's struggle to transfer her earned pension to her domestic partner, Stacie Andree. With less than six months to live, Laurel refuses to back down when her elected officials - the Ocean County Freeholders -deny her request to leave her pension to Stacie, an automatic option for heterosexual married couples. Alternating from packed public demonstrations at the county courthouse to quiet, tender moments of Laurel and Stacie at home, "Freeheld" combines tension-filled political drama with personal detail, creating a nuanced study of a grassroots fight for justice. *Special Jury Prize, Sundance Film Festival 2007. * Academy Award, Best Documentary Short Subject 2008

Burning The Future: Coal In America

Filmmaker(s): David Novack, USA, 2008 / 89 min

Burning the Future examines the explosive conflict between the coal industry and residents of West Virginia. Confronted by emerging "clean coal" energy policies, local activists watch a world blind to the devastation caused by coal's extraction. Faced with toxic ground water and the obliteration of 1.4 million acres of mountains, our heroes launch a valiant fight to arouse the nation's help in protecting their mountains, saving their families, and preserving their way of life.

The Greatest Silence: Rape in the Congo

Filmmaker(s): Lisa Jackson, USA, 2007 / 76 min

Shot in the war zones of the Democratic Republic of Congo (DRC), this extraordinary film sensitively yet unflinchingly brings to light the plight of women and girls caught in that country's intractable conflicts. A survivor of rape herself, Emmy Award-winning filmmaker Lisa Jackson travels through the DRC to understand what is happening and why. The film features interviews with activists, peacekeepers, physicians, and even the indifferent rapists. But the most remarkable moments of the film come as survivors the film come as survivors recount their personal stories-inspiring examples of resilience, resistance, courage and grace. *Special Jury Prize, Sundance Film Festival 2008.

Trouble The Water

Filmmaker(s): Tia Lessin & Carl Deal, USA, 2007 / 93 min

Trouble the Water takes you inside Hurricane Katrina in a way never before seen on screen. It's a redemptive tale of two self-described street hustlers who become heroes-two unforgettable people who survive the storm and then seize a chance for a new beginning. The film opens the day before the storm makes landfall-twenty-four year old aspiring rap artist Kimberly Rivers Roberts is turning her new video camera on herself and her 9th Ward neighbors trapped in the city. "It's going to be a day to remember," Kim declares. With no means to leave the city and equipped with just a few supplies and her hi 8 camera, she and her husband Scott tape their harrowing ordeal as the storm rages, the nearby levee breaches, and floodwaters fill their home and their community. Seamlessly weaving 15 minutes of this home movie footage shot the day before and the day after the storm, with archival news segments and verite footage shot over two years, directors Tia Lessin and Carl Deal document a journey of remarkable people surviving not only failed levees, bungling bureaucrats and armed soldiers, but also their own past. * Winner Grand Jury Prize, Best Documentary Sundance Film Festival 2008 *Nominated for 2009 Oscar for documentary feature

Taxi To The Dark Side

Filmmaker(s): Alex Gibney, USA, 2007 / 106 min

Winner of the 2008 Oscar for documentary feature, the film is a gripping investigation into the reckless abuse of power by the Bush Administration. A documentary murder mystery that examines the death of an Afghan taxi driver at Bagram Air Base, the film exposes a worldwide policy of detention and interrogation that condones torture and the abrogation of human rights. This disturbing and often brutal film is the most incisive examination to date of the Bush Administration's willingness, in its prosecution of the "war on terror," to undermine the essence of the rule of law. The film asks and answers a key question: what happens when a few men use the wartime powers of the executive to undermine the very principles on which the United States was founded?

Dos Americas: The Reconstruction Of New Orleans

Filmmaker(s): David Zlutnick, USA, 2008 / 47 min

Post-Katrina reconstruction is still in progress throughout the Gulf Coast, with much of the City of New Orleans still in ruins. This documentary focuses on those rebuilding this city through interviews with some of the estimated 100,000 Latino migrant laborers who have converged in this area over the past two and a half years. Despite terrible working conditions, massive fraud, a housing crisis, severe harassment by law enforcement, and very limited resources, New Orleans' Latino community has mushroomed since the storm and is establishing an infrastructure proportional to its size. Take a look at how this community is organizing to defend itself against numerous injustices and the attempts to bridge the gap between themselves as new residents and the pre-Katrina population, all within the extremely unique and tragic context of post-Katrina New Orleans.

2008

Father G and The Homeboys

Filmmaker(s): John Bohm, USA, 2007

Narrated by Martin Sheen, director John Bohm's documentary chronicles the lives of 4 latino gangbangers over 3 years as they redirect their lives in a war-torn area of Los Angeles known as Boyle Heights. At one time, Boyle Heights was the street gang capital of the world. For 20 years, Father Gregory Boyle (Father G) and his organization "Homeboy Industries" have helped kids plan there future instead of their funerals.

For The Bible Tells Me So

Filmmaker(s): Daniel J. Karslake, USA, 2007 / 95 min

Can the love between two people ever be an abomination? Is the chasm separating gays and lesbians and Christianity too wide to cross? Is the Bible an excuse to hate? Through the experiences of five very normal, very Christian, very American families -- including those of former House Majority Leader Richard Gephardt and Episcopal Bishop Gene Robinson -- we discover how insightful people of faith handle the realization of having a gay child. Informed by such respected voices as Bishop Desmond Tutu, Harvard's Peter Gomes, Orthodox Rabbi Steve Greenberg and Reverend Jimmy Creech, FOR THE BIBLE TELLS ME SO offers healing, clarity and understanding to anyone caught in the crosshairs of scripture and sexual identity.

2007

Yaipota Nande Igui-Queremos Nuestra Tierra (We Want our Land)

Filmmaker(s): Lorena Riposati, Grupo de Cine Insurgente, Argentina, 2006 / 74 min

The documentary is an account of the Guaraní community El Tabacal's enduring crusade to recuperate their ancestral lands. Framed within the indigenous peoples' increasing rebellion against genocide and exploitation, it exposes the main events of the Guarani people's battle against the crimes of the sugar mill San Martín del Tabacal. It speaks of a community's uprising against acts of brutality and historical violence perpetrated by local and multinational powers. It denounces the ongoing repression of what is called the "Sugar Mill of Terror," owned by the multinational corporation Seaboard. Yaipota Nande Igui (We Want Our Land) speaks of colonialism, domination, and exclusion. It also highlights the courageous strength of the indigenous peoples in defense or their identity and rights, and the struggles that are taking place in the north of Argentina against the oppression and barbarism imposed by the economic and political powers.

Total Denial

Filmmaker(s): Milena Kaneva, Bulgaria/Italy, 2006 / 65 min

Total Denial is the inspiring story of fifteen villagers from the jungles of Burma whose quest for justice eventually leads them to bring suit in a U.S. court against two oil giants - UNOCAL and TOTAL - for human-rights abuse. For five years producer/director Milena Kaneva collected accounts from Burmese villagers of forced labor, re-location of villages, rape, and murder associated with construction of the Yadana pipeline. Her "guide" during this journey was Ka Hsaw Wa, described by Kerry Kennedy in her book "Speak Truth to Power" as "A man of incredible courage and commitment, with the firm belief that one man can make a difference." A member of Burma's Karen ethnic minority, Ka Hsaw Wa was one of the leaders of the student movement for democracy in Burma in 1988 which was violently suppressed by the Burmese government. For more than a decade, he has gathered testimonies and other evidence on numerous cases of human rights and environmental abuse. Wanted by police in both Burma and Thailand, he is now based in the U.S., traveling back to both countries periodically at considerable personal risk, to document further abuses. In 1995, along with the co-founder of Earth Rights International, Katie Redford, Ka Hsaw Wa brought a landmark lawsuit against UNOCAL and TOTAL that drew international attention to the pervasive abuses in Burma.

Switch Off (Apaga Y Vamonos)

Filmmaker(s): Manel Mayol, Spain, 2005 / 87 min

The Pehuenche-Mapuche people live above the Bíobío River, in Ralco valley, Chile. For over four centuries they have fought off all invaders who tried to enter the valley, from the Incas to the Spanish conquistadors. In 2004, amongst the scenic beauty of the Chilean Andes, Spain's largest hydroelectric company, Endesa, constructed the world's third largest dam. This dam flooded the Ralco valley and forced the "exchange" of whole villages to much higher ground. Despite protections for indigenous people enshrined in the Chilean constitution, the government has shown little inclination to enforce their rights against the wealthy Spanish multinational. Protestors—including activists, journalists, and lawyers—have found themselves arrested under Pinochet's anti-terrorist laws, facing anonymous witnesses whose identities are concealed from even the court.

Forest For The Trees

Filmmaker(s): Bernadine Mellis, USA, 2006 / 53 min

The Forest for the Trees is an intimate, behind-the-scenes look at an unlikely team of young activists and old lefties who come together to battle the U.S. government over alleged FBI and Police retaliation against an environmental activist. Filmmaker Bernadine Mellis is the daughter of legendary civil rights lawyer Dennis Cunningham, who started his career representing the Black Panthers and the Attica Brothers. Judi Bari was a leader in Earth First. Her car was bombed in 1990, and she was arrested as a terrorist on charges that were later dropped. Convinced it was a ploy by the FBI to discredit her and Earth First, Judi decided to sue. Cunningham took on Judi's case and after twelve years, Judi Bari v. the FBI finally gets a court date. Mellis is there at strategy meetings, at breakfast, and after court, documenting her morally driven, very tired dad, while offering us access into the life of the extraordinary Judi Bari, and a piece of U.S. history that is disturbingly resonant.

Maquilapolis [City Of Factories]

Filmmaker(s): Vicky Funari and Sergio De La Torre, USA, 2006 / 68 min

Carmen works the graveyard shift in one of Tijuana's maquiladoras, the multinationally-owned factories that came to Mexico for its cheap labor. After making television components all night, Carmen comes home to a shack she built out of recycled garage doors, in a neighborhood with no sewage lines or electricity. She suffers from kidney damage and lead poisoning from her years of exposure to toxic chemicals. She earns six dollars a day. But Carmen is not a victim. She is a dynamic young woman, busy making a life for herself and her children. As Carmen and a million other maquiladora workers produce televisions, electrical cables, toys, clothes, batteries and IV tubes, they weave the very fabric of life for consumer nations. They also confront labor violations, environmental devastation and urban chaos -- life on the frontier of the global economy. In MAQUILAPOLIS, Carmen and her colleague Lourdes reach beyond the daily struggle for survival to organize for change: Carmen takes a major television manufacturer to task for violating her labor rights. Lourdes pressures the government to clean up a toxic waste dump left behind by a departing factory. To create MAQUILAPOLIS, the filmmakers brought together factory workers in Tijuana and community organizations in Mexico and the U.S. to collaborate on a film that depicts globalization through the eyes of the women who live on its leading edge. The factory workers who appear in the film have been involved in every stage of production, from planning to shooting, from scripting to outreach.

Winter In Bagdad

Filmmaker(s): Javier Corcuera, Spain, 2005 / 78 min

Hitting just the right notes, filmmaker Javier Corcuera brings his gift of storytelling to this beautifully crafted film, allowing the viewer to integrate the political with the personal in the tragedy of Iraq that has unfolded since the war began in spring 2003. Corcuera spent several months in Baghdad in the winter of 2004 getting to know Iraqi families who were trying to carry on with daily life despite the constant violence, black outs, and lack of basic necessities. The filmmaker became especially close to a group of young, enterprising, and highly resilient teenage boys who despite the obstacles still managed to make it to school, hold down part-time jobs—which were not always strictly legal jobs due to constantly shifting U.S. regulations—and hang out with their friends in this forbidding environment. Winter in Baghdad is as beautiful visually as it is deep emotionally—a rich tapestry of life in Baghdad today which counterbalances the simplistic and repetitive images of this once great city that are presented by the vast majority of mainstream news media. *Winner Best Documentary at the 2005 Los Angeles Film Festival.

Rosita

Filmmaker(s): Barbara Attie and Janet Goldwater, USA/Nicaragua, 2005 / 55 min

In January 2003, news spreads throughout Central and South America that a nine-year-old Nicaraguan girl has become pregnant as the result of a rape. Rosa, or Rosita as the girl becomes known in the press, is the only child of illiterate campesinos working in Costa Rica as coffee pickers at the time of the assault. Fearing for their daughter's life and mental health, Rosa's parents are determined to obtain an abortion for their child. In both Nicaragua and Costa Rica, abortion is illegal except when deemed necessary to save the life of the mother. Despite the odds of obtaining a rarely granted exception for a so-called "therapeutic" abortion, Rosa's parents move forward only to be forced into battle with two governments, the medical establishment, and the hierarchy of the Catholic Church. Representatives of both the Nicaraguan and Costa Rican governments attempt to remove Rosa from her family in order to force her to continue her pregnancy. Award-winning filmmakers Barbara Attie and Janet Goldwater draw viewers inside the story through intimate interviews, on-location footage and media coverage captured within months of the actual events. The drama unfolds chronologically, combining the public media reports with the private remembrances of those involved—Rosa's parents, lawyers, doctors, psychologists, priests and journalists. The film exposes the machinations of politicians, doctors, and clergymen, but shields the young protagonist from the camera—in keeping with the pledge the filmmakers made to Rosa's parents. Yet Rosa is at the heart of the film, revealing herself and her world through her own words and drawings.

Voices of the Past: The Plight and Struggle of Filipino WWII Veterans in the United States

Filmmaker(s): Co-Produced by: Marie-Lorraine Feria Mallare, J.D. Adjunct Professor Maria Elena Yuchengco Philippine Studies Program and Asian American Studies (USF) and Aethel Cruz, USF Student, Knowledge Activism Fellow, USA, / Part I: 9 minutes, Part 2: 30 minutes min

Many Americans know that Filipinos fought for and with the U.S. armed forces in WWII. But not many are aware that President Franklin D. Roosevelt promised them U.S. citizenship and full veterans' benefits, which they did not receive since Congress, enacted two Rescission Acts in 1946, which rescinded the promise. In 1990, the Filipino Veterans were naturalized sans the benefits. As of now, the Filipino veterans are still fighting for, not only full equity in terms of benefits and pensions, but social justice. Veteranos (a Filipino veteran) are forced to live off the small supplemental security income (SSI) which amounts to approximately $450-$650 a month. In some cases, four to five veteranos live cramped up together in single room occupancy (SRO) in residential hotels in areas like the Tenderloin in San Francisco. Having waited over sixty years for full equity, the veteranos are now in their 70s and 80s. Each day, a veteran dies, and each day, they have lived through this injustice. Ironically, this year marks 100 years of the Filipino diaspora to the US. This film will show how the US has failed to ignore the pleas of Filipino WWII veterans, thus subjecting each veteran to human rights abuse.

A Civil War

USA, 26 min

A Civil War follows two women (one, a former lesbian and the child's biological parent, the other, the child's non-biological parent) through the turmoil that is caused when parents battle over custody of a child between state lines. Child custody fights are commonplace but with two mothers now residing in separate states and fighting for custody of a minor child, this particular case holds significant political and social ramifications for the LGBT community.

One Wedding and A Revolution

Filmmaker(s): Debra Chasnoff, USA, 2004 / 20 min

In February 2004, San Francisco mayor Gavin Newsom made headlines when he decided to grant marriage licenses to gay and lesbian couples. This 20-minute film reveals the inspiration, motivation and political challenges behind the mayor's landmark decision. It contains now-historic footage of the tearful exchange of vows between long-time lesbian activists Del Martin and Phyllis Lyon who, celebrating their 51st anniversary, were the first couple to tie the knot. Special features on the DVD include a director's interview. Packed with humor, compassion and political grit, One Wedding and a Revolution has won numerous documentary awards at film festivals all over the world. Awards include: Best Women's Short, Cleveland International Film Festival, Special Jury Prize, Barcelona International Gay and Lesbian Film Festival, Best Short Documentary, Fire Island Film and Video Festival, Audience Favorite Fresno Gay and Lesbian Film Festival, Audience Favorite Pikes Peak Lavender Film Festival, Audience Favorite and Best Short Film Santa Barbara Gay and Lesbian Film Festival, Best Short Documentary Long Island Gay and Lesbian Film Festival

I Exist

Filmmaker(s): Peter Barbosa and Garrett Lenoir, USA, 2003 / 57 min

Directed by Peter Barbosa and Garrett Lenoir, I Exist is a groundbreaking documentary that gives voice to a group that has long remained silent out of shame and fear of ostracism. Gay and Lesbian Middle Easterners who live in the United States must frequently combat the negative stereotypes revolving around both their sexuality and their race. This award-winning film features interviews with a variety of young men, women and their family members who share with viewers some of the experiences, joys and sorrows of this diverse community.

Through Thick and Thin

Filmmaker(s): Sebastian Cordoba, USA, 2005 / 60 min

Through Thick and Thin will explore the lives of ten Gay, Lesbian and Transgendered binational couples who are facing the hurdles imposed upon them by the status quo, as thousands couples are hurting deeply in the United States. Shot in cinema verite style, intercut with interviews, will show the importance and depth of this phenomenon through the personal stories of the eight subjects, their travails, their hopes and their love for each other. In their small microcosm, the couples will reflect on the problem at large in America, and the pain caused by the lack of solutions at present. In their diverging paths what subjects are looking for is a way to hold on to a loving relationship, some only a few months old, some with many years of happiness behind them. [Director Sebastian Cordoba will lead the discussion following the film].

2006

Argentina: Hope In Hard Times

Filmmaker(s): Mark Dworkin & Melissa Young, USA, 2005 / 74 min

"Que se vayan todos!" Chants echo off the skyscrapers, burst through the plazas, and clamor down the streets of Buenos Aires. "Throw them all out!" shout legions of frustrated Argentine housewives, students and lawyers, weaving their way through the city one summer evening, banging on pots and pans. What would you do if you lost your job, they closed the banks so you couldn't access your savings, and the government seemed unable to help? In Argentina they stormed supermarkets for food; the police gunned down 30 people in just one day. But what happened next was truly extraordinary. Argentina: Hope in Hard Times joins in the processions and protests, attends street-corner neighborhood assemblies, visits workers' cooperatives and urban gardens, taking a close-up look at the ways in which Argentines are picking up the pieces of their devastated economy and creating new possibilities for the future. A spare narrative, informal interview settings, and candid street scenes allow the pervasive strength, humor, and resilience of the Argentine people to tell these tales. These are their inspiring stories - of a failed economy and distrusted politicians, of heartache and hard times, of a resurgence of grassroots democracy and the spirit of community - told in resonant detail.

La Piel de La memoria/The Skin of Memory

Colombia/USA, 2005 / 18 min

La Piel de la Memoria or Skin of Memory documents a public art project in Barrio Antioquia, a neighborhood wracked by violence in Medellín, Colombia. Between 1998 and 200, a team of local youth, women, artists, craftspeople, and community activists created a moving exhibition of community history and memory from local people's memorabilia. The video was made in collaboration with Pilar Riaño, Colombian anthropologist, US public artist Suzanne Lacy, and produced by USF Media Studies professor Dorothy Kidd, with alumni Francisco McGee.

State Of Fear

Filmmaker(s): Pamela Yates, Paco de Onís and Peter Kinoy, USA/Perú, 2005 / 94 min

How can an open society balance demands for security with democracy? State of Fear dramatizes the human and societal costs a democracy faces when it embarks on a "war" against terror, a "war" potentially without end, all too easily exploited by unscrupulous leaders seeking personal political gain. The film follows events in Perú, yet it serves as a cautionary tale for a nation like the United States. Filmmakers Pamela Yates, Paco de Onís and Peter Kinoy masterfully blend personal testimony, history, and archival footage to tell the story of escalating violence in the Andean nation and how the fear of terror undermined democracy, making Perú a virtual dictatorship where official corruption replaced the rule of law. Terrorist attacks by Shining Path insurgents provoked a military occupation of the countryside. Military justice replaced civil authority. Widespread abuses by the Peruvian Army went unpunished. Terrorism continued to spread. Nearly 70,000 civilians eventually died at the hands of Shining Path and the Peruvian military.

No More Tears Sister

Filmmaker(s): Helene Klodawsky, Canada, 2004 / 79 min

A story of love, revolution, and betrayal, No More Tears Sister explores the price of truth in times of war. Set during the violent ethnic conflict that has enveloped Sri Lanka over decades, the film beautifully renders the courageous and vibrant life of renowned human rights activist Dr. Rajani Thiranagama. Wartime mother, university professor, wife, activist, and symbol of hope, Rajani was assassinated at the young age of thirty-five in 1989. Fifteen years after Rajani's death, her older sister Nirmala, a former Tamil militant and political prisoner, journeys back to Sri Lanka. She has decided to break her long silence about Rajani's passionate life and her brutal slaying. Joining her are Rajani's husband, sisters, and grown daughters, as well as fellow activists forced underground. Superbly filmed, using rare archival footage and intimate correspondence, the story of Rajani and her family delves into rarely explored themes—revolutionary women and their dangerous pursuit of justice.

Death Squadrons: The French School

Filmmaker(s): Marie-Monique Robin, France, 2003 / 60 min

Death Squadrons: The French School convincingly reveals French veterans of the wars in Indochina and Algeria provided the inspiration, the training, and some of the intelligence that allowed Latin America's dictators to torture and kill thousands of their own citizens. Filmmaker Marie-Monique Robin traces the development of the theory of counter-revolutionary warfare, first tested Indochina and in Algiers (where 20,000 civilians died). Some of its foremost practitioners, like French General Paul Aussaresses, freely admit their contributions, even with a hint of pride. Others are surreptitiously captured on a hidden camera, admitting high-level political and military links between the dictators and the French government. Many of those interviewed are now either in custody or under indictment. Though little documentary footage of these practices exists, the Italian filmmaker Gillo Pontecorvo realistically recreated the French interrogation methods in The Battle of Algiers. (The Battle of Algiers was recently shown to American officers confronted with ongoing attacks on their personnel in Iraq, and excerpts from this film illustrate Death Squadrons). Death Squadrons also shows how, during the 1960's, the French were instrumental in training U.S. officers at Fort Bragg on counter-insurgency techniques that were later used by the U.S. military in Vietnam. The film serves a cautionary note about what can happen when governments and the military are convinced that enemies are everywhere, and that any means necessary can be employed to fight them. It's an important lesson to bear in mind as the war on terror continues.

VideoLetters

Filmmaker(s): Katarina Rejger and Eric van den Broek, Bosnia and Herzegovina/Slovenia/Macedonia/Croatia/Serbia and Montenegro (including Kosovo), 2004/2005 / 75 min

With strong vision and intense dedication, filmmakers Rejger and van den Broek present Videoletters, a truly groundbreaking and emotionally uplifting series of twenty short documentary films. Videoletters is remarkable for many reasons, not least because it exemplifies the power of change inherent in the documentary form; the very making of the films fostered reconciliation between estranged individuals of the war-scarred former Yugoslavia. After the war that claimed hundreds of thousands of lives and drove millions from hearths and homes, the country crumbled into five separate republics: Slovenia, Croatia, Bosnia-Herzegovina, Macedonia, Serbia and Montenegro. In Videoletters, which was shot over five years frequently in tough and often dangerous conditions, the filmmakers act as initiators, mailmen, and recorders of a dispersed population who hardly have contact beyond the borders. In each episode, two people of different nationalities send each other a video letter, explaining how this could have happened. In each case, they were friends, neighbors, or colleagues before the war drove them apart. "We are still friends, none of you are guilty, we don't blame all Serbs," a Croatian man says on the screen; on the couch a Serb family is in tears as they watch the video letter of their friend whom they have not seen since the 1990s, when war drove the two families apart. People express their anger and sadness. They try to put rumors and false information behind them. They admit guilt. This stunning series of films literally reaches across the emotional and physical divide to open up a new path for the future. After exchanging the video letters, the participants usually arrange a meeting, the first since the war erupted. nd, in a true testament to the power of the series and commitment of the filmmakers, they have managed the remarkable feat of convincing every public television station in the former Yugoslavia to broadcast at least ten of the video letters. This is the first time the stations have agreed to work together on joint programming since before the war. The series began these broadcasts on April 7, 2005, ten years after the Dayton peace agreements that ended the 1992-95 war in Bosnia were signed. *Winner of the 2005 HRWIFF Nestor Almendros Prize.

The Education Of Shelby Knox

Filmmaker(s): Marion Lipschutz and Rose Rosenblatt, USA, 2005 / 76 min

The national debate over federally funded "abstinence-only" sex education programs plays out in full force in The Education of Shelby Knox. Fifteen-year-old Shelby Knox of Lubbock, Texas is a self-described "good Southern Baptist girl," who herself has pledged abstinence until marriage. When she finds that Lubbock has some of the highest rates of teen pregnancy and sexually transmitted diseases in the nation, and her county's high schools teach abstinence as the only safe sex, she becomes an unlikely advocate for comprehensive sex education, profoundly changing her political and spiritual views along the way. "I think that God wants you to question," Shelby says, "to do more than just blindly be a follower, because he can't use blind followers. He can use people like me who realize there's more in the world that can be done." Here is a story for our times, where the combustible mix of politics, family, and faith are not as predictable as the red state/blue state divide would suggest.

2005

Deadline

Filmmaker(s): Katy Chevigny & Kirsten Johnson, USA, 2003 / 90 min

On the eve of his departure from office, George Ryan - longtime conservative Republican, supporter of the death penalty, and governor of Illinois-surprised the nation by commuting the sentences of all 167 prisoners on Death Row. Directors Katy Chevigny and Kirsten Johnson bring us directly into the debate and the legal process that is set into motion when a group of Northwestern University journalism students uncover evidence that many people on Illinois' Death Row are innocent, undermining the credibility of the state's entire capital justice system. In the wake of this evidence, Ryan orders special clemency hearings for every prisoner awaiting execution. Within these courtrooms is human drama in its most distilled form. Using unique access to the hearings, prisoners on Death Row, and Governor Ryan, Deadline delivers a measured sense of justice for all its subjects and contributes reason and passion to the ongoing debate about whether nations should employ the ultimate punishment and how justly it is administered.

Persons of Interest

Filmmaker(s): Alison MacLean & Tobias Perse, USA, 2003 / 63 min

After the September 11th terrorist attacks, more than 5000 people, mainly non-U.S. nationals of South Asian or Middle Eastern origin, were taken into custody by the U.S. Justice Department and held indefinitely on grounds of national security. Muslim immigrants were subject to arbitrary arrest, secret detention, solitary confinement, and deportation. Many were denied access to legal representation and communication with their families. During a period when the State Department has made every effort to depersonalize these detentions, refusing to reveal the names or even the number of immigrants detained, the voices of those affected — their testimonials and experiences — become our only window into the human costs of post September 11th immigration policies. Following an unconventional format, Persons of Interest presents a series of encounters between former detainees and directors Maclean and Perse in an empty room which serves both visually and symbolically as an interrogation room, home, and prison cell. Through interviews, family photographs, and letters from prison, the directors have fashioned a compelling and poignant film, allowing those affected a chance to tell their own stories.

Juvies

Filmmaker(s): Leslie Neale, USA, 2004 / 66 min

Four years ago, high school student Duc Ta was arrested for driving a car from which a gun was shot. Although no one was injured, and Duc was not a member of a gang, had no priors, and was 16 years old, he received a sentence of 35 years to life. From award-winning documentary filmmaker Leslie Neale (Road to Return) comes a riveting look at a world most of us will never see: the world of juvenile offenders who are serving incomprehensibly long prison sentences for crimes they either did not commit or were only marginally involved in. For two years, Neale taught a video production class at Los Angeles Central Juvenile Hall to 12 juveniles who were being tried as adults. Juvies is the product of that class. The film builds a powerful argument, questioning what in our American culture has caused us to demonize our youth and allow the collapse of the juvenile justice system, which has turned its back on its initial mission to protect young people and now sends over 200,000 kids through the adult system each year.

Repatriation

Filmmaker(s): Dong-won Kim, South Korea, 2003 / 149 min

In the spring of 1992, documentary filmmaker Dong-won Kim met Cho Chang-son and Kim Seak-hyoung, two North Koreans arrested by South Korean authorities years before. Convicted of spying for the North, they were incarcerated and spent thirty years as political prisoners. These men, and many others like them, underwent conversion schemes in prison that involved torture: those who renounced their communist beliefs were released from prison early. The others, known as "the unconverted," served their full terms. None could return home to the North, however, until the turn of this century, when tensions between North and South eased significantly. Director Dong-won Kim followed these men for ten years, documenting how they survived — both physically and psychologically — the dehumanizing time spent in prison, and their quest, once released, to finally go home. Winner of the Freedom of Expression Award, Sundance Film Festival 2004

Saints and Sinners

Filmmaker(s): Abigail Honor & Yan Vinzinberg, USA, 2004 / 71 min

Saints and Sinners follows the challenging and emotional journey of a devoutly Catholic gay couple determined to marry in a Catholic church. Caring more about formalizing their seven-year union within the Catholic tradition than with legal recognition by the state, Edward DeBonis and Vincent Maniscalco pursue their dream, despite the expected rejection from the local church hierarchy. Even as previously supportive family members express their reservations about receiving communion from a gay Catholic priest, Edward and Vincent audaciously seek to become the first gay couple to have their wedding announcement published in the New York Times. SAINTS AND SINNERS is a highly timely vision of love and commitment, which demonstrates that the struggle for equal rights is not just about legal benefits, but the aspiration to find acceptance and affirmation, rather than rejection, from one's chosen religion.

What The Eye Doesn't See

Filmmaker(s): Francisco J. Lombardo, Peru, 2003 / 149 min

Acclaimed filmmaker Francisco J. Lombardi (La Boca del Lobo; Tinta Roja; Don't Tell Anyone) delivers his most ambitious project to date with the political psychodrama What the Eye Doesn't See (Ojos que no ven.) Set in the final days of Alberto Fujimori's presidency in Peru, the film explores the corruption plaguing many Latin American governments as seen through the eyes of everyday people. What the Eye Doesn't See focuses on the scandal caused by the release of the infamous "Vladi videos" — hidden camera tapes of presidential advisor Vladimiro Montesinos blackmailing high-level government officials — which eventually led to the end of Fujimori's presidency. But rather than recreate true stories, Lombardi uses a colorful array of fictional characters to show the ramifications of dishonest government on individual lives. Six interweaving stories give us a picture of Peru's social reality as its citizens attempt to cope during a critical juncture in their history. Francisco Lombardi is the recipient of HRWIFF's 2004 Irene Diamond Lifetime Achievement Award.

2004

War Takes

Filmmaker(s): Patricia Castaño and Adelaida Trujillo, Colombia/England, 2002 / 78 min

For over four years, three Colombian filmmakers turned their cameras on themselves, using personal stories to expose the tough reality in their violent, war-ravaged country. According to these filmmakers, Colombia has been functioning for many years in the gray area between legalism and lawlessness. Their portrayal does not aim to confirm the image the outside world has of Colombia as a hotbed of excessive political violence and drug traffic, but instead draws out the beauty and warmth amidst the larger turmoil within their homeland. The humor borders on surreal as the film moves between conversations in the jungle with guerrillas to elegant dinner parties with society's elite. War Takes allows the real lives of its heroes, forever changed by war, to break through the stereotypes, forcing us to rethink our own conceptions, or misconceptions, of the beliefs and values by which these Colombians live.

Pinochet's Children

Filmmaker(s): Paula Rodríguez, Chile/Germany, 2002 / 83 min

Alejandro Goic was sixteen, Enrique Paris, twelve, and Carolina Tohá, eight years old, when General Pinochet seized power in Chile on September 11, 1973. During the coup Alejandro and Carolina lost their fathers, and all three lost their innocence and their youth. And eventually all went on to become powerful student leaders in the tumultuous eighties. With thoughtful, emotional interviews and rich archival footage, Pinochet's Children is a remarkable film that beautifully renders three people's course of life against the background of the socio-political developments in their homeland.

When The War Is Over

Filmmaker(s): Francois Verster, South Africa, 2002 / 52 min

"Killing an enemy is nothing here. I would just do it, go home and sleep peacefully." - Marlon, former BMW militant. WHEN THE WAR IS OVER deals with the after-effects of the South African Struggle against Apartheid, as experienced by survivors from the Bonteheuwel Military Wing (BMW), a militant teenage self-defense unit from the mid-1980s and a guerrilla branch of the ANC. Focusing on two ex-activists, Gori and Marlon, this documentary reveals the scars left among what has become the country's lost generation. Gori has become an army captain, Marlon a gang member. Both are having problems finding their path in life: the battle is won against Apartheid, but what now? The documentary is dedicated to seven BMW comrades who were unfortunate casualties during this time and to the mothers who supported these teenagers during the anti-apartheid struggle. With his unadorned style, filmmaker Francois Verster presents an apt, and sometimes frightening, depiction of life in Bonteheuvel.

Welcome To The Hadassah Hospital

Filmmaker(s): Ramón Gieling, Israel/The Netherlands, 2002 / 50 min

In Welcome to Hadassah Hospital director Ramón Gieling takes a startling, close-up look at the individuals who make up the Hadassah Hospital in Jerusalem. Filmmaker Gieling cleverly exposes the pulse of his film when he chooses as his main character the charismatic, controversial and bluntly philosophical Dr. Avi Rivkind who, along with his staff, must regularly treat those affected by, and sometimes those involved in the planning of the numerous suicide attacks which take place in Israel. In a tangible twist of irony, victims and offenders are often treated side by side. The doctors take the situation for granted and make no distinction between their patients; for the patients, the situation is more difficult to swallow. A powerful film about integrity and humanity set against the violence in Israel today.

Dans, Grozny, Dans (The Damned and the Sacred)

Filmmaker(s): Jos de Putter, The Netherlands, 2002 / 75 min

After The Making of a New Empire (1999), director Jos de Putter returns to Chechnya to follow a traditional youth dance group as they prepare for and embark on a European tour. De Putter creates a transcendent portrait of the group and their mentor revealing how dancing quickly becomes their life, despite the ubiquitous trauma of growing up in a country at war. Through insightful interviews, keen observations, and expert storytelling, which skillfully intercut between the children's home town in Grozny and their exuberance on tour in Europe, De Putter reveals how these young people discover comfort, confidence and dignity through dance, and the acknowledgement of their cultural identity and unquestionable talent. A half-torn poster found in their former, now destroyed practise space in Grozny reads: "They who dance lightly and beautifully bring joy to others and themselves".

Scenes From An Endless War

Filmmaker(s): Norman Cowie, USA, 2002 / 32 min

A humorous and biting experimental documentary on militarism, globalization, and the "war against terrorism." Part meditation, part commentary, SCENES employs recontextualized commercial images, rewritten news crawls, and original footage and interviews to question received wisdom and common sense assumptions about current American policies.

2003

Justifiable Homicide

Filmmaker(s): Jon Osman & Jonathan Stack, USA, 2001

Academy Award nominee Jonathan Stack (Angola Prison Rodeo; The Farm) teams up with filmmaker Jon Osman to create this documentary based on the brutal murder of cousins Antonio Rosario and Hilton Vega, two Puerto Rican young men who were shot by two NYPD detectives in the Bronx in early 1995. One detective was Mayor Giuliani's former bodyguard. Carefully researching the events and questioning witnesses and investigators, the film builds a steady, powerful argument for a cover-up at the highest levels. The story follows Margarita Rosario as she is transformed from a mourning mother and aunt to a powerful community activist, questioning the police officers' actions. "I will never stop fighting until I see these two detectives behind bars," she says. "I fight not only for my son, but for all our sons."

500 Dunam On The Moon

Filmmaker(s): Rachel Leah Jones, France/USA, 2002

Ayn Hawd is a Palestinian village that was captured and depopulated by Israeli forces in the 1948 war. In 1953 Marcel Janco, a Romanian painter and a founder of the Dada movement, helped transform the village into a Jewish artists' colony, and renamed it Ein Hod. This documentary tells the story of the village's original inhabitants, who, after expulsion, settled only 1.5 kilometers away in the outlying hills. This new Ayn Hawd cannot be found on official maps, as Israeli law doesn't recognize it, and its residents, deemed "present absentees" by the authorities, do not receive basic services such as water, electricity or an access road. Rachel Leah Jones' filmmaking debut is a critical look at the art of dispossession and the creativity of the dispossessed.

The Pinochet Case

Filmmaker(s): Patricio Guzmán, Belgium/Chile/France/Spain, 2001

It has taken twenty-seven years of hard work to demonstrate what we always knew to be true: history is made by the people, working anonymously. Whatever may finally happen to Pinochet, nothing will ever be the same in Chile or in the field of international justice,' says director Patricio Guzm?n. Augusto Pinochet ruled Chile from 1973 to 1990 and for many years his name has been associated with human rights violations. Guzm?n's film documents the proceedings prior to the Chilean ex-dictator's arrest in January of this year. Covering the events from the moment Pinochet's plane touches down on English soil, to when he is placed under house arrest in Chile, the filmmaker presents a scrupulously balanced argument by including footage of pro and anti-protesters. Pinochet's Chilean victims give harrowing accounts of how they were subjected to horrific torture and interrogation in the regime's secret prisons, and of the way loved ones mysteriously disappeared. The Pinochet Case is a powerful insight into human suffering and survival.

Profit and Nothing But

Filmmaker(s): Raoul Peck, France, 2001

Who said that the economy serves mankind? What is this world where one third of the population, in the rich countries, or more precisely the wealthiest two percent in the world, control everything? A world where the economy is law, where this law of the strongest is imposed on the rest of humanity? Why do we accept this cynical and immoral state of being? What happened to Solidarity? And to the militants? These are the questions Profit and Nothing But asks. Capitalism has succeeded in convincing us that it is the only truth, the only morality we need. It has even convinced its opponents that their failure lies within the normal scheme of things. Raoul Peck (director of Lumumba) contrasts this heavily documented illumination of the capitalist system with the devastating reality in his native land, Haiti "a country that doesn't exist, where intellectual discussion has become a luxury."

The Last Just Man

Filmmaker(s): Steven Silver, Canada, 2001

It was the worst massacre since the Second World War. In just 100 days, 800,000 Rwandans were killed by machete and machinegun -- and it all happened on the watch of Canadian Gen. Romeo Dallaire. The Last Just Man shows a haunted Dallaire still questioning if he could have done more to try and stop the 1994 genocide. Dallaire, the leader of a United Nations peacekeeping mission, only saw the best when he arrived in Rwanda in 1993. A peace treaty between warring tribes had been signed and he was preparing to put a peacekeeping force in place to ensure calm. But in just a few months, peacekeeping would turn into an offensive. Dallaire tried frantically to tell the United Nations, and the world, what was about to happen. In the end, Dallaire failed to persuade the United Nations and others to intervene in time. As a result, Dallaire and the survivors of the genocide are forced to live with the memory of what could have been. Using a combination of intense interview footage and subtle scenes from Rwanda, Silver succeeds in recreating the tension of those months and the emotions that flooded Dallaire's mind as he attempted to stop a catastrophe of unimaginable proportions.

War Photographer

Filmmaker(s): Christian Frei, Switzerland, 2001

"Every minute I was there, I wanted to flee. I did not want to see this. Would I cut and run, or would I deal with the responsibility of being there with a camera?" James Nachtwey. In one of the world's countless crisis areas, surrounded by suffering, death, and chaos, award-winning photographer James Nachtwey searches for the picture he thinks he can publish. He's a shy man who is considered one of the bravest and most important war photographers of our time, but he hardly fits the cliché of the hard-boiled war veteran. If we believe Hollywood pictures, war photographers are all macho men and cynical old troupers. How can they think about "exposure time" in the very moment of dread? Nachtwey is no rumbling swaggerer, but an unobtrusive man with gray hair and the deliberation of a lecturer in philosophy. 2002 Academy Award nominee, best feature-length documentary film