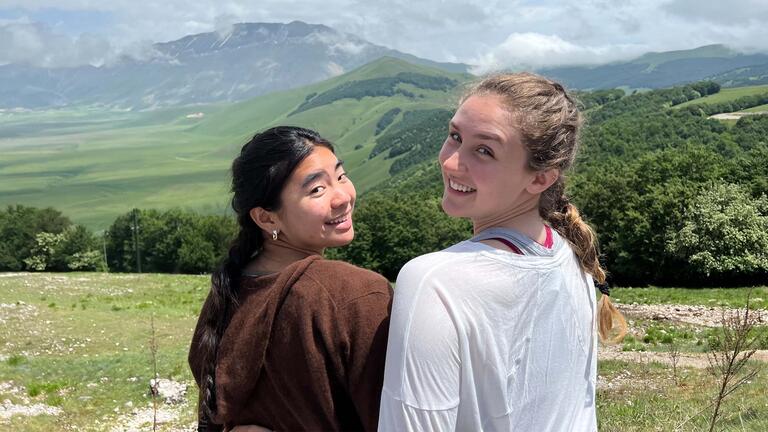 International Studies, BA
Major Tracks
A selection of interdisciplinary courses from the humanities, social sciences, arts, and sciences provide students with a broad understanding of the processes of globalization, the role of international institutions, the complex nature of conflicts, and global economic issues.
Tracks
Choose one of five tracks to develop in-depth knowledge of a specific topic:
Culture, Societies, and Values
The Culture, Societies and Values track aims to produce a greater awareness of and appreciation for the diversity of peoples, cultures, religions, and beliefs that make up our world. It will expand your "cultural literacy" about the problems and possibilities we face together as human beings, and enhance your ability to think critically about human behavior, both the sources of people's power, resilience, and ability to bring about change and the cultural and structural forces that constrain their behavior.
Global Politics and Societies
The track seeks to provide you with a deep understanding of the manifold forces at work in today's world. You will analyze international relations, the foreign policy behavior of states, and the role of international law and organizations. You will also explore the influence of divergent political cultures on contemporary international relations, both globally and regionally.
International Economics
If you choose this track you will study these issues, look at the empirical data, and learn about answers economists have to these questions. This track provides a solid foundation in the economic side of international studies.
Peace and Conflict Studies
In this track you will be taught to think critically, to examine and incorporate conflicting perspectives, and to debate broader principles underlying attitudes towards peace and conflict. In short, you will learn the tools necessary to become engaged global citizens who can contribute directly or indirectly to peace and justice in the world.
Sustainable Development and Environmental Justice
The Sustainable Development and Environmental Justice track is designed to equip you to develop a critical appreciation of global development and environmental impacts, in order to join the economics and science underpinning these issues with the longer-term social and political implications of decisions made by local and global actors.
Regional Specializations
Students also specialize in one region of the world, selecting from:
Honors
Students may graduate with Honors in the International Studies.