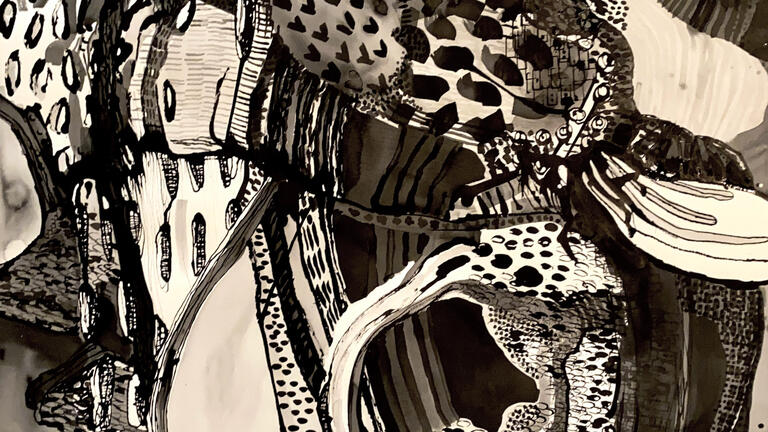 THACHER GALLERY
Rooftop Sculpture Terrace
The Kalmanovitz Hall Rooftop Sculpture Terrace
In addition to the gallery space within Gleeson Library, the Mary and Carter Thacher Gallery presents art installations and exhibitions on the Kalmanovitz Hall Rooftop Sculpture Terrace. The outdoor terrace is located on the third floor of Kalmanovitz Hall, and is accessible by stairs and elevators.
The terrace is open 9 am-5 pm Monday through Friday. Reservations are required. Exhibitions often also include artworks in the Kalmanovitz first floor atrium.
Currently On View
Lost Keys: Recent Works by Mercy Hawkins
In large-scale ink drawings and sculptural paintings, Mercy Hawkins combines traditional craft techniques with colors and patterns found in the landscape to reveal the ways that humans are a part of the natural world.
Lost Keys features recent projects displayed in multiple locations across the USF campus. In the Kalmanovitz Hall Atrium and on the third floor Sculpture Terrace are various textile sculptures, including the new installation A Place in the Sun. Bound with netting and strings and covered in intricate patterns drawn from leaves, bark, and water, the sculptures take on organic shapes suggestive of plant and human forms. Within the Thacher Gallery are large-scale abstract drawings in ink and watercolor, along with additional three-dimensional works. The artist states, "Within my work, I seek to elevate an understanding, in our increasingly alienated world, that we are not just single beings, we, too, are the earth, the ocean, the sky."
About the Artist
Image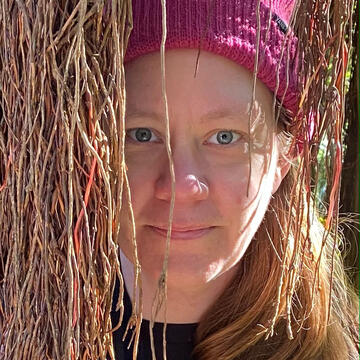 Mercy Hawkins is an interdisciplinary artist and educator living and working in Northern California. Her work seeks to reveal a new language, expanding a lexicon of the possible, as it relates to the sensorium of the living body, both in and as the natural world. Working within a craft-based manipulation and assemblage of varied materials, Hawkins pursues a return to a vital visual language, imbued with a living, responsive pulse of the world. Hawkins received her BA from California State University, Sacramento with a minor in History and received her MFA from University of California, Davis. She was graduate fellow in residence at the Headlands Center for the Arts, Sausalito CA (2021/22) and is featured in New American Paintings #153, MFA Annual.
Lost Keys is showing concurrently with Soft Power: Recent Projects by Alexander Hernandez.
Learn more about Mercy Hawkins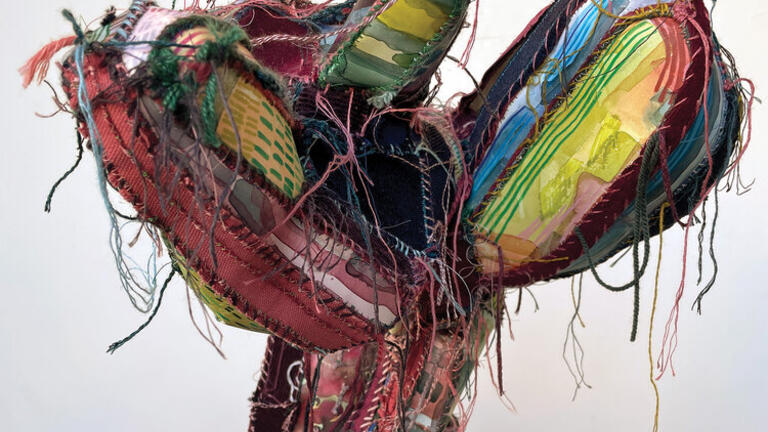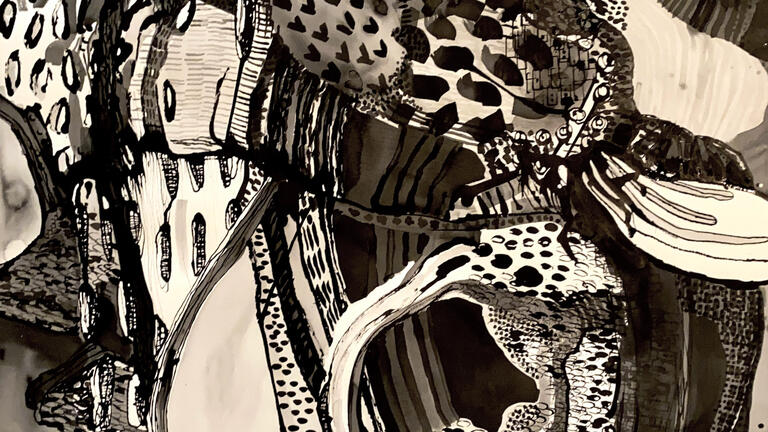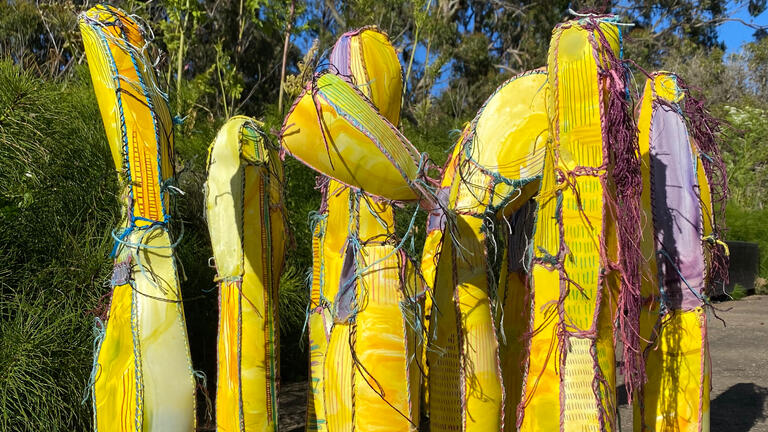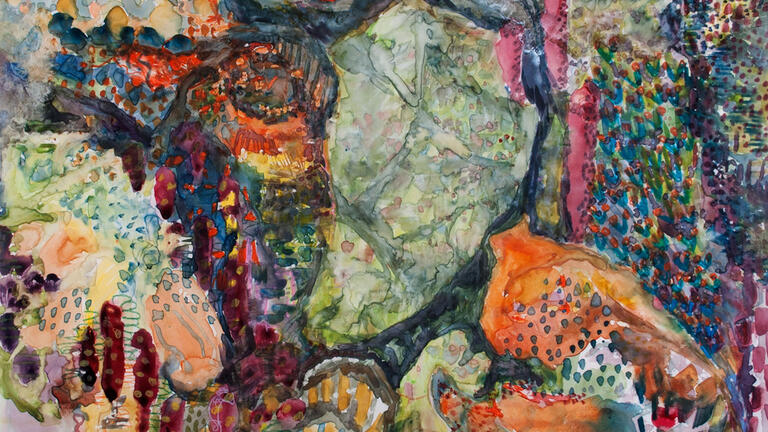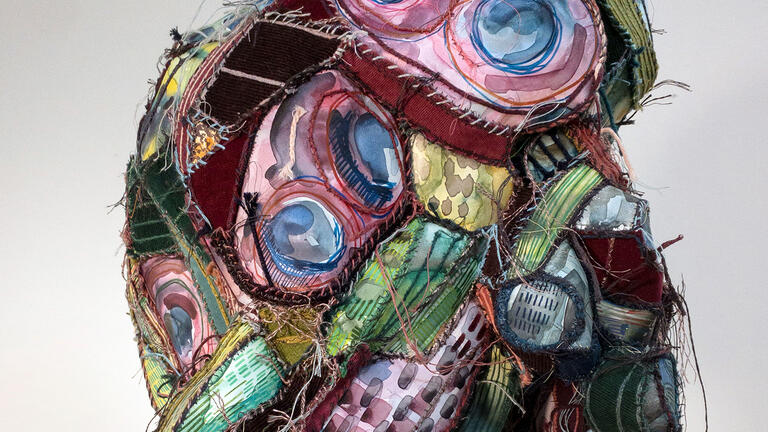 Mercy Hawkins, Still Life for Graves (detail), 2020, mixed media on yupo paper, textiles, and fiber
Mercy Hawkins, In Light of the Wind II, 2021, ink on paper
Mercy Hawkins, A Place in the Sun, 2022, mixed media on yupo paper, textiles, and fiber
Mercy Hawkins, Fertile Rites, 2017, watercolor and pencil on yupo paper
Mercy Hawkins, Until There Is No Winter, 2020, mixed media on yupo paper, textiles, fiber, and wood
Upcoming Events
August 22, 2022 9:00AM - 5:00PM
Kalmanovitz Hall Rooftop Terrace Art Exhibit
August 22, 2022 12:00PM - 6:00PM
Gleeson Library Thacher Gallery Art Exhibit
August 25, 2022 3:00PM - 5:00PM
Gleeson Library Thacher Gallery Event