All that you touch: art and ecology
Image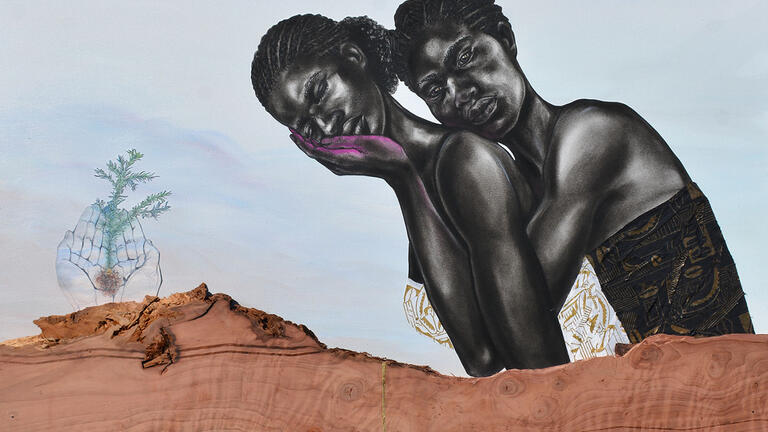 Sept. 7–Nov. 7, 2021
Byron Au Yong, Nicole Dixon, Katie Dorame, Alicia Escott, Felicitas Fischer, Barnali Ghosh, Conni McKenzie, Jaime Serra dos Santos, Linda Yamane, and Minoosh Zomorodinia
All that you touch: art and ecology presents artists whose creative practices are informed by their personal encounters with the natural world.
Using whiteroot sedge and willow, Linda Yamane's traditional Ohlone baskets reveal the inextricable link between culture and place. Katie Dorame's collage prints indigenize iconographic Los Angeles landscapes with layered images of abalone and acorns. The meditations of California wildflowers in Alicia Escott's installations and Barnali Ghosh's South Asian fabric and dance-infused mirrored portraits further explore the tensions between native and invasive, organic and human-made. Nicole Dixon's mixed-media paintings use natural elements, such as wood and gold, to reflect the cultural and spiritual qualities of her figures in order to lift up Black wisdom, while Minoosh Zomorodinia's paintings use gold leaf to map her walks through urban landscapes. The compositional sketches by Byron Au Yong and the dance film co-created by Felicitas Fischer, Conni McKenzie, and Jaime Serra dos Santos serve as lamentations for nature devastated by climate change and geopolitical factors.
Working across the disciplines, these artists ask what can nature teach us about adaptation, regeneration, and healing? What can nature teach us about ourselves?
The exhibition will include a series of online conversations with the artists, tours, and additional events.
All that you touch: art and ecology Education Resources
Image

Gender and The Environment

Library display created by students in Professor Adrienne Johnson's ENVA 390-02: Gender and the Environment Spring 2020 class.

 

 

Image

Authoethnography Zine

Created by students in Professor Mayo Buenafe-Ze's ANTH 235-01: Anthropology of Food Spring 2020 class.

Read

Tending the Wild (2005), by M. Kat Anderson
Emergent Strategy: Shaping Change, Changing Worlds, by adrienne maree brown (also available through Gleeson Library as an e-book)
The Gift (1999), by Hafiz
Braiding Sweetgrass (2013), by Robin Wall Kimmerer (also available through Gleeson Library as an e-book)
Up in Flames: The Ephemeral Art of Pasted-Paper Sculpture in Taiwan (2004), by Ellen Johnston Laing and Helen Hui-ling Liu
Capitalism in the Web of Life: Ecology and the Accumulation of Capital (2015), by Jason W Moore
Being Ecological (2018), by Timothy Morton
Walking Art Practice (2018), by Ernesto Pujol
The mushroom at the end of the world: On the Possibility of Life in Capitalist Ruins (2021), by Anna Tsing
Salt (2013) and Nejma (2015), by Nayyirah Waheed

Watch

Listen

Visit

Additional books related to the exhibition available through Gleeson Library

(List compiled by Carol Spector, Reference Librarian, Gleeson Library)

Print

E-books
Unmuted: The 22nd Thacher Art + Architecture Annual
Image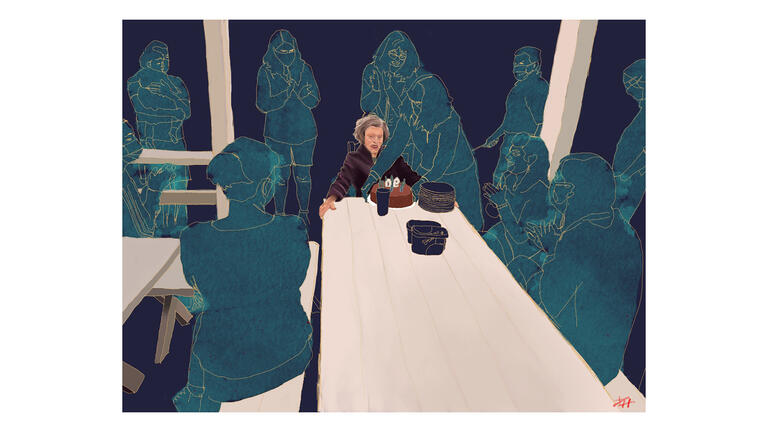 May 7 – July 30, 2021
Online exhibition and programs
Thacher Gallery, University of San Francisco
Following a year during which our collective interactions have primarily occurred virtually, the 22nd Thacher Annual playfully responds to the now ubiquitous phrase, "You're on mute!" While the impacts of the pandemic have left many feeling disconnected and stifled, Unmuted provides a platform for University of San Francisco student artists to speak out, express themselves, and let their creative voices be heard.
The exhibition presents 64 works by junior and senior majors and minors from USF's Department of Art + Architecture. With themes ranging from isolation to our dependence on the natural environment, the featured works represent an honest vocalization of emotions, experiences, and discoveries made during the silence of the pandemic. Through these artworks, viewers are invited to reflect on their own experiences during the past year.
Unmuted is presented by USF's Thacher Gallery and Art History & Museum Studies Thacher Practicum class led by Nell Herbert. Student curators include Evan Carlson, Shannon Foley, Christina Gazi, Maria Ivanyuk, Julia Kea, Catherine Pluimer, Nora Robbins, Zoe Sun, and Quinna Xia. Exhibited artworks were selected by jurors Jenna Marie Blair, Eddie Herena, Cynthia Hooper, and Weston Teruya.
Featured Artists
Joshua Alas
Jazz Alcanices
Max Amido
Sonja Angst
Arantza Aramburu
Megan Babigian
Tessa Bartholio
Samanda Beeman
Nicole Belton
Valerie Bravo
Sam Cadenas-Arzate
Dana Capistrano
Angelica Carinugan
Brandi Chang
Joanne Chu
Courtney Crother
Louise de Oliveira
Natalie Ferrer
DJ Hoffman
Maria Ivanyuk
Gabrielle Kim
Nathan Lee
Danae Lenda
Margarita Lopez-Dale
Allyssa Mabute
Jenna Mansperger
Camilla Martinez
Natalie Morris
Tanvi Murugesh
My Nguyen
Lauren Nipper
Natalie Ortez-Arevalo
Milla Petrolino
Ariane Corrine Reyes
Eduardo Reyes
Paola Reyes Melendez
Lucas Ricci
Mary Lou Grace Robison
Tomas Rodriguez
Sebastian Rojas
Coco Romano Giordano
Emma Schwartz
Aneesha Solomon
Somer Taylor
Mai Ly Torres Baker
Josephine Tov
Brianna Vargas
Xingyi Wang
Halle Watson
Ryan Williams
Acknowledgements
The Thacher Practicum class would like to thank the following people for their contributions to the Unmuted exhibition project:
Jenna Marie Blair, Kevin B. Chen, Eddie Herena, Cynthia Hooper, Weston Teruya, Rio Yañez, USF's Department of Web Services, and the Thacher Gallery team: Victoria Farlow, Andrea Gonzales (designer), Nell Herbert, Ariane Corinne Reyes, Glori Simmons, and Somer Taylor.
Pulled Apart
Image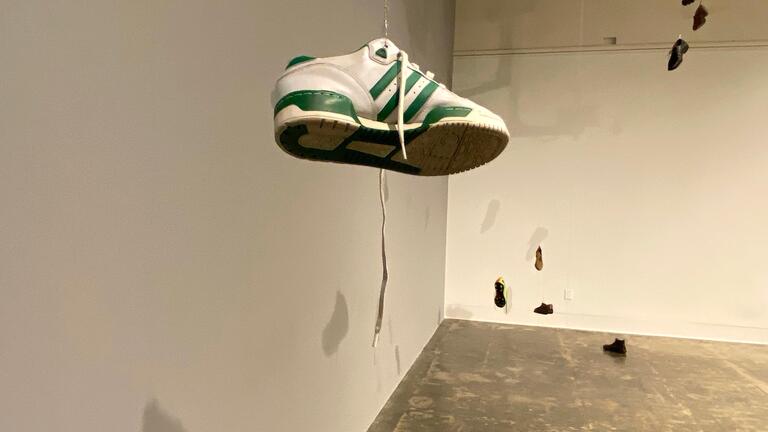 March 1-April 25, 2021
Online exhibition and programs
Thacher Gallery, University of San Francisco
Terry Berlier, Adam Chin, Cynthia Hooper, Carrie Hott, and Gail Wight
In Pulled Apart, we experience works by artists examining the mechanisms of gadgets, scientific instruments, and computer technologies to reveal the internal and external systems that help shape society.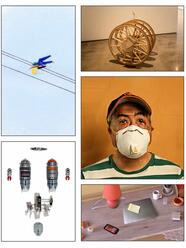 Each artist approaches engineering in a unique way. Terry Berlier adapts mechanical systems, microcontrollers, and software to build kinetic sculptures and installations that explore the precarity of human relationships. Using Machine Learning neural networks trained on databases of actual photographs, Adam Chin creates portraits that exist between the real and the imitation. The detailed paintings and videos by Cynthia Hooper show human infrastructure intersecting with the environment, while Carrie Hott's videos of an evolving miniature room bring us indoors to explore how constant connectivity and hidden networks inform our decisions. Finally, Gail Wight's anatomical studies of mechanical toys we see the uncanny ways that nature and the human-made reflect each other.
Whether it be the use of the 16th century Cardan Gear or 21st century computer algorithms, each artist's approach reminds viewers of the possibilities of engineering as well as our complex relationship with the systems we've created.
A digital catalog with additional text from the artists is available upon request: thachergallery@usfca.edu.
Pulled Apart brings USF Engineering professors in conversation with these artists to illuminate the elements of engineering in the artists' practices. Join us for our opening event and public programs:
Monday, Mar. 1, 5-6:30 p.m.
Opening celebration with the artists
Followed by a conversation with engineer Lou Sassoubre and artist Cynthia Hooper
Monday, Mar. 22, 5-6 p.m.
Engineer Genna Smith in conversation with artists Terry Berlier and Gail Wight
Monday, Apr. 5, 5-6 p.m.
Engineer Chris Brooks in conversation with artists Adam Chin and Carrie Hott
Thursday, Apr. 8, 11:45 a.m.-12:45 p.m.
Art + Architecture Lecture Series: Exhibition tour with gallery director Glori Simmons
Acknowledgments
Artists: Terry Berlier, Adam Chin, Cynthia Hooper, Carrie Hott, and Gail Wight
Curatorial Team: Liat Berdugo, Nell Herbert, Sean Olson, and Glori Simmons
Engineering Collaborators: Hana Böttger and N. Jeremy Kasdin with Christopher Brooks, Elizabeth Mickaily-Huber, William Riggs, Lauren Sassoubre, Gennifer Smith, and Julia Thompson
Design: Ashley Boney (web) and Andrea Gonzales ('21) (print and publicity)
Programs and preparation: Victoria Farlow, Delaney Gibbons ('20), and Somer Taylor ('22)
Can the awareness of collapse pull us out of our collective trance of individualism?

Installation video of Waiting for the Other Shoe to…, 2020, shoes, motors, Arduino, pulleys, ethernet cable, electronics, and wood, 30' x 15' x 20, 2 minutes, 56 seconds (Courtesy of Stanford Art Gallery) Note: Audio includes no text. Sounds include mechanical movements and shoes hitting the concrete floor.

Artist Statement

In my practice, I interweave movement and sound to investigate the evolution of human connections with queerness and ecologies. This results in kinetic and sound-based sculptures and multimedia installations that work as metaphors for both harmonious and dissonant interactions. Emphasizing the essential roles played by cultural memories and environmental conditions in the creation of our identities, I excavate material objects to challenge our understanding of progress and reveal how history is constructed within a cultural landscape. Orienting, disorienting, and reorienting, my work provides tools to recover and reanimate our faltering connections with self, queerness, nature, and society, often through humor. My collaborators include engineers, composers, architects, and natural scientists.

Image

"Our country moving closer to its own truth and dread, its own ways of making people disappear." — Adrienne Rich

Here, I have continued ongoing threads in kinetic and sound sculpture with humor and political critique, using the common American saying "waiting for the other shoe to drop" (referring to a sense of impending doom) as my departure point. The movement is controlled by an Arduino and a series of twenty mechanical motor and pulley systems. Shown in early 2020, the exhibition closed two weeks early and remained inaccessible for six months due to another shoe dropping — a worldwide pandemic and Stanford's campus lockdown. The shoes originally referenced global political and social instability leading to mass migration, environmental decline, and the persistent stripping away of human rights for BIPOC, queer, and trans individuals — all tragically highlighted as COVID-19 ran unbound on the world.

Project Team:
20+ networked and programmed motor units, developed code, electronics, built, and tested the units: Eric Rawn
Motor system: Tom Trzpit

---

Engineering Insight

Terry Berlier's work first struck me as beautiful examples of combining art, physics, and engineering. Beyond being visually striking, her art provides inspiration for an engineer's work. She focuses on collapse within our world — climate change in "Tipping Point" and the general idea of collapse in "Waiting for the Other Shoe to..." — and comments on our wastefulness by using reclaimed materials. Exposing these issues through art provides a new means of motivating all of us, engineers included, to try and prevent these collapses from happening. The solutions to these problems will undoubtedly be complex and will only be accomplished through interdisciplinary collaboration. We are reminded of this key fact when we realize that Terry's thought-provoking art is also the result of collaboration between seemingly disparate areas including sculpture and computer programming.

As I looked past the big concepts of her work I began to see more subtle lessons and was drawn in further. A key mantra to my teaching is "learn to be comfortable being uncomfortable." Rarely do impactful ideas/inventions come from a place of comfort. They come from pushing oneself in directions that are new and unexplored and therefore, associated with a sense of discomfort. There is an uneasy feeling that comes with viewing Terry's art. Whether it's the fear of the "Tipping Point" going too far, the anticipation as you "Wait for the other shoe to…," or the confusion of watching wheels move without making progress as in "Third Wheel," there is a sense of disquietude. I can't help but feel that through her art, Terry is teaching all of us to embrace discomfort. Her brilliant and playful weaving of art, technology, social commentary, and dissonance can educate and inspire all of us if we let it.

—GENNIFER SMITH, PH.D., PROFESSOR, DEPARTMENT OF ENGINEERING

Installation video of Self-Leveler (aka Tipping Point), 2009, wood, metal, computer, wii remote, monitors, cables, video, motor, aluminum axe, and MAX, 
6' x 3' x 20"
 (Courtesy of Center for Contemporary Art, Sacramento) Note: This video has no audio.

In order to capture the moment of catastrophe, the human-made "tipping point," this work creates an uncomfortable situation where the sculpture appears to almost fall over. I used MAX programming and a Wii remote's potentiometer to keep the video water level while the sculpture rocks back and forth with the axe's counterbalancing force. Here, symbols of technical progress are also emblematic of environmental decline.

MAX programming: Ricardo Rivera

Image

Installation video of Third Wheel, 2013, wood, metal, motors, hardware, 36″ x 30″ x 28″, 31 seconds (Courtesy of Institute of Contemporary Art San José) Note: Audio includes room ambience and movement of gears, no text.

Three vintage wagon wheels are rendered stationary while two kinetic movements perform. The Cardan Gear is a 16th century invention used to convert rotation motion to reciprocating linear motion without using linkages or slideways, while the four bar linkage on the opposite side draws an infinity symbol. This sculpture alludes to the felt sense of exclusion in intimate groupings, when you recognize that you are not moving in the same ways despite being closely connected.

Model test of four-bar linkage (left) and Cardan Gear (right). 1 minute, 12 seconds. Note: Audio includes sound of mechanisms turning, no text.

Artist Biography

Terry Berlier is an interdisciplinary artist who investigates the evolution of human interaction with queerness and ecologies. She has exhibited in solo and group shows in North America, Europe, Asia, South America, and Australia including at the Yerba Buena Center for the Arts, The Contemporary Jewish Museum in San Francisco, and Contemporary Art and Spirits in Osaka, Japan. Berlier is an Associate Professor and Director of the Sculpture Lab in the Department of Art and Art History at Stanford University.

What does a pixel know?

Image

Artist Statement

I use Artificial Intelligence (AI) algorithms to render images and make art. In practice, I train Machine Learning neural networks on databases of real photography and have them produce new "photographs." To do this I either have to find a database of photographs to train on, or I have to make a database of photographs.

Asking, "What does a pixel know?," I treat photography on a metaphorical atomic level, which is the pixel level. Every pixel in a photograph has knowledge about the overall scene that was photographed, and I am trying to tease this information out of the pixel. For example, when you use a Photoshop or Instagram filter to alter a photograph, you are using math to manipulate the information contained in the pixels. By understanding what a pixel knows, I am trying to expand our understanding of how much information is contained in a given photograph. I am exploring what a photograph knows.

Engineering Insight

"What does a pixel know?" At its lowest level, a pixel is data — a set of ones and zeroes. When we view those bits as groups of 16, information emerges — representations of color and luminance. When we step back and look at groups of pixels, structure and features emerge — a nose, an eye, or a freckle. Another step back, and the features combine to form a face. But where does this knowledge reside? Is an arrangement of pixels a face because of their geometry, or because we as viewers impose this meaning on them?

Adam Chin's work challenges us to think more carefully about this question by using algorithmic methods to generate new and unique images from a collection of "real" images. (And what is "real" in this setting?) When we see a new, synthetic image of President Obama, one that's distorted but still clearly recognizable, are we taking in knowledge captured by those pixels, or imposing our own previous understanding and experience? And when we turn to "Man #1," does that question change? Unlike President Obama, we have never seen this person before, and yet we recognize him, and fill in those missing details. The "Evolution" video presses this point further as we see the algorithm generate progressively more "face-like" images, even though it works without any understanding of what a face is; that knowledge emerges from a combination of the relationship between pixels and our own expectations, hardwired into our visual cortex through millions of years of evolution.

—CHRISTOPHER BROOKS, PH.D., PROFESSOR, DEPARTMENTS OF COMPUTER SCIENCE AND ENGINEERING

Evolution, 2020, Machine Learning generated, video, 3:12 minutes (Note: Audio includes no text. Music is "Satie Ladybug" by Daniel Lanark.)

In this SAGAN series, I use the algorithm, Self-Attention Generative Adversarial Networks, to generate portraits. I take a database of roughly 800 photographs and task the neural net with producing an image that looks like one of the 800 photos. The image is not a "Xerox" copy of any one of the 800, but is instead trying to look indistinguishable from the set of 800. If you were to look at all of the images mixed together, the goal is to not be able to tell the difference between the real photographs and the fake.

To me, these portraits are interesting precisely because they fail to reach that goal. The viewer can tell the difference between the real photographs and the fake. Yet on an artistic level, the Machine Learning generated images are still valid portraits of the subjects depicted. For this algorithm, the art is found in the distance between the real and the fake.

Artist Biography

Adam Chin is a fine art photographer who spent a career as a computer graphics artist for TV and film, working on such films as Shrek 2, Madagascar, and How to Train Your Dragon. He studied photography and printmaking under Barry Umstead at RayKo Photo Center in San Francisco. He currently practices using Machine Learning neural networks trained on databases of real photography to render images.

How can infrastructure serve the human and nonhuman with equal care?

Image

Artist Statement

My interdisciplinary practice examines infrastructural landscapes and their myriad cultural and biological entanglements — sites that include altered watersheds, reconstructed wilderness, brownfields, power grids, and industrial farmland. My work patiently frames and makes sensible the incidental and emblematic activities that define these complex places, and also offers alliance with the laborers, activists, and researchers who operate within them. My videos, essays, and paintings deploy nuanced perceptual strategies scaffolded by disciplined, research-focused inquiry.

The work in this exhibition includes a video and selections from three series of paintings. My "Tijuana" paintings describe the hand-made homes and domestic infrastructure of several informal border communities — sprawling settlements borne of NAFTA-fueled upheavals in the Mexican economy. The DIY engineering that comprises these communities embodies a modest yet courageous humility; these places are built entirely from scratch with compelling improvisation and the available materials at hand.

Image

My "East Mojave" paintings examine unassuming scientific instrumentation at a research facility in California's Mojave National Preserve. Similarly, my "Landfills" paintings describe the monitoring and extraction devices of a vast retired landfill near my home in northern California. Gas wells siphon methane from beneath the landfill's bucolic surface, while leachate wells pump noisome effluent from its subterranean strata.

Image

Engineering Insight

Cynthia Hooper invites dialog on the social and environmental impacts of geopolitical and engineered systems. Her painting and landscape video pieces symbolically portray the highly complex and nuanced issues of our society that technology is often situated within. The unsaid request within her work is to create a new way of being. How might we, designers and engineers, create technology that supports environmental harmony rather than conflict?

The Jefferson's Monuments video is a compilation of short clips associated with the region's controversial dams. It is named after a mythical fifty-first state imagined for rural northern California and Southern Oregon. The construction of multiple dams devastated salmon habitat, and with it, the foundations of the local Yurok, Karuk, and Klamath cultures. Salmon could no longer swim upstream to spawn because the dams blocked the river's flow and their spawning beds were flooded. Indigenous people could no longer count on the fish that impacted their physical and spiritual wellbeing. Through use of the buzzing of electrical wires, agriculture watering, and loud humming on still waters, Cynthia utilizes these combined aurals and visuals to denote the impacts of colonialism on the natural environment in this region.

Subject to political changes in the United States, indigenous activists have shifted the fate of these dams, which will likely be removed in the coming decade. Deconstruction is a step towards decolonization, providing a path to bring salmon back to the region and the way of life for the Yurok, Karuk, and Klamath people. Yet, the natural environment will be forever changed and the cultural conflicts of the people on the land will remain. As engineers and designers, we are continuously creating technology with deep political implications that may be felt for generations to come. There is a responsibility to engage in such dialog and create technology that brings healing and harmony to the natural landscapes and people within.

—JULIA THOMPSON, PH.D., ASSISTANT PROFESSOR AND FACULTY DIRECTOR OF THE INNOVATION HIVE AND ENGINEERING PARTNERSHIPS, DEPARTMENT OF ENGINEERING

Jefferson's Monuments, 2010, digital video with sound, running time 7 minutes, 54 seconds Note: Video has no text. Sounds include birds, water, and wind.

The video "Jefferson's Monuments" patiently inventories four controversial dams that are slated for removal on California's and Oregon's mighty Klamath River. After more than 20 years of activism by tribal groups, scientists, activists, and fisherfolk, dismantling these dams will finally commence in 2023. "Jefferson's Monuments" is a meditative moving image epitaph for these unexpectedly grand and undeniably problematic monuments in their dramatic Cascade Range environment.

My creative practice is shaped by the conceptual rigor of science and the advocacy of environmental policy. Many of my projects also include accompanying essays that recoup expository content not explicitly conveyed via visual means. These essays are an entry point for cross-disciplinarity, and are calibrated for researchers, activists, and stakeholders who seek rigorous yet actionable public scholarship. By creating conduits between specialized fields of study, my artistic practice attempts to reshape (or at least attempts active dialog with) the technological and social systems I work with.

Artist Biography

Cynthia Hooper's videos, essays, paintings, and research-based projects examine infrastructural landscapes in the United States and Mexico. She has exhibited and screened her work at the Center for Land Use Interpretation in Los Angeles and the Museum of Modern Art in Mexico City, among other cultural institutions. Grants and residencies include the Graham Foundation for Advanced Studies in the Fine Arts and Headlands Center for the Arts. Publications include Places Journal and Arid: A Journal of Desert Art, Design and Ecology. She currently lives and teaches in Humboldt County, CA.

Where are we in relationship to the edges of the systems that surround us?

A Room Of Edges (part one), 2021, digital video, 2 minutes (First of a five-part series, scroll down for others).

Artist Statement

I am invested in documenting and disentangling the technological systems that deeply shape our lives. Specifically, I am captivated by what provides a sense of comfort and security, or keeps us working and productive, or entertained, all while quietly mediating all of our surroundings and experiences, often in very subtle and insidious ways. Some broad examples of these systems include artificial lighting, the electrical grid, the internet, and Internet of Things devices. I am not only interested in dissecting the history and impacts of these structures, but through my projects I am aiming to make visible the inherently political nature of these systems and how they influence us both privately and collectively.

My process is iterative and driven by research, which can be drawn from a text, a dissection of a smart object, or a visit to a power plant, for example. This research process is continuous and varying and deeply informs what I make and how I make it. Most often I create multi-media installations that incorporate sound or video into sculptural settings. I also regularly make books and prints, or put together free form group classes. Frequently, all of these forms are present in one project, providing multiple layers of experience or entry points into a subject.

A Room Of Edges (part two), 2021, digital video, 2 minutes, 4 seconds.

Engineering Insight

We live in a world that is at once increasingly complex and also increasingly abstract. With a phrase, or the push of a button, we can have the answer to any question, or listen to any recorded music, or watch whatever we want. We don't need to care how it gets to us or how decisions are made. Until we do. Until things break down and the system reaches its limitations, its points of failure and brittleness. Then the illusion fades and we see the underlying technologies, messy and incomplete, no longer able to fool us. Carrie Hott's work pushes us to consider that view — a view in which the illusion of intelligence in our devices erodes, and the edges: physical edges, functional edges, and emotional edges, become visible. As the functionality breaks down, the illusion of the room itself degrades, and what initially seemed well-ordered and helpful becomes chaotic and alienating, leading us to wonder whether these technologies were really intended to improve our lives in the first place.

—CHRISTOPHER BROOKS, PHD, PROFESSOR, DEPARTMENTS OF COMPUTER SCIENCE AND ENGINEERING

A Room Of Edges (part three), 2021, digital video, 2 minutes, 11 seconds.

A Room Of Edges (part four), 2021, digital video, 2 minutes, 2 seconds.

A Room Of Edges (part five), 2021, digital video, 4 minutes, 35 seconds.

Most recently my studio practice has been focused on the use (and misuse) of smart devices, which are consumer objects that rely on internet connectivity to provide services and convenience, usually in the home. I arrived at this point after a decade of considering the history of artificial light and the electrical grid in this country, and how the development of these common systems shaped so much of our entrenched behavior and work patterns. The emergence of internet connected (or smart) lights and devices in recent years has completely captivated my thinking. This new technology builds directly on to the subjects that I have researched and made work about for years. Now that the internet is weaving into the technology that we rely on heavily, my thinking and art practice is focused on how these structures, devices, and objects are becoming more complex, entrenched, fragile, and manipulative.

Artist Biography

Carrie Hott is an interdisciplinary artist based in Oakland, California. She is invested in documenting and disentangling the technological systems that deeply shape our lives. She has presented her work as part of exhibitions and projects across the country, most recently at Yerba Buena Center for the Arts, Recology San Francisco, and the Museum of Capitalism in Oakland. She is the recipient of the Artadia Award, a Cultural Humanities grant, and has had residencies at Mills College and Headlands Center for the Arts. She currently teaches in USF's Department of Art + Architecture and UC Berkeley's department of Art Practice.

 

What life forms will survive the sixth extinction to repopulate this beautiful planet?

Image

Artist Statement

In our seemingly boundless capacity for species self-love, we tend to simplify the living world around us, or fathom its depths solely for what it might teach us about ourselves. In Anatomies, I took a handful of classic metal children's toys and disassembled them, arranging their mechanical parts into anatomical charts, the quintessential tool of Cartesian understanding. A few robots round out the menagerie, weary reminders of our automata fantasies. The individual names come from their packaging.

I continue to struggle between parts and wholes, between the intimate and breathtaking details of life and the staggeringly complex world they embody. I'm learning to make peace with the knowledge that I'll never truly experience or even comprehend other ways of being in the world.

Engineering Insight

Gail Wight's work brings to mind a child's natural inclination to break toys apart to understand how they work and what's inside. Indeed, it is through this sense of curiosity and wonder that children exhibit their natural engineering talents. It is through the process of breaking things apart and attempting to put them back together that the engineering mind is formed. What's more, the toys that Gail selected to represent are incredible toys from a by-gone era when everything was made to last a lifetime. The colors are vibrant and each mechanical piece is an engineering work of art in and of itself. These toys were more than likely handcrafted by mechanical artisans and Gail's genius has brought to light the incredible "anatomies" of these mechanical toys. What's more, the animals that are represented are veritable engineering feats of nature. The motion by which a butterfly or a bird flies through the air with grace and ease brings the fluid mechanical concepts of lift and drag into focus. Or the way a duck frantically moves its small webbed feet under water while giving the impression of calmly gliding across the water is yet another marvel of creation. Gail's selection of toys goes from those that represent the genius of nature to those that represent the intellect of humans, from animals to little robots. The robots that are pulled apart exhibit even more mechanical intricacy with additional pieces and further complexity, for such is the world of engineering — a world of creativity and ingenuity waiting to be explored.

—ELIZABETH MICKAILY-HUBER, PH.D., ADJUNCT PROFESSOR, DEPARTMENT OF ENGINEERING

Artist Biography

Gail Wight has taught in the Art Practice program at Stanford since 2003, focusing on experimental media. Working primarily in experimental photography, video, interactive media, and printmaking, Wight's work examines the interplay between art and biology. Her exhibition record includes dozens of solo exhibitions throughout North America and Great Britain, and her work has been collected by numerous institutions including the Museum of Modern Art, Yale University, and Centro Andaluz de Arte Contemporáneo in Spain.