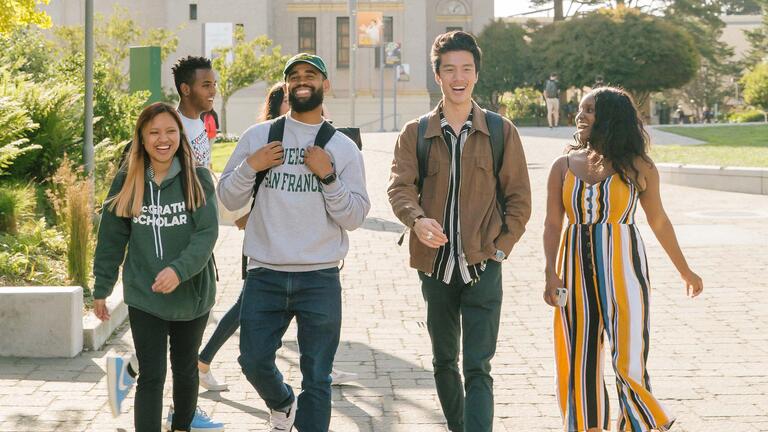 Connect with a Current Student
There's no better way to learn about our graduate programs than from the students themselves. Many of our programs are represented by our Student Ambassadors. Read their stories and connect with them to get the student experience first-hand.
To connect with a student ambassador, please email: sonhpadmissions@usfca.edu
Doctorate in Clinical Psychology (PsyD)
Augustine Provencio
Program: PsyD (Doctorate in Clinical Psychology)
Leading up to the PsyD program, I was lucky enough to work as a fifth-grade teacher here in San Francisco for three years. Although I have wanted to join a psychology program for a long time, I narrowed in on my interests while working as an educator. It was apparent that there were discrepancies regarding the availability of mental health resources within underprivileged schools and communities. It is for this reason that I am interested in working with children and adolescents who have experienced trauma in underserved communities. I loved USF because the PsyD program has a clear mission to address and alleviate some of the inequities that are present within our society. I knew that by attending this school, I would be able to grow as an aspiring therapist and develop the necessary skills to help children and adolescents who have experienced trauma in the Bay Area and beyond. The main highlights of the PsyD program are regarding the thoughtful course work. As a first-year, who started a doctorate during a pandemic, all of the classes were offered online. However, even with this restriction, the teachers have made an extra effort to create engaging and meaningful courses. In addition to this, meeting peers and faculty has been amazing. Everyone is extremely helpful and has already made the school feel like home.
Rochelle Fernandes
Program: PsyD (Doctorate in Clinical Psychology)
The privilege of a lifetime, is to become who you truly are" These words by C.G. Jung resonated deeply for me, when I first heard them. It truly is an honor and a privilege to study in this doctoral program now, in my 40s, in my quest to become the clinician that I have always wanted to be. In my former career, I led business operations, strategy and analytical tool deployments within the high-tech industry here in the Bay Area. I had earned my MBA in Finance at Santa Clara University in 2004 and had come to appreciate the value of Jesuit education. I feel blessed to find another local Jesuit institution of higher learning that would train me in my new vocation. A main highlight of the program is the incredible USF library services! USF provides a host of books and textbooks in ebook format that are also in audio format and highly accessible. USF sends physical books home via UPS now during the pandemic and this has been a Godsend and incredibly enriching and encouraging to me in continuing to nourish my curiosity.
Doctor of Nursing Practice (DNP)
 Kathleen Shrader
Program: Family Nurse Practitioner - Doctor of Nursing Practice (DNP)
Hometown: Spokane, WA
As an RN passionate about social justice and community health, I chose to come to USF for its Jesuit identity. Beyond that, the time spent on campus has been vital in creating a sense of community in my classes and has allowed me to get to know my classmates and professors in person which was very important to me in deciding on a school for my DNP. I'm thankful to be a Don and have such a wonderful and caring group of professors who teach me how to be a conscious, social justice oriented, and competent provider!
Daniela Vargas
Program: DNP - Population Health Leadership
Hometown: San Diego, CA
After becoming a patient following an almost-fatal car crash, I realized that I wanted to become a nurse so that I could guide and support others. I want to promote the diversity that USF is working to instill in their nursing programs by bringing people with a variety of educational degrees, cultural experiences, and socioeconomic backgrounds together to build a new wave of nurses that will serve a variety of populations in different fields of nursing. I chose USF because of its mission to promote social justice aligned with my own desire to seek justice for underserved populations. My advice to future students is to discover and read about the nurse leadership roles roles since it serves as the foundation for the MSN.
Camille Williams
Program: DNP - Population Health Leadership
Hometown: Cleveland, Ohio
Education and long-life learning has been a priority for me from a young age. After 8 years in the US Army, I went to nursing school and became a registered nurse. I fell in love with seeing patients achieve their optimal state of well being under my care and I decided to further my education and obtain my master's degree. During my FNP program clinicals in rural health clinics I wanted to further my ability to assist the underserved population. Therefore, going back to school to receive a doctorate in nursing practice in population health leadership would help me to fulfill that dream. I want to further my education to be a part of the progressive movement and leadership that is striving for equal access to all communities. The University of San Francisco places a high value in cura personalis and Jesuit education, which is very important to me when selecting a program to continue my education. I have dreamed of attending USF since completing my associate's degree in nursing. I plan to utilize this degree and experience to improve health care outcomes and management of rural and underserved areas, by improving healthcare models.
Master of Public Health (MPH)
 Jill Simón
Program: MPH, Community and Public Health Practice (San Francisco)
Hometown: Pleasant Hill, CA (East Bay Area)
My background is in the non-profit sector, both in Early Head Start, supporting families from Central and South America, and in Medical Case Management working with refugees and those recently granted asylum. I decided to return to school for my MPH because of the unequal and sizable gap in health knowledge and education that exists around the world, but in particular in my community. I chose the University of San Francisco for its overall dedication to service and the caliber of their teaching staff. I have been more than pleased with the progress I have made thus far into the program and have my professors and fellow MPH peers to thank. I feel the utmost support and am confident that I am gaining the necessary skills to be a competent and successful public health professional upon graduation next year.
Pristina Zhang
Program: MPH, Health Policy Leadership (Sacramento)
My path into the MPH program was not a linear one; however I am grateful that I am finally here. There is no other program or profession where I feel more at home and meant to be. The MPH program has provided me the tools to create change through an upstream approach and has supported my growth as a student and a professional. I'm most appreciative for the professors who have tailored the curriculum to the needs of our cohort's career endeavors. In addition, they have constantly provided networking opportunities that are helpful for both novice and seasoned public health workers. Through our personal interactions with public health leaders representing a multitude of fields, I have been able to find my niche of how I will serve my community. This program has helped me see the world through a more empathetic and innovative lens, and has empowered me to work on solutions to improve health inequities and social injustices in California. I am very excited to embark on my second and final year, and am confident this program has set me up for success once I am done.
Courtney Cooper
Program: MPH, Community and Public Health Practice (Online)
Hometown: San Francisco, CA
I grew up in the San Francisco Bay Area and returned after graduating with a Bachelor of Science in Public Health from the University of South Carolina. The University of San Francisco (USF) has been the perfect fit to pursue my next career goal, which is a Masters in Public Health. Although I am based in the San Francisco Bay Area, the flexibility of the online program at USF made it possible for me to continue working full-time in a job that I love while pursuing a Master's degree at an incredible institution. I currently work in public health research and enjoy being able to quickly apply what I learn in my courses to my professional role and vice versa. The faculty, staff, and my cohort at USF have all been wonderful resources, and I am grateful to have this opportunity to pursue an MPH. Please reach out if you have any questions about the program!
Sarah McCall
Program: MPH, Behavioral Health (San Francisco)
Throughout my 20's I worked across the healthcare and education sectors and gained exposure to different career paths. After determining that graduate school was the right choice for my professional goals and interests, I chose the University of San Francisco, Master of Public Health (MPH) program, Behavioral Health concentration. The concentration emphasis on promoting holistic behavioral health through a public health framework, integrated care, and health education and promotion made this program stand out from others. Moreover, I have been very satisfied with this program because of the hands-on learning opportunities that are offered. In addition to the Applied Practice Experience (APEX) fieldwork, students in this concentration support USF's Health Promotion Services (HPS) and other health-centered USF programs, like the USF Food Pantry. Through my experience at USF, I have improved my skill set, gained a stronger understanding of my strengths and professional interests, and have more confidence than ever in my future as a public health professional.
Master's Entry - Master of Science in Nursing (ME-MSN)
 Jaymie Gagui
Program: ME-MSN (San Francisco)
As part of Cohort 30 in the ME-MSN program, I immediately felt welcomed from older cohorts and faculty. Starting off the program entirely online due to COVID-19, it was definitely an unconventional way to begin nursing school. Nonetheless, USF has allowed me to feel supported through mentorship opportunities such as joining the Graduate Nursing Association, where I was matched with a mentor who helped me transition smoothly into the program. I chose USF because of its core values, small class sizes, reputable faculty, and location. The ME-MSN program also has connections with many well-renowned hospitals such as Stanford and Kaiser, which I think is really valuable as a nursing student. My highlights of the program so far have been the clinical experiences; I've really enjoyed being able to apply what I've learned in class to a clinical setting. I also cherish and appreciate the professors, who all do their best to help us succeed and prepare us well to become confident future nurse leaders.
Kelechi Oguwuegbu
Program: ME-MSN (Orange County)
My experience as a graduate student has been both challenging and rewarding which is why I appreciate all the opportunities that University of San Francisco (USF) has had to offer. As a Jesuit institution, USF is an institution with an immense culturally diverse environment that promotes peace and open-mindedness. Without a doubt, USF has pushed me to explore potentials inherent, acquirable potentials, and ways to put these potentials into good use. During my time as the former vice president of the Orange County Graduate Nursing Association (OCGNA), I had the honor and privilege to serve with a cohort of amazing team members with tremendous support from our faculty. The ME-MSN program is challenging but it also prepares you as a student to gain a deeper understanding of your role as a Clinical nurse leader (CNL), and how to apply that knowledge in clinical decisions based on evidence-based-practice. As you progress into the program, you are prepared for a career in nursing with numerous career options.
MSN for Registered Nurses (RN-MSN)
Jessica Nagra
Program: RN-MSN (Online)
As a NICU nurse for the past three years, I have felt a more significant push to initiate change within my healthcare setting. Further looking to pursue a leadership role that encourages research and evidence, I decided to go back to the place that taught me about change, which was USF. I completed my BSN at USF in 2016 and decided to pursue my MSN-CNL degree at USF. I had such a positive experience obtaining my BSN at this school, as they provided me with all of the necessary tools to become a successful RN. I chose the MSN-CNL program because my goal within my microsystem is to create the best care for my population using evidence-based practice with the latest innovations. The online CNL program is flexible, allowing me to be engaged in my clinical environment while being equally engaged in my classes as the assignments correlate with my clinical practice. The MSN-CNL program is encouraging and prepares you well, as all the professors make their best effort to help you succeed. Intending to become a nurse leader in serving my population better, USF has given me insight into what it means to be a great leader.