Engaged Learning
Waging War on Opioids
Student goes on public-health crusade in her home county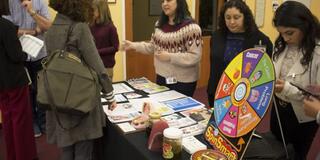 As health educator for San Benito County's Opioid Task Force, Johnson gives trainings on naloxone, a medication that can save the life of someone who has overdosed on opioids. She works with first responders, and has also trained and provided naloxone doses to community organizations such as the local food bank, the homeless shelter, and the library.
"Since 2017, the task force has given out over 400 doses of naloxone," Johnson said. "We know that it's being used and that it's working."
Johnson is well known throughout the county. She gives presentations to students, parents, and families about opioid use and abuse, and she's a fixture at farmers markets and other community events, providing information on safe disposal options and handing out informational flyers.
Reducing Overdose Deaths
In 2017, San Benito County, with fewer than 60,000 residents, ranked 12th in the state for its opioid overdose death rate, just behind San Francisco. A year later, after the task force was created, that rate dropped by almost half.
Johnson first joined the task force as an AmeriCorps Volunteer in Service to America (VISTA). She created a logo for the task force, designed and built its website, reached out to first responders and the county school districts, and built connections throughout the community.
"Treating opioid use disorder from a human-centered approach is an emerging field with a lot of perspectives coming into it," Johnson said. "It's such a complex topic, and it's not going to be solved with me working on it for a year or even two or anything like that. Instead, we're building the foundational steps of trying to address it. That is motivating to me. There are lives that are hanging in the balance because of how potent these drugs are."
Johnson now works full time for the task force, and her role is funded by a grant for which she helped write the application.
Her job has also expanded. She has met with the county's member of Congress and the local state assembly member on the opioid problem and the need for funding.
Connections to Coursework
"I wasn't aware that what I was doing is agenda-setting, but I learned that through my health policy class," Johnson said. "I learned what that looks like, why it's important, and how to put it into practice. I've seen so much overlap and connection already in my first semester. I'm really looking forward to continuing to connect the dots with the work as I'm doing it."
Johnson said she wanted a master of public health program with values that aligned with hers. "I wanted a program that looks at treating the whole person and also pushes the limits and doesn't just sit with the status quo, but really wants to change things where you are."

She said she found that at USF.
Gail Newel, Johnson's former boss as the health officer in San Benito County, sees another benefit to Johnson's USF training in an online program. "In communities like this that are underserved, programs like this allow students to continue working in their home community and still get a quality education. That's a huge benefit to smaller communities," said Newel, now health officer for Santa Cruz County.
"Veronica is putting public health to work in a very tangible way," Newel said. "She really was personally responsible for getting naloxone into the hands of first responders and they save lives with that. She literally saves lives in San Benito County."