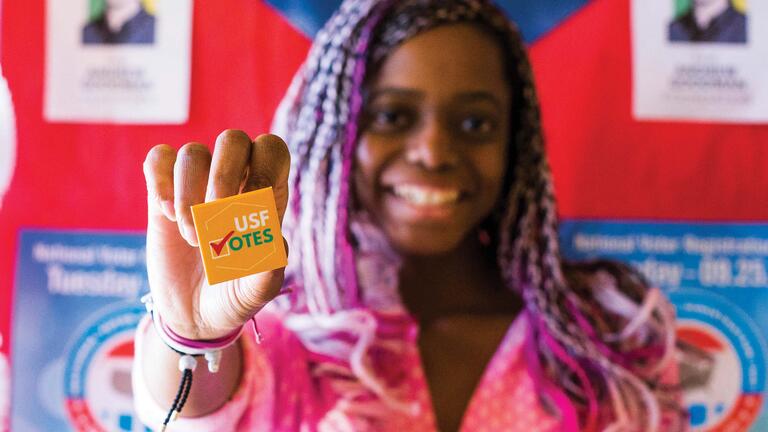 LEO T. MCCARTHY CENTER FOR PUBLIC SERVICE AND THE COMMON GOOD
2020 Annual Impact Report
Now more than ever is the time to fight for social equality and justice for all. Here at the McCarthy Center, we've been leading the charge.
Our students have the skills and resources to be active, engaged young leaders — in the vision of Leo McCarthy's legacy.
Leo's legacy of commitment to public service and the common good continues to be the driving factor of the work we do day in and day out. It's wonderful to encourage our USF students to stay involved and engaged, but it's also important for us at the McCarthy Center to open pathways for people who come from diverse backgrounds, to see how institutional change is facilitated at a systemic level.
And in doing so, it requires all of us to exercise our privilege to vote. From the moment new Dons join us for the first time at new student orientation, to when they leave as USF graduates, we want students who come through our center to know they have the power and the voice to make meaningful contributions to our city, our state, and our nation's future.
Lastly, in my role as the senior director of the McCarthy Center, my vision aligns with continuing to create and refine community-engaged learning opportunities that question power, privilege and oppression, and partnering with community organizations that are doing the work of racial equity and justice.
Thank you for your continued support as we build the future public service leaders of tomorrow.
— DERICK BROWN, Senior Director, Leo T. McCarthy Center
---
2019-2020 McCarthy Center Highlights
Image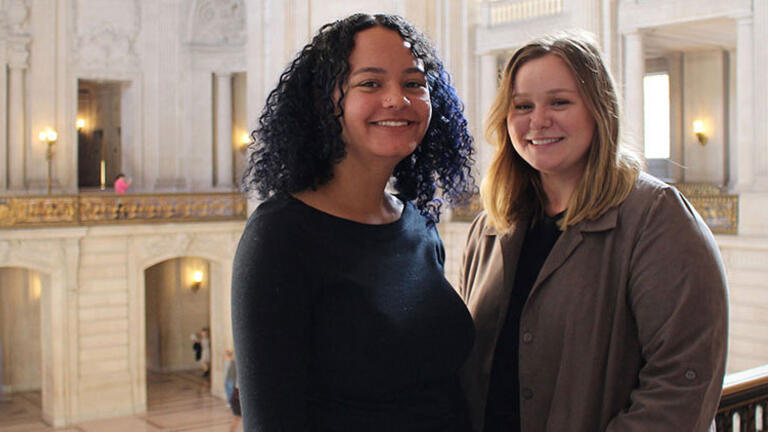 Community-Engaged Learning
McCarthy Fellows in San Francisco
In fall 2019, we launched the McCarthy Fellows in San Francisco program which allows students to engage in part-time internships with city and county offices like SF Department of the Environment; Department of Children, Youth, and Their Families; Department of Homelessness and Supportive Housing; and the Board of Supervisors.
Community Empowerment Activists
Through the Community Empowerment Activists (CEA) program, students intern with organizations like San Francisco Rising, South of Market Community Action Network, and Faith in Action.
Building Capacity for Civic Engagement
We sent students to intern in Washington, D.C., and created profound learning pathways through our Public Service and Community Engagement minor.
46 Students in the Public Service and Community Engagement minor
15 Equity projects completed by McCarthy Fellows in San Francisco
5 McCarthy Fellows working post-fellowship with City and County of San Francisco
Engage San Francisco
Engage San Francisco Literacy Aligns with Neighborhood Needs
Through Engage San Francisco Literacy, USF student tutors were placed at two SFUSD schools and three after-school programs to provide literacy and learning support during the academic year.
Changemakers: African American History and Awareness
On September 12, 2019, we celebrated the launch and publication of Changemakers, a collection of 95 biographies of African American civil rights leaders in San Francisco. More than 400 people joined project leaders Dr. David Holler and Dr. Stephanie Sears and their students at Ella Hill Hutch Community Center where changemakers were celebrated, recognized, and remembered. Access a digital version at usfblogs.
4,350 hours of tutoring support
1,000 Changemakers books distributed
1,000 K–5 students supported through the ESFL program
48 undergraduates as highly trained reading tutors
USFVotes
USFVotes moved into high gear this past election season with an all-hands-on-deck rollout for Super Tuesday on campus.
Super Tuesday
Our Andrew Goodman Vote Everywhere team was on hand across the university to help folks find their polling place, learn about the ballot measures, candidate platforms, and fill out absentee ballots for out-of-state voters.
Gearing Up Election 2020
Our two polling places on campus (the Masonic Building and the Sobrato War Memorial Gym) had a steady stream of residents, students, faculty, and staff showing up to vote. Our weekly Election 2020 Pop-Ups proved to be a great resource for students who had questions about the primaries. Additionally, we worked closely with local Bay Area partners such as the League of Women Voters, Department of Elections, and community organizations to engage our USF community.
7,600 registered voters as of June 1
28 Summer of Action Fellow advocates
4 Campus Compact's Youth Voice Youth Vote fellows
2019-2020 Financials
Revenues
46% Endowment
34% Undergraduate Programs 
20% Gifts, Grants, and Contributions 
Expenditures
73% McCarthy Center operations
13% Engage San Francisco
5% McCarthy Fellows
4% USF in D.C.
3% Other restricted activity
2% Community Empowerment Activists
2020 Annual

Impact Report


(Full Edition)
View the full edition of the Leo T. McCarthy Center for Public Service and the Common Good 2020 Annual Impact Report.