Silicon Valley Immersion Certificate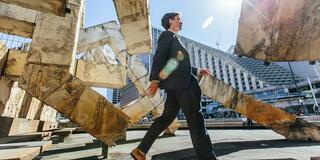 Join us on a learning expedition and be immersed in the epicenter of global innovation and entrepreneurship - Silicon Valley and the San Francisco Bay Area. Learn many of the concepts and ideas which enable entrepreneurship and innovation to thrive. Develop and practice the communication skills of pitching a new idea or new business venture to industry experts.
*Unless stated otherwise, program delivery mode is subjected to COVID-19 regulations.
Program Dates
Feb. 6 -10, 2023
Program Highlights
Develop and deliver a "pitch deck' on a new business idea to academics, industry experts and individuals in the investment community.
Learn from and be inspired by leaders of entrepreneurial organizations of all sizes.
Work and network with a cohort of your peers from all over the globe.
Witness some of the best practices in entrepreneurship and innovation.
Who Should Enroll?
Mid-level & senior managers.
Aspiring entrepreneurs and early-stage startup founders.
Professionals in career transition.
Recent graduates wishing to enhance their skill sets to seek a career opportunity.
Students or executives who would like to participate in our traditional Silicon Valley Immersion program as an individual.
Amazing to be immersed into Silicon Valley culture and set up. Loved the structure of the courses and how each session built into each other. Fascinated to think differently that is not in my specific pillar but to broaden my thinking which has then in turn allowed me to challenge myself more and recognize my personal opportunities."


— Sam Van Gool, Hr Manager, Flight Centre Travel Group
Application Process
All applications will be reviewed on a first-come, first serve basis. We will get back to you within a one-week time frame with an application decision.
Costs
In-Person Program: US $5,000 per person.
Early Bird Sign Up: US $3,850 per person.
USF Alumni/Student Discount: US $2,500 discounted price per person.*
*Valid only for current USF students and alumni
Upon admission, payment details including an online payment link will be sent by email.
101 Howard Street, Suite 100
San Francisco, CA 94105