Corporate Innovation Certificate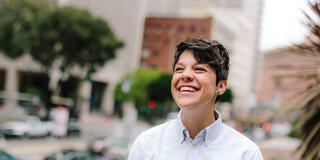 Expand your ability to drive innovation in your role or a future role through our Corporate Innovation Program.
Program Highlights
Gain experiential knowledge from fellow executives and entrepreneurs from the heart of innovation - Silicon Valley. Experience the principles of innovation in action by hearing from and working with some of the most innovative best minds in the Bay Area. Learn best practices in thinking' BIG' and challenging the status quo. Adopt a more entrepreneurial spirit and mind set, let the ideas flow and learn how to make your vision and innovations a reality.
Learn skills in the human-centered design principles of Design Thinking. Participate in an experiential learning simulation.
Come with an innovation challenge, work in teams to apply key concepts from the week and present and receive feedback on your progress.
Take with you a certificate of completion in corporate innovation from the University of San Francisco and the ability to effectively apply these principles in your company or organization.
Who Should Enroll?
Mid-level & senior managers looking to drive innovation in their company or organization.
Professionals in a career transition looking to expand their skills.
Recent graduates wishing to enhance their skill sets for greater career advancement.
Students or executives who would like to participate in our traditional Corporate Innovation Program as an individual.
Application Process
All applications will be reviewed on a first-come, first serve basis. We will get back to you within a one-week time frame with an application decision.
Costs
Standard In-Person Program: US $10,000 per person
Virtual Program: US $5,000 per person
USF Alumni/Student Discount: US $2,500 discounted price per person*
*Valid only for current USF students and alumni
Upon admission, payment details including an online payment link will be sent by email.
101 Howard Street, Suite 100
San Francisco, CA 94105