Equipped to Lead and Succeed
8 Questions for a Nonprofit Administration Student
Gomez-Barris is enthusiastic about her "fab" cohort and how they strive to succeed together.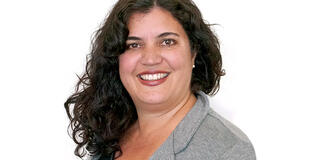 Whether her learning is focused in San Francisco or abroad, Lorena Gomez-Barris MNA '17 is enthusiastic about her "fab" cohort and how they strive to succeed together - whether through lively discussions, projects or the passion for nonprofit work that has so closely bonded them.
Where are you from, and why did you come to San Francisco to pursue your degree?
Originally I am from Santiago, Chile but have lived in the U.S. off and on all of my life. I live and work in the East Bay, and now this is home. I pursued the Master of Nonprofit Administration degree at USF because it was flexible in terms of allowing me to continue to work full time. As a manager in the nonprofit sector, I realized I needed to deepen my management skills in order to succeed. Getting a master's degree has been a lifelong dream for me [and I value] the practical applications of this degree in terms of really understanding the ins and outs of leadership.
How do you think the MNA program will bolster your management skills?
The reading required for each class gives us a theoretical framework to nonprofit leadership, but the real learning comes from our in-class activities. We have lively discussions about concrete management challenges we each face on a daily basis and tie those challenges to the readings. I feel like I have used so many management tools I have read about already and also have been able to process different real life situations with my cohort. I have learned to be a more active listener, be more collaborative, and understand where my own management boundaries are. I have also learned a lot about my core values and how those values translate to my management and leadership abilities.
How have the Jesuit values at the University of San Francisco influenced you and the MNA program itself?
I have been pleasantly surprised to see that USF's Jesuit values show up at every level of our course work. Social equity has been highlighted in all of our classes so far in our readings, during lectures and within our assignments. It is awesome to see and feel that the greater good is an emphasis for the school. Justice, equity and respect are values within the nonprofit sector, so seeing these values play out in the coursework makes me realize that I am in the right place for my higher education.
What has been your favorite experience in the MNA program so far?
This semester in our strategy class I worked with two amazing women on a group presentation to build a strategic framework for The Human Rights Center at UC Berkeley. The partnership on the project elevated group processes and outcomes to new heights. We helped to guide the organization's future using the core skills we learned in class. It was a great and humbling hands-on learning experience for us all. 
Are you planning to go on an Academic Global Immersion (AGI) trip?
Ciao Bella! Yes, I want to go to Rome with [MNA Program Director] Dr. Marco Tavanti and my fab cohort. What better way to get first hand experience of the nonprofit sector in Italy than to go with a native Italian? Not to mention the fact that I want to try the coffee, wine and pasta! While in Rome I would like to understand how international agencies deal with global political realities. I know we will be working with the refugee crisis, and it will be interesting to see how the nonprofit sector has responded on a global level and what systems have been developed to sustain the work. I am interested in learning about how nonprofits are set up for success in other parts of the world in terms of structures and systems that support their work [as well as] how organizations get funding. What can I learn from them to bring to my nonprofit? I work in international development as the Senior Manager of Operations at Rise Up—a global organization focused on improving the lives of girls, youth and women—and therefore I am interested in the synergies that can be explored for partnership.
Describe a typical Saturday in the Part-Time MNA program.
Saturdays are a combination of reviewing the readings and class discussion. Our cohort is very lively and likes to debate so we can go on discussion issues and topics for hours. We always have a group presentation that is based on the reading and then a group activity that is often super entertaining. We once made dog treats for an animal welfare nonprofit! The professors all really care about the quality of the information we get, so they often invite amazing speakers from nonprofits around the Bay Area.
What would you say is the most valuable thing you've taken away from USF?
So far, the most valuable thing I have taken away from USF has been the relationships I have built with my cohort. I have never met a more dedicated, smart and passionate group of people. We have the utmost admiration for one another, and we all feel so lucky to have such a connection to the work and to the experience that USF has afforded us. I will serve as President of the Nonprofit Student Council in the 2016-2017 school year, and I want to make sure our class continues the great work of the previous cohort and leaves a special legacy to the program.
If you could give any advice to someone interested in the MNA program, what would you say?
GO FOR IT! This program is rich in so many ways. I have expanded my mind, my heart and my soul. Nonprofit work is so valuable, and USF really values its students and helps them succeed.