San Francisco Advantage
8 Questions for a Financial Analysis Student
Master of Science in Financial Analysis Insights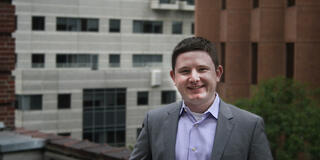 Curious about whether a master's degree in financial analysis might be right for you? We got the lowdown from USF School of Management student Colin McCune, MSFA '16.
What did you do before enrolling in the MSFA program at USF?

I received my undergraduate degree in business administration from the University of Washington in 2011. My first job out of college was working with a boutique apparel company where I was responsible for managing inventory, production and the financials. Prior to enrolling in the MSFA program here at USF, I was working at AT&T as an operations analyst for the West Region ensuring project completion and payment execution, as well as weekly budget and expenses reporting. In both positions, I realized I wanted more exposure to advanced financial concepts, and the MSFA offered me that opportunity.

What is special about the MSFA degree, and why have you chosen to focus on financial analysis in your graduate work?

I chose to focus on financial analysis because I wanted to hone my skills and make myself more marketable to potential employers. My goal is to work as an analyst at an investment bank or venture capital firm. The MSFA degree is special in that it takes you from the basics all the way to the advanced concepts of finance. And, because the MSFA program is based on the CFA curriculum, it prepares you for the tests as well.

Where are you from and why did you decide to go to grad school in San Francisco?

I am from Seattle, and I chose grad school in San Francisco because of the larger presence of financial firms in the area. The Bay Area is also the heart of startups and startup culture—having access and the opportunity to talk to leaders of those companies, such as Lyft and Stripe, has been extremely valuable.

Have you worked on any especially noteworthy projects as part of the program?

In one of my classes,Applied Investment Analysis, I had the opportunity to work on a research project with BlackRock. The project entailed looking at 20 years of data on the bond market and trying to determine if we could predict the return on different bond portfolios based on a measure between the efficient frontier and the individual portfolio. I also took part in the local chapter of the CFA Challenge, where we competed with other graduate programs in evaluating a stock.

What has been your favorite class and why?

Alternative Investments—the class takes a look at the investments not covered by equity (stock) and fixed income (bonds). This includes real estate, hedge funds, private equity and venture capital. I was able to get not only an understanding of how alternative investments function, but insight on different career paths that I had not considered, like hedge funds and private equity.

What do you plan on doing when you finish your degree?

I am actually continuing my education with an MBA at USF. The MSFA degree has given me the hard skills, and I am doing the MBA to hone my soft skills. After I finish the dual-degree program, I would like to go into investment banking, VC or possibly consulting.

Tell us one thing that you think might surprise people about the MSFA program.

You actually learn how to code in the program. It was something that I was not expecting when I enrolled. I've learned that if you want to do anything quantitative in the field of finance, you need to have the ability to code--it is a skill that firms are looking for more and more.

What's your favorite thing about USF?

The location of the School of Management is ideal--it is located in the heart of the financial district. Also, the events put on by school are incredible. One of the most interesting ones was with BlackRock, learning about how they are using data to drive their decision-making. Another one I enjoyed was with an angel investor, where he walked us through what he as an investor looks for when making an investment. I have learned a great deal from business and finance leaders in the Bay Area, and the ability to network has been invaluable.
Ready to learn more? Applications for Spring 2016 are still available. Contact us today: management@usfca.edu.