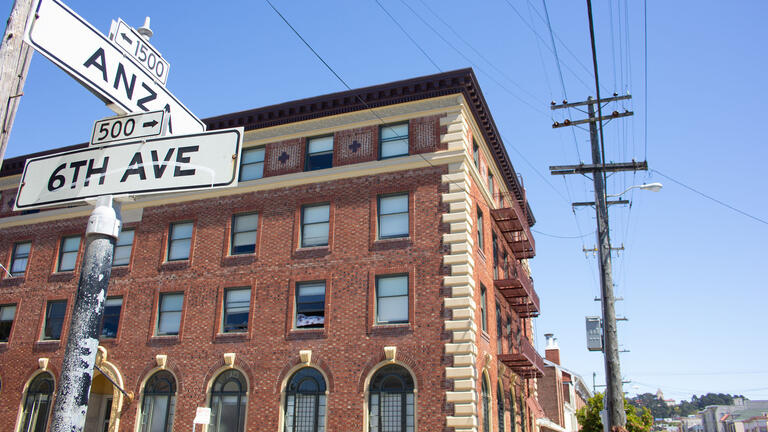 Pedro Arrupe Residence Hall
Located one mile from USF, Pedro Arrupe allows students to live in a traditional residence hall setting away from campus. This handsome red brick building affords students a safe, secure community to connect with peers and engage in learning.
Population
Continuing and transfer students
Male and female residents
90 residents
Building
Four floors, each floor is single-sex
Singles and doubles available
Community Areas
Two student lounges
Kitchen with refrigerators, stovetop, oven, and microwaves
Laundry room (laundry services are free to residents)
Recreation
Cable TV connector in each room
Flat screen TVs with surround sound in lounge
Gaming systems in lounge (Xbox 360, Wii)
Pool Table 
Security
24-hour front desk
Key card required to access building
Key required to access rooms
Location
6th Ave., between Geary Ave. and Anza St.
One mile from campus
Nearest bus routes: 31 Balboa, 38 Geary, 33 Stanyan, 5 Fulton
History
Originally built as a nurses' residence for the old French Hospital, the Pedro Arrupe building was leased by USF in 2000 to serve as a student residence hall and named after Pedro Arrupe, the former superior general of the Society of Jesus. In addition to being the first superior general to visit USF, Fr. Pedro Arrupe is also known for his missionary work in Japan and his heroic assistance to the victims of the Hiroshima bombing. Pedro Arrupe Hall is located on 6th Avenue, across from the Richmond Police Station and adjacent to Kaiser Permanente's French Campus. Two nearby bus routes afford students an easy commute to USF. Despite its off-campus location, Pedro Arrupe operates as a traditional residence where students can live in a safe, secure community with their peers.