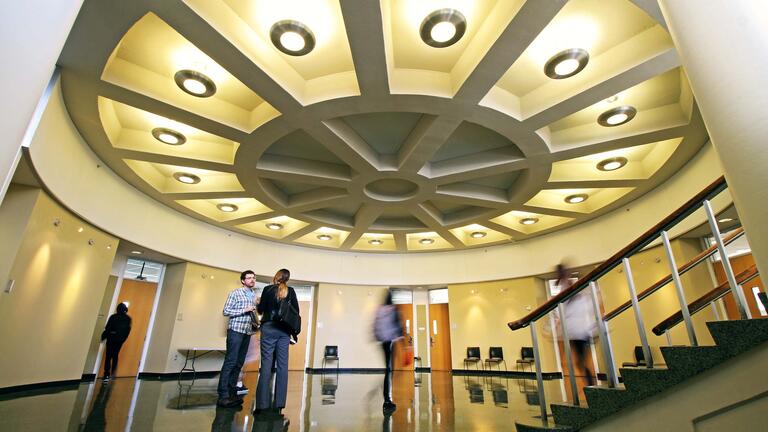 SCHOOL LIFE & CAREERS
Projects
Legal ethics, broadly understood, includes attention to the structure of the legal profession. A crucial and cutting edge issue relevant to that structure is how complex litigation is organized. The Center is currently undertaking research regarding the special ethical rules that apply to class action attorneys. The Center also has sponsored various symposia relating to complex litigation, particularly in the field of antitrust class actions. Symposium: Lawyers, Drugs & Money: A Prescription for Antitrust Enforcement in the Pharmaceutical Industry (event held September 25, 2009, with C. Scott Hemphill of Columbia Law School delivering the keynote address); Symposium: The Uncertain Future of Antitrust: Responding to the Antitrust Modernization Commission, 40 U.S.F. L. Rev. 561 (2006) (event held in fall 2005) (participants included Commissioner W. Stephen Cannon, Professors Stephen Calkins, Herbert Hovenkamp, and Robert Lande, and assistant attorneys general Kathleen Foote (California) and J. Thomas Prud'homme (Texas)); Symposium: Soaring Prices for Prescription Drugs – Incentive for Innovations or Antitrust Violations?, 39 U.S.F. L. Rev. 1 (2004) (event held in fall 2004) (participants included Professors Herbert Hovenkamp, Mark Lemley, James Langenfeld, and Cris Leffler). Also related to this topic is the symposium the Director organized on the legitimacy of pre-dispute mandatory arbitration clauses. See Symposium: Mandatory Arbitration Clauses, 38 U.S.F. L. Rev. 1 (2003) (event held in fall 2003) (participants included Professors Jay Folberg, Jean Sternlight, Stephen Ware, and David Schwartz).

Along similar lines, the Director has proposed and is promoting a new form of arbitration, called Expected Value Arbitration ("EVA"), that would be particularly appropriate for sophisticated litigants. For a description of EVA see Joshua P. Davis, Expected Value Arbitration, 57 Okla. L. Rev. 47 (2004). The Center's Director on two occasions presented the idea of EVA to JAMS, a national center for dispute resolution with its headquarters located in San Francisco. JAMS expressed a willingness to preside over EVA. The Director will be presenting the idea of EVA at the annual meeting of the International Institute for Conflict Prevention and Resolution in January, 2008, with those in attendance as possible participants in the process.

The Center's approach to legal education is both traditional and innovative. As to tradition, the Center participates in the development of the ethics curriculum at the law school from orientation to Legal Ethics and Professional Responsibility classes to ethics components in other courses, such as the Intensive Advocacy Program. The Director also organized a symposium focusing on teaching values in legal education. See Symposium: Teaching Values in Law School, 36 U.S.F. L. Rev. 591 (2002) (participants included Professors Christopher Eisgruber, Joshua Rosenberg, Paul Tremblay, and W. Bradley Wendel). The Center has brought in speakers to address students about the options in practicing law, focusing recently on successful women litigators in the hope of providing role models to USF students. Two such speakers were: Jessica Grant, then a partner at Furth Lehmann & Grant, who successfully tried a wage and hour class action against Wal-Mart winning an award of $172 million; and Lori Andrus, a partner at Andrus Liberty & Anderson, LLP, who recently formed her own law firm.

The Center also recognizes that whether lawyers are ethical depends not only on their professional education, but on their psychological well-being, their capacity for empathy, and their ability to cope with the stress and demands of practicing law. The Center thus supports a holistic approach to legal education. The notion is that if law school attends to all aspects of a student—not just to a narrow range of lawyering skills—not only will students be better educated, but they are more likely to be happy, ethical attorneys. One effort toward this end is to develop the emotional intelligence of students and, in particular, their capacity to understand and empathize with perspectives different from their own. Thus, the Center supports the work of Prof. Josh Rosenberg, who teaches a class on interpersonal dynamics designed to develop these skills. The class is modeled on a similar and very popular class at Stanford Business School. Among the many benefits to law students and lawyers of learning about interpersonal dynamics is that they may be better able to understand what other people want and need and more able and motivated to treat others in a respectful and ethical manner.

The Center's concern with holistic education has also supported the work of Professors Rhonda Magee, Tim Iglesias, and Judi Cohen, members of the law school's Ad Hoc Committee for Contemplative Practices in Law (the "Mindfulness Committee"). The Mindfulness Committee explores various practices—meditation, yoga, and the like—that can facilitate introspection by law students and lawyers and thereby allow them to make more thoughtful and conscious decisions, including how to act in an ethical manner. Professors Magee, Iglesias, and Cohen have also taught a class on Contemplative Lawyering.

The inaugural speaker about mindfulness in the practice of law was Charles Halpern, currently a Scholar in Residence at Boalt Hall School of Law, University of California at Berkeley, and a former law school dean, professor at Stanford and Georgetown, and a co-founder of various public interest centers. He spoke about "Finding Meaning in a Life in Law." Professor Rhonda Magee also addressed the USF law faculty about the potential role of mindfulness in dealing with issues of racial bias, particularly in the classroom. Further, speakers are welcomed to address our community on mindfulness and the law. Most recently, John McShane presented The Passionate Practitioner: Finding Joy and Satisfaction in a Successful Law Practice Through Gratitude, Meditation & Prayer (February 8, 2010).

The Center engages with the practicing bar, providing education to practitioners and contributing to reform of the ethical rules and other laws governing lawyers. The Center co-sponsored a panel entitled, Inadvertent Disclosure: An Attorney's Ethical Obligations at the Annual Meeting of the State Bar of California in September, 2007. The Center also hosted and co-organized the annual meeting of the State Bar's Committee on Professional Responsibility and Conduct (COPRAC), a standing committee of the California State Bar Board of Governor's that issues advisory ethical opinions. The Center also organized a discussion of the proposed revision of the California's ethical rules for attorneys with Paul Vapnek and Mark Tuft, two Co-Vice-Chairs of Commission for the Revision of the California Rules of Professional Conduct, at which the Center's Director served as a moderator. Along similar lines, the Center's Director served as the Reporter for the Task Force and then the Implementation Committee that drafted the California Supreme Court Rules governing multi-jurisdictional practice, that is, the practice of law in California by out-of-state attorneys.