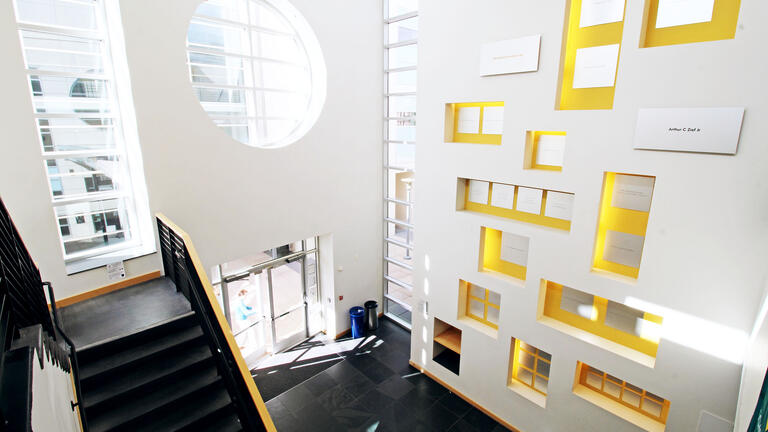 Dorraine Zief Law Library
Zief Library Behavior Policies
Food and Drink
COVID-19 Update: The law library currently does not permit patrons to eat food in the library. Patrons may consume beverages, but must immediately replace their face covering after drinking.
Zief Law Library wants to provide all patrons with a comfortable and welcoming study environment.
Library users who consume food or drinks in the law library must do so in a manner that maintains a clean, safe library and that minimizes the risk of damage to library books, equipment and other property.
We allow beverage consumption in the law library so long as beverages are in containers with tops, lids, or caps.
Please discard all wrappers and empty containers, clean up after yourself, and report any beverage spills to library staff so that we can alert our maintenance crews.
Alcohol and Drugs
The University of San Francisco has adopted and implemented a program to prevent the unlawful possession, use or distribution of illicit drugs and alcohol by its students and employees on school premises or as part of any of its activities.
Smoking
Consumption of tobacco products is prohibited in the Zief Law Library in compliance with the provisions of Section 6404.5 of the California Labor Code and the San Francisco Municipal Health Code (Article 19, A through E). Patrons of the law library should be aware that USF has instituted a campus-wide smoking policy, which allows smoking in two designated areas of the campus only. This policy applies to the law school.
Noise
The Zief Law Library seeks to provide space for quiet study for our patrons. As our cell phone policy states below, audible cell phone use is not permitted in any areas of the library. The law library fulfills many functions for patrons with diverse needs. Everyone has their own preferences for studying. In order to accommodate these differing needs, we have designated silent, quiet, and conversation areas within the law library.
Club '59 on the second floor is designated as a silent study space. No conversation or headphone use that is audible to others is permitted in this space. You may use a laptop in Club '59 so long as your laptop use is confined to typing (no audible videos or music).
The rest of the second floor, including the soft seating area outside of Club '59 and the Terrace Room, is designated as a quiet study space. The second floor's quiet study spaces are intended for use by students who wish to study on their own quietly. Talking or whispering with others is discouraged in these spaces.
The law library's main floor and lower floor are designated as conversation spaces because the library's main floor service desks and patron research consultations will unavoidably generate some noise. We encourage patrons to use the soft seating area on the main floor as a space for collaboration, conversation, and group work.
The library's lower floor houses three classrooms, the Academic Support Program, ABES faculty, Moot Court offices, and LRWA faculty. Because consultations with faculty and group meetings are common on this floor, it is also designated as a conversation space.
Cellphone Policy
All patrons must set their phones to "silent" or "vibrate" when entering the library in order to avoid disturbing other library patrons. All cell phone calls must be received and transmitted outside of the Zief Law Library building. 
Service Animals
USF is committed to compliance with state and federal laws regarding individuals with disabilities. Student Disability Services (SDS) is committed to supporting students who require a service animal. The following is a guide for students who request the presence of a service animal on campus.
What is a service animal? A service animal is a dog (or in some cases a miniature horse) that is individually trained to do work or perform tasks for the benefit of an individual with a disability, including a physical, sensory, psychiatric, intellectual, or other mental disability.
The work or task that the service animal performs must be directly related to the individual's disability. Examples include assisting individuals with low vision and alerting individuals who are hearing impaired. Service animals may also be needed to pull a wheelchair, retrieve items such as medicine or a telephone, recognize and assist during seizures, and prevent or interrupt compulsive or destructive behavior.
Animals whose presence provide emotional support, companionship or comfort but are not individually trained to do work or tasks in response to an individual's disability are not considered service animals. See USF's policy on Assistance Animals, if you feel you have a disability and believe you require an assistance animal for emotional support or comfort.
Service animals are exempted from the University's policy of no animals on campus and are allowed in all places of public accommodation. This includes campus buildings, residence halls, and anywhere on campus they are needed to assist an individual with a disability to participate in educational programs and other campus activities.
Service animals must be under effective control at all times and cannot harm or threaten others in the campus community; including faculty, staff, students and guests. Consistent with federal and state law, a service animal may be prohibited from university facilities or programs if the animal's behavior or presence poses a direct threat to the health or safety of others. The animal may also be excluded from areas where its presence fundamentally alters the nature of a program or activity, if the animal is disruptive, if its presence would result in substantial physical damage to the property of others, or if it substantially interferes with the reasonable enjoyment of housing or public accommodation by others. Service animals must be housebroken and cleaned up after. Animals may only relieve themselves in designated areas as defined by Facilities Management.
Students who are approved to have a service animal on campus are strongly encouraged to register with SDS.
Security
Campus Shuttle
The Department of Student Affairs and the Department of Public Safety cosponsor The Campus Shuttle Program. The service provides transportation to various USF locations within San Francisco and operates on an on-call basis in the evenings. If you need shuttle service, contact Public Safety Dispatch at 415-422-4201.
Safety Escort Service
The Department of Public Safety operates a safety escort service between dusk and dawn. For a security escort, please contact Public Safety Dispatch at 415-422-4201.
Discouraging Theft
Never leave personal property or anything of value unattended while you are in the law library. Some areas of the Zief Law Library are monitored by closed-circuit security cameras for the safety and protection of our patrons, collection and furnishings, but thefts have occurred in the past. Promptly report a theft or any other crime to USF Public Safety and to the Circulation Desk staff. The USF Public Safety emergency number is 415-422-2911. The non-emergency number is 415-422-4222.
Book Security
The library's electronic security system will activate an alarm if a book that has not been checked out is removed from the library. If your entrance or exit from the building triggers the alarm, please report to the Circulation Desk.
Theft and Mutilation of Library Materials
The Library regards theft, mutilation, or hiding of library materials as violations of the USF and Law School Honor Code. Such acts may also violate California law. The Law Library will cooperate with the University and the Law School in prosecuting any known violations to the fullest extent possible.