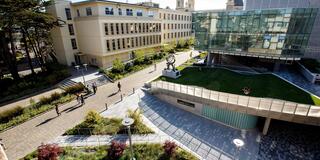 USF Law Scholarships Application
The Alumni Funded Scholarship Applications have closed. Committees will select award recipients by the first week of June. You will receive an email from lawdevelopment@usfca.edu as soon as information regarding your application is available.
Thank you for your interest in USF Law scholarships. The deadline to apply for 2023-2024 law alumni funded scholarships is Monday, April 17, 2023. Please read through the following scholarship descriptions and complete the following steps to be considered for an award:
Select the "Yes" button next to each scholarship for which you would like to apply.
Complete all information fields.
Email a PDF of the following documents to lawdevelopment@usfca.edu:

Transcript
Resume
Essay specifically requested for each scholarship
Please Note: Applicants must have financial need, be in good academic standing, and must be a continuing student to be eligible to apply. Applicants must have completed one year of JD study at USF School of Law by the end of May 2023, and be enrolled at the School of Law for the current academic year.