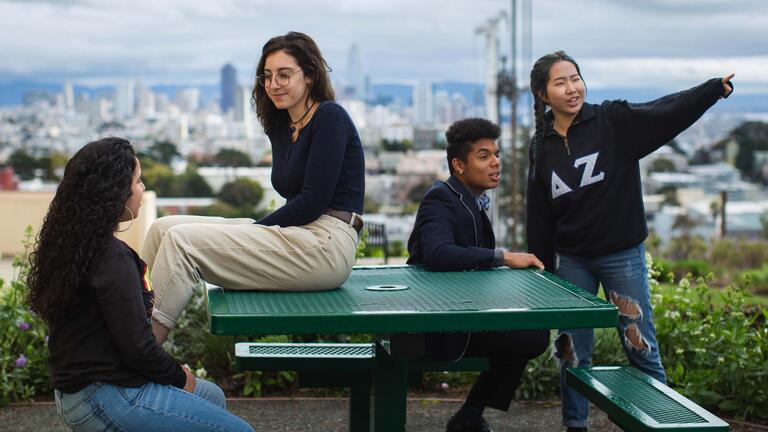 Living-Learning Communities
Communities
Discover your passion for exploring real social issues, connect with a community, and work together with friends on creating a better future.
USF living-learning communities provide undergraduate students an opportunity for deeper, more meaningful, and connected learning in a shared residential and academic environment. Students in these communities are enrolled in a common set of courses and live together in a designated residential setting.
Erasmus Community – second- and third-year students residing in Toler Hall — explore the intertextuality of ethics, service, and justice at local and global levels.
Esther Madríz Diversity Scholars – second-year students residing in Toler Hall — analyze the forty-year culture of hip-hop to explore issues of diversity, inequality, social justice, and change.
Marshall-Riley Living-Learning Community – first and second-year students residing in Toler Hall — explore the rich history and intellectual and political traditions of Black Americans, and engage with the local Bay Area Black community.
Martín-Baró Scholars – first-year students residing in Toler Hall examine social justice in San Francisco through classroom assignments and a service-learning project.
St. Ignatius Institute – students from all four years residing in Toler Hall — investigate the challenging realities of our world, share community, and explore spirituality in the Jesuit tradition.
Theme Community Options
Our Theme Communities options create a place for intentional programs surrounding a particular theme. An application is required for both communities.
Muscat Scholars Program – a community in Toler Hall designed to provide incoming first-year, first-generation USF students with mentors, structured support, previews to the academic and social experience, and seamless transition through the first year and beyond.
Gender Inclusive Housing – provides students a safe, affirming, and inclusive community living option for students of all gender identities, gender expressions and lived experiences in Toler, Lone Mountain East and Loyola Village.
The Haven Recovery Residence - provides a living community in Loyola Village for students in recovery from substance abuse and for those living a sober lifestyle.